Farm Tour Diaries: Ballymaloe
Heading out the door? Read this article on the new Outside+ app available now on iOS devices for members! Download the app.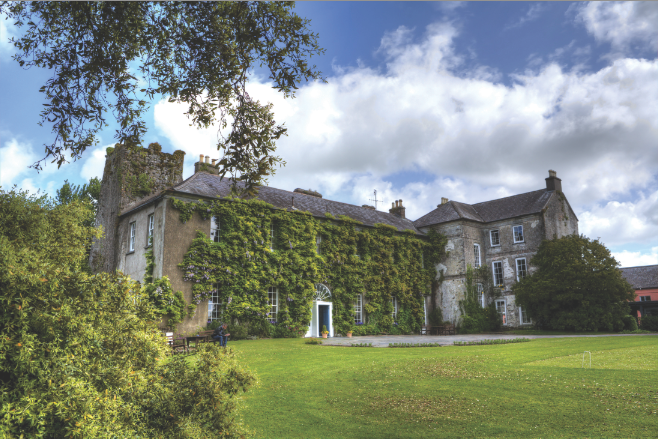 When I was planning a trip to Ireland last spring, I found myself racking my brain for where I wanted to go. My main destination was the Dingle Peninsula to spend time with a close friend. But since I'd been to Dingle before, I didn't want it to be the only place I saw. I ran through my options: Dublin? A big city I'd already visited. (Plus, I was craving spring green and countryside.) Galway? Been there before too. Connemara? Ex-boyfriend from there, no real desire to stumble upon his roots—or his cousins.
Then it came to me: Ballymaloe—a manor house hotel with a medieval tower, a world-renowned cooking school, and an organic farm all tucked into the countryside with the sea just a few miles away, run by three generations of the Allen family in South Cork, Ireland. I'd been fantasizing about Ballymaloe for years, ever since I'd first read about it. Plus, Ballymaloe was in the same general area as Dingle, meaning I wouldn't have to do too much traveling between destinations. I booked a room for three nights at Ballymaloe House. Emailed to ask to visit the Ballymaloe Cookery School. And made a packing list of woolly sweaters, sturdy walking shoes, a pretty dress (for afternoons sipping tea by the hotel fireplace), and a copy of A Flann O'Brien Reader I'd been meaning to read for ages.
DAY 1 It was as if all my Jane Austen–Downton Abbey–W.B. Yeats–James Joyce dreams had come true as I settled into a couch by the fireplace in the drawing room and ordered afternoon tea with scones. The fire was crackling, the view from the window was a "leaf-sown, new-mown, smooth/Grass plot of the garden" (W.B. Yeats, Sweet Dancer) and the whole room glowed in the late afternoon sunshine.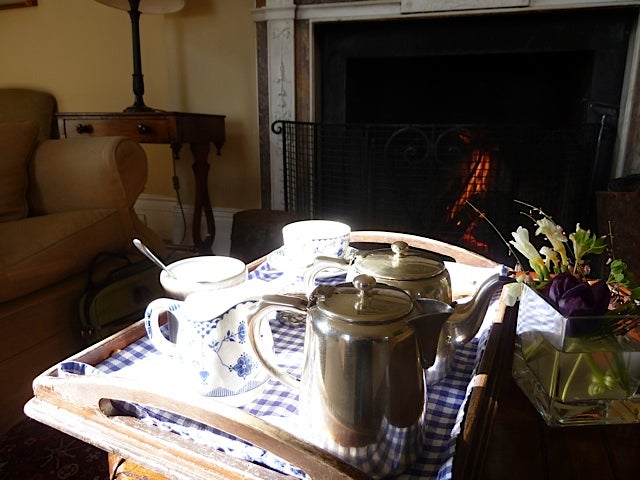 As a first taste of all Ballymaloe had to offer, the fare was ideal: strong, piping hot Barry's tea, crumbly homemade scones, and lots of butter and jam from the farm. Before the sun fully set, I went for a walk around the Ballymaloe House grounds. The full loop took about 45 minutes up country lanes, through woods covered in bluebells, past cow pastures, and along mowed paths across hayfields. I was awed by how lovingly tended the land was and how friendly the animals were. The cows came over to the fence to greet me! Because of the scone feast, I didn't think I'd be hungry enough for the fine dining restaurant in the house/hotel, so I ducked into the Ballymaloe Shop on the grounds and bought digestive biscuits, some local cheeses, and a box of shortbread to eat in my room for a light supper. It was going to be an early night after a long day of traveling.
DAY 2 Go to bed early, get up early: I was wide awake at 6 am. Too early for breakfast, I pulled on my running clothes and did two laps around the walking path to work up an appetite for breakfast. And boy was I glad I did. There was homemade everything: soda bread, muesli, jam, marmalade, plus stone-ground oatmeal porridge that I dipped into three times—and I don't really like oatmeal. I ordered two poached eggs for extra protein because the day's plan (since it was sunny) was to hike the back country roads over to Shanagarry and the sea. I estimated the trek would be about five hours round-trip, with a detour to check out the Cookery School on the way back. The walk—easy to find and follow with the map provided at Ballymaloe House—took me past fields and farmhouses, wildlife preserves and woodlands.
The hedgerows were covered with wild garlic (similar to North American ramps) that gave off their pungent smell as I went by. Everything was pristine and perfect, and I could see why the Allen family were so passionate about preserving the natural abundance around them. (I especially loved a sign I saw that said "Land Preserved: Fur and Feather.") Shanagarry Beach, pictured below, was wide, windy, and absolutely deserted when I got there. I walked a bit too far along the sand and started to get tired, so there was nothing to do but stop in a pub for a restorative pint and a package of salt-and-vinegar potato chips—the kitchen had closed by the time I arrived.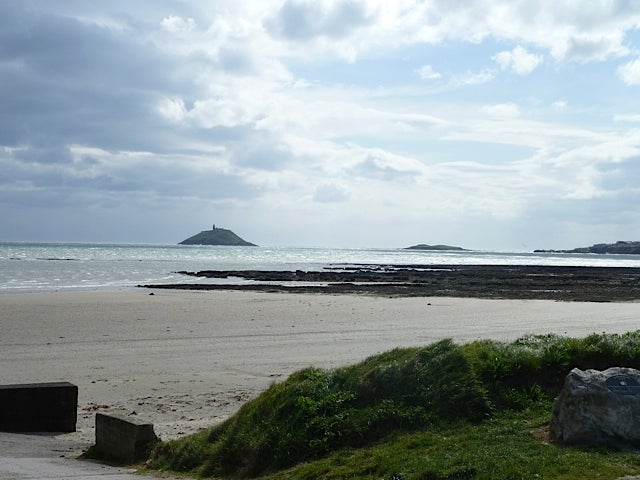 On the way back, I swung by the Ballymaloe Cookery School to get a lay of the land, so to speak, and to time the walk back to Ballymaloe House since, if the weather held, I hoped to hike over again the next day for my scheduled tour. I cased the Farm Shop and stocked up on more edible goodies—local Gubbeen cheese (made with vegetable rennet), hummus and pesto, and more crackers—I've got a Wallace & Gromit–size appetite for cheese with digestive biscuits. Then, I snooped around the school and confirmed, once again, the Allens really practice what they preach. The butter the students were using was local. The eggs came from hens on the Cookery School farm. The herbs and greens looked fresh-plucked from the greenhouses behind the building. As I glanced through the course brochures and sample menus, I was struck by how veg-friendly everything was without trying too hard to be so. (So many non-veg cooking schools just tack on vegetarian this-or-that to their curriculum. Here, except for the meat-specific courses, veg offerings were an integral part.). Before heading "home" (as I was beginning to think of the manor house where tea would be waiting for me by the fire), I stocked up on more edible goodies from the Cookery School shop. I also started concocting a plan to pitch a story on Ballymaloe for a future issue of Vegetarian Times. I hadn't really considered it before because I hadn't known whether Ballymaloe would live up to its local-organic-family-run-fine-cuisine reputation. It did, though. And the amazing thing was that it did so without any over-zealous hype.
DAY 3 How do you dress for a 90-minute hike that ends in a meeting with Darina Allen, "the Julia Child of Ireland?" It would be one thing if I were just visiting the Cookery School as a tourist. But I was hoping to put together a feature of Ballymaloe recipes for the magazine, so I needed to look somewhat professional. I finally went with my pretty dress, plus the sturdy walking shoes. Thankfully, they looked a little better than my running shoes. I shouldn't have worried about my wardrobe, though. Sharon Hogan, Darina Allen's assistant greeted me warmly as if it were the most normal thing in the world to show up at the school in walking shoes, then fixed me a pot of tea and a plate of scones to try while I waited for Darina Allen. Soon thereafter, Darina joined me. We settled down to talk, giving me a chance to outline my article plan. I was shown around the gardens and greenhouses by Darina's son, Darren, who runs the 100-acre organic gardens, then invited to have lunch with the students, who were just finishing up a two-day course on opening and cooking for a tea shop. The students set out gorgeous platters of cabbage and fennel salad (the recipe is in the April/May 2013 issue of Vegetarian Times) and roasted vegetables.
There was also cheese and fresh bread. I piled a plate high (I wouldn't be walking back hungry this time around!), and sat down at a table to talk to some of the students. They had all signed up for the course for different reasons. Some planned to open tea shops or coffeehouses. Others wanted to go into catering. A few were there just for the fun of it. One woman at the table wasn't a student. Her name was Anne, and as it turned out, she was one of the morning bakers at the hotel. I gushed about how good the breakfast breads were and said I'd never been able to make soda bread or scones as good. Then, she invited me to come down to the kitchen the next morning to learn with her! I would be taking a cooking class of sorts after all on this trip!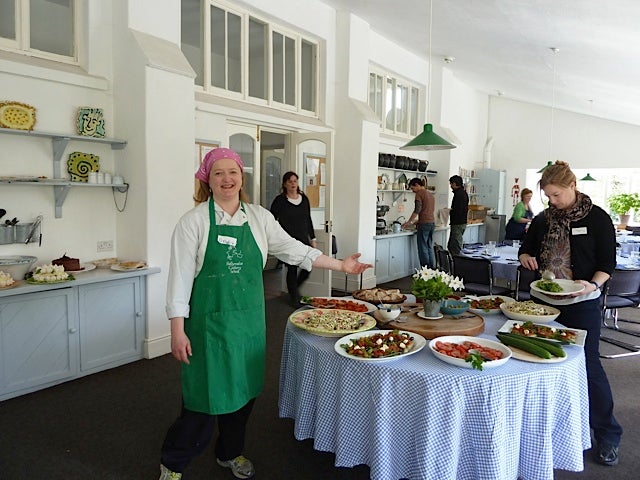 DAY 4 So much for sleeping in on this vacation. Anne had told me to be in the kitchen by 6:30 am to make the breads. I figured I'd just be a spectator, but no: Anne handed me an apron and had me measuring out flour and stirring up dough for soda bread the moment I got to her station. (The recipe is here on Rachel Allen's Web site. She showed me how to shape the soda bread loaf, then make "four cuts after the Cross to let the fairies out" on top. I finished my apprenticeship, went back to my room for a shower, then headed to the dining room for breakfast where I was absolutely thrilled to see "my" soda bread loaves displayed on the sideboard. Here I am in the kitchen.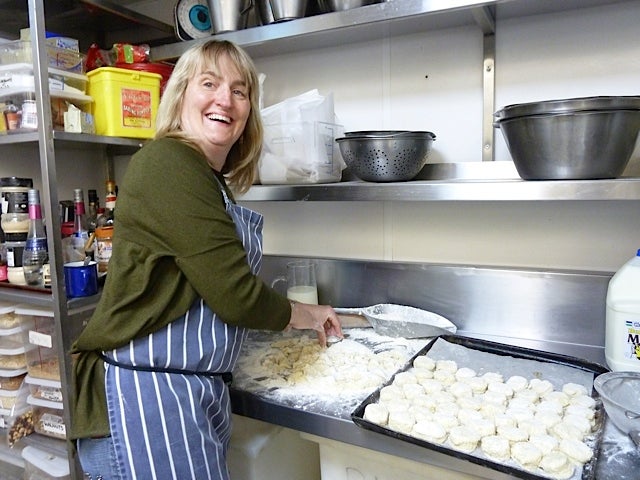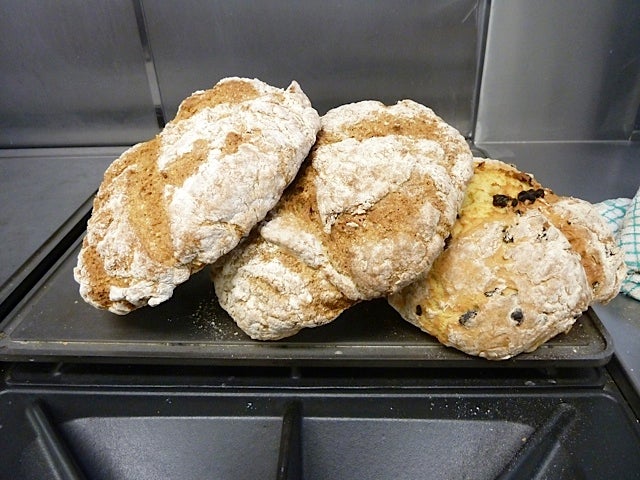 And then it was time to leave. I took one last walk around the Ballymaloe House grounds, slipped into the shop to buy some pretty muffin papers, a handmade cutting board, and three Ballymaloe cookbooks I'd been eyeing, then crammed them all into my suitcase and got ready for the trip to Dingle. Over the past year, I've revisited Ballymaloe over and over again right in my own kitchen, making soda bread for guests, baking scones to go with afternoon tea, trying my hand at foraging using the guidelines outlined in Darina Allen's Forgotten Skills of Cooking, and working on the feature in the latest issue of Vegetarian Times. I'm aching to go back, though. I miss the walks, the landscape, the food, the friendliness—and I'm almost out of Barry's tea.