Try These Cannabis Drinks During Your 'Cali Sober' Dry January
Alcohol-free and infused with THC and CBD, these sophisticated sips are perfect for relaxing or socializing
Heading out the door? Read this article on the new Outside+ app available now on iOS devices for members! Download the app.
Ok, we get it. 'Cali Sober' is a corny phrase. But, hey, we didn't make it up.  It's an efficient way to describe the increasing number of people who are opting to limit or eliminate alcohol while continuing to use cannabis. Maybe that describes you all the time, or maybe it's your approach to Dry January. Whatever your circumstances may be, you just might find that cannabis drinks pleasantly fill a niche where you might have otherwise consumed alcohol. And there are more and better cannabis drinks on the market now than ever before, taking inspiration from craft spirits, beers, and soft drinks. Read on to find some of the best.
Cannabis Drinks to Try
CANN is marketed as a "microdosed social tonic," ringing in with a modest 2 mg of THC and 4 mg of CBD per serving. For many people, that amount of THC will result in a subtle, pleasant effect. The fizzy canned drinks come in natural flavors of lemon-lavender, grapefruit-rosemary, and blood orange-cardamom, as well as limited-edition varieties.
Pronounced "moon," MXXN has been designed as the industry's first "one-to-one replacement" for spirits. Available in versions inspired by tequila, gin, and bourbon, these non-alcoholic, cannabis-infused bottles are designed to be used in your favorite cocktail recipes. Do watch your pours; each 1.5 ounce 'shot' serves up 6 mg of THC.
These single-serving cordials are meant to be sipped on their own or mixed into your favorite drink, and come in six blends indented to to create specific effects in the user, from Calm to Wonder, with varying doses of THC and CBD.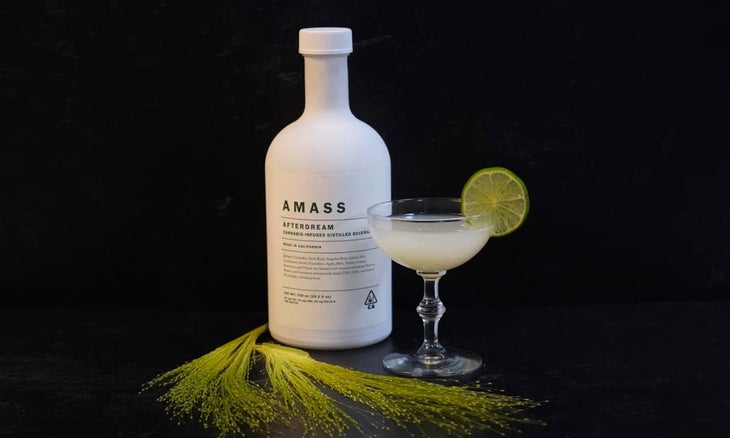 After launching several non-alcoholic spirits and spritzes, AMASS entered the cannabis drink market in late 2021 with AMASS Afterdream. Featuring THC, CBD, and Delta-8, the non-alcoholic spirit is intended to be drunk on the rocks or in a mixed drink and claims to offer "a limb-loosening, mind-mellowing sip that mirrors the feeling that comes from drinking a strong cocktail."
Alive & Kicking Nano Hemp Drink Mix
These vials of CBD-only drink mix won't give you a buzz, but the water-soluble hemp isolate will turn any liquid you like into a fast-absorbing wellness super-drink, which seems pretty cool.
If you enjoy an aperitif, Artet is your jam. The brand makes two cannabis-infused, non-alcoholic aperitifs meant to be served on the rocks or mixed (2.5 mg THC per serving) as well as canned, pre-mixed spritzes infused with summery Italian flavors.
Pabst Blue Ribbon High Seltzer
It seems like every beer brand has brought out a hard seltzer, but PBR is one of the few to go with a non-alcoholic cannabis seltzer. Each 12 ounce can serves 10 mg of THC and comes in your choice of lemon, strawberry-kiwi, mango-blood orange, or passionfruit-pineapple.
---
RELATED: Non-Alcoholic Beers Are Good Now, Actually
---
Get more of what you love from VT. Follow us on Instagram, Facebook, and Twitter, and sign up for our email newsletters.