The Kombucha Slushie Is a Summer Drink for Everyone
Hard or alcohol-free, available in every flavor you can imagine, and all natural, kombucha slushies are making their way from trendy taprooms to your kitchen
Photo: L: Flying Embers; R: Harvest Roots Ferments
Heading out the door? Read this article on the new Outside+ app available now on iOS devices for members! Download the app.
Kombucha isn't anything new (as in, there's evidence the fermented tea drink has been passing human lips since around 220 BCE) but it turns out you can teach an old drink new tricks. The latest innovation popping up at kombucha bars and taprooms across the country is the kombucha slushie. Much like the frosé wave of 2017, booch tenders are putting their product into slushie machines, adding ingredients that may include juice, wine, or spirits, and dispensing an icy, sometimes-boozy (though not necessarily) treat perfect for hot summer days.
Want to get a taste of these frosty, semi-healthy sippers but haven't quite gotten around to installing the commercial frozen margarita machine in your own kitchen? We asked three booch pros to put us on to the ins and outs of making your own refreshing kombucha slushies at home this summer, including adapting their taproom recipes for your normal-sized blenders.
---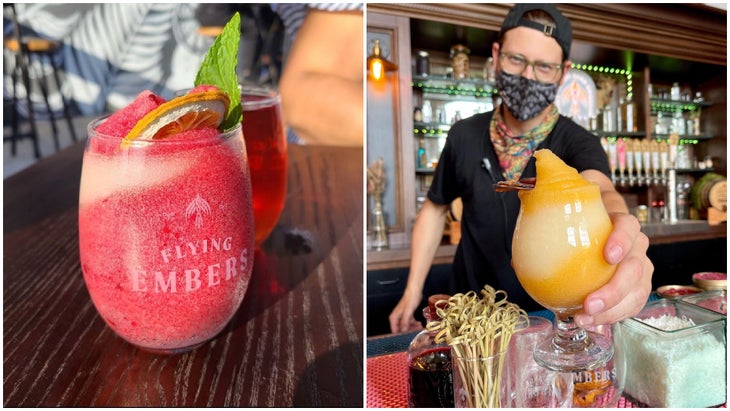 Ryan Smith, General Manager & Cocktail Curator at Flying Embers Taproom, Los Angeles, California
At the downtown Los Angeles taproom of Flying Embers, Saturdays are for the slushies. The one-day-a-week special brings in fans eager to try rotating cocktails based off of the brand's array of hard kombucha flavors.
"Our recipes are light and fresh, without sacrificing on flavor. It's the perfect warm weather drink, especially as things start to heat up," says GM and Cocktail Curator (an excellent job title) Ryan Smith. "Customers love that they can still enjoy this refreshing weekend treat without feeling weighed down by excess sugar or carbs. Our latest flavor, Orange Passion Lychee, is made with fresh squeezed lemon juice, monkfruit syrup, fresh lychee purée, and topped with our Orange Passion Mimosa Hard Kombucha."
For home slushie excellence, Smith suggests you bring out some extra hardware: "We use a slushie machine at our taproom, but if you don't own one an ice cream machine or a high temperature freezer can work just as well after the mixture is complete."
If you can't make it to L.A., note that Flying Embers also has taproom locations in Santa Barbara and Boston.
Recipe: Orange Passion Lychee Kombucha Slushie
Servings: 1
Ingredients
1 oz Fresh-squeezed lemon juice
1 oz Monkfruit syrup
2 oz Fresh lychee purée
6 to 8 ounces of Flying Embers Orange Passion Mimosa Hard Kombucha
Combine the lemon juice, monkfruit syrup, and lychee purée in a slushie slushie machine, ice cream freezer, or high-temperature freezer. Churn or freeze until set but not hard. To serve, pour the slushie base into a large glass and top with kombucha. Stir to combine and drink immediately.
---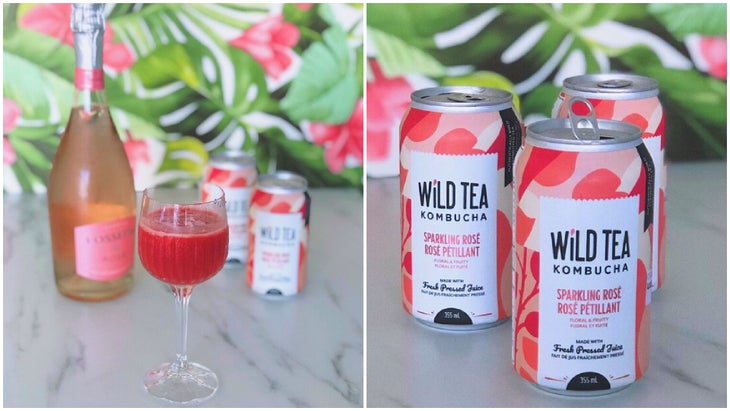 Emily Baadsvik, CEO & Co-Founder of Wild Tea Kombucha, Calgary, Alberta
"Wild Tea Kombucha is unlike any other kombucha available in Canada," boasts co-founder and CEO Emily Baadsvik. "Our original line is flavored with fresh-pressed juices with fun cocktail inspired names and minimal carbonation." And the cocktail connection goes beyond just the name on the can. Her team has developed a collection of cocktail recipes using their booch, including their take on the classic frosé.
"We thought about what we like to drink in the summer: cold drinks that are not packed with preservatives and sugar," she says. "[Slushies] are nostalgic, universally appreciated on hot summer days, and are the perfect drink to slow down our faced-paced lives. You have to enjoy a frosé. They make you take time to appreciate the beverage, savor the flavors, and take a mental time out."
Recipe: Wild Tea Kombucha Frosé
Servings: 2
Ingredients
1 cup frozen strawberries
½ to ¾ cup Sparkling Rosé Kombucha
1 bottle rosé sparkling wine (optional)
Natural sweetener of your choice, to taste (optional)
Pour the kombucha and frozen berries into a high-speed blender. Blend on high until smooth and frothy. Begin with 1/2 cup and add more as necessary for desired consistency.
Divide the fruit-kombucha mixture into two glasses.
Pour 4 to 6 ounces of sparkling wine into each glass or, for a mocktail, float additional Sparkling Rosé Kombucha on top.
---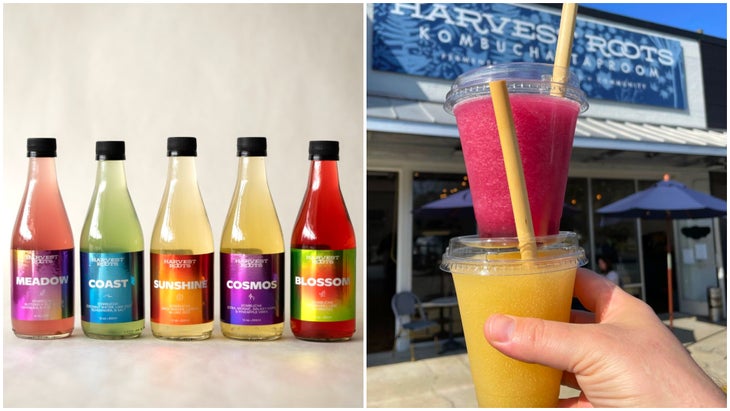 Lindsay Whiteaker, Co-Founder of Harvest Roots Ferments, Birmingham, Alabama
At the Harvest Roots Ferments taproom in Birmingham, co-founder Lindsay Whiteaker and and her colleagues have dialed in the slushie science. "To ensure proper consistency of the base and prevent the slushie from freezing solid, we take a brix reading to ensure we have proper sugar. Traditional slushie wisdom suggests a brix reading of around 15, but we have found that we can go as low as nine brix. We use a refractometer to help us take this reading." Finding the best flavor combinations, she says, is where it becomes more of an art.
Whiteaker says these non-alcoholic slushies win over even those who haven't otherwise hopped on the kombucha train. "We find that folks all ages enjoy them but especially children and people who may be on the fence about kombucha. We see them as a bridge to the rest of our menu."
Recipe: Pick-Your-Flavor Non-Alcoholic Kombucha Slushie
Servings: 1
1 ⅓ oz kombucha
2 ⅔ oz fruit juice
1 cup ice cubes
Agave syrup to taste (optional)
A rough guide for making a kombucha slushie in a blender would be using 3 parts liquid (1 part kombucha to 2 parts fruit juice) to 6 parts ice. If you find your slushie is too tart, we like to add organic agave syrup. You can just pour it right into your slushie mixture and blend.
Some of our favorite flavor combinations include: Hibiscus kombucha with fresh watermelon juice; Ginger kombucha with mango and lime juice; Lavender kombucha with blueberry juice.
---
RELATED: The Best Hard Seltzers for When You're Over White Claw
---
Get more of what you love from VT. Follow us on Instagram, Facebook, and Twitter, and sign up for our email newsletters.