Essential Grill Equipment to Elevate Your Outdoor Cooking
Grilling season is coming – grab these grills and accessories while they're still in stock
Photo: Aaron McCoy / Getty Images
Heading out the door? Read this article on the new Outside+ app available now on iOS devices for members! Download the app.
Grilling season is rapidly approaching, which makes now a great time to asses your set-up and pick up some items before they sell out. You don't need a whole arsenal of products to make a great meal on the grill, but if you want to upgrade your existing outdoor kitchen sitch or start from scratch with the basics, we have some ideas for grill equipment that will get you optimized for maximum grillatude (and, as of the time of this writing, everything is in stock and ready to ship).
Grill Equipment for Backyard (or Balcony, or Park, or…) Cook-Outs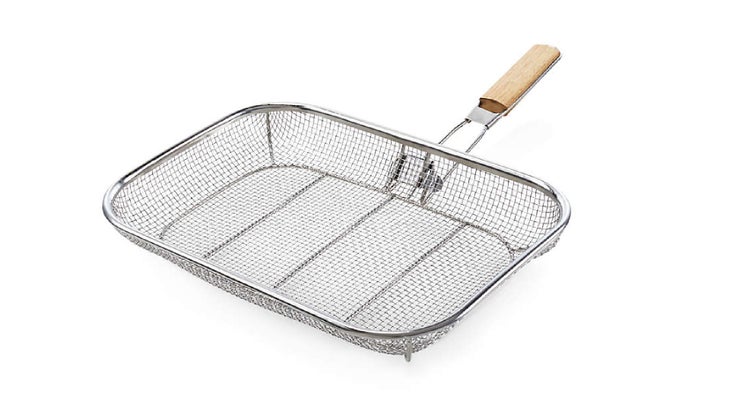 Mesh Grill Basket with Wood Handle
Crate & Barrel, $29.95
A grill basket might seem like a unitasker you don't really need (and, ok, it is) but if you're willing to branch out beyond the most minimalist of kits, you'll find it earns its keep. Since most of our grilling is vegetables, tofu, and other small and soft items, it keeps food organized and not falling through the grates. Plus it's so easy to transfer your asparagus spears or broccoli florets right to the table.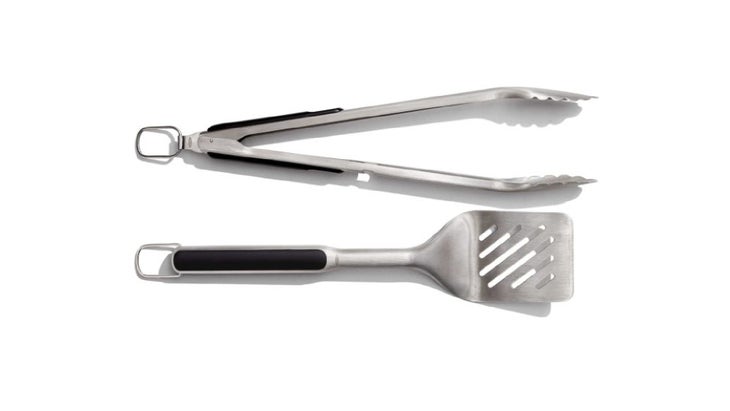 OXO Good Grips Grilling Turner and Tongs Set
OXO, $22.99
Strong, long tongs: not just a very fun thing to say, also a grilling essential. A flat spatula or turner helps too. This stainless steel set is sturdy, affordable, and dishwasher safe with non-slip grip handles. There's even a bottle opener hidden in the handle of the tongs.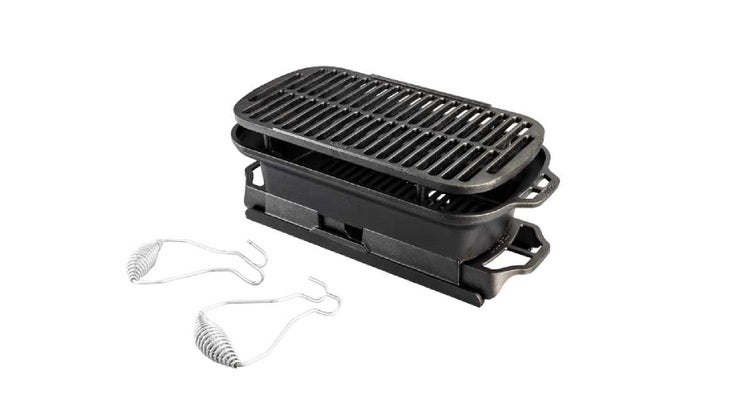 Sportsman's Pro Cast Iron Grill
Lodge Cast Iron, $149.90
Want to take your grill operation on the road to a campsite or beach hang or just do most of your grilling in a small space where a full-size grill isn't practical? This handy charcoal grill, described as "hibachi style," is a perfect all-in-one solution.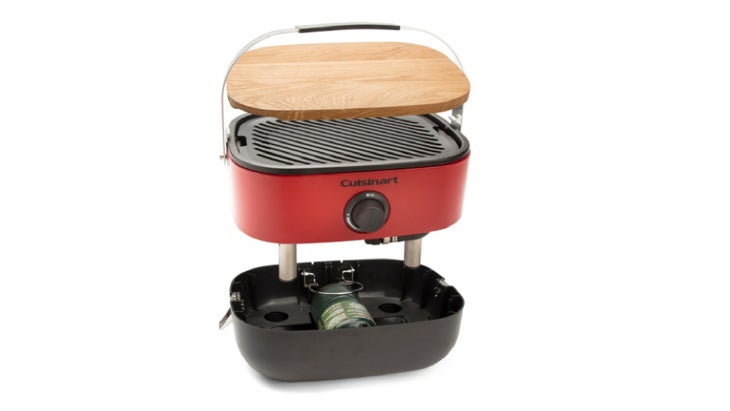 Cuisinart Venture Portable Gas Grill
Williams Sonoma, $229.95
Similar to the Lodge grill above, this little guy is made for taking on the go – but offers an option for those who prefer the ease and control of gas over charcoal. The picnic-basket-like grill unpacks with the wooden lid functioning as a cutting or serving board at your destination.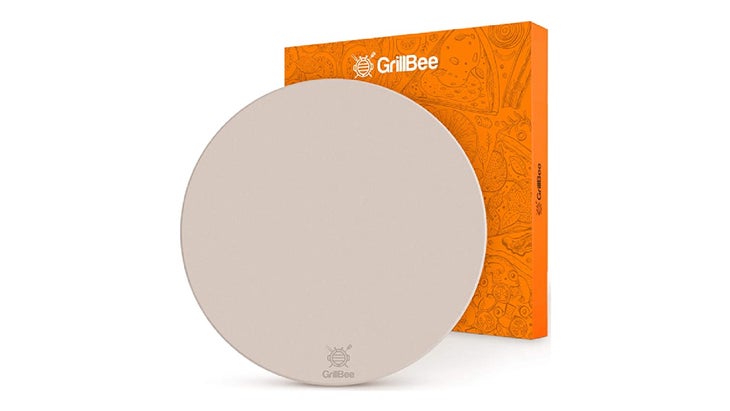 GrillBee 16″ Round Pizza Stone
Amazon, $49.95

If you haven't used your grill to make pizza, you're missing out. Grilling your pizza won't produce exactly the same results as a full-on pizza oven, but it's close enough for the casual home pizza-maker. The key grill equipment here is a stone to put on top of your grill grade to distribute the heat evenly across the bottom crust. Be sure to check the dimensions of your grill to find a stone that fits.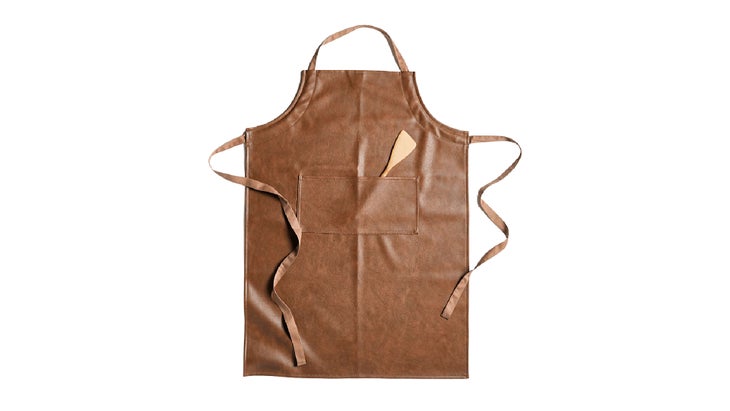 Scout Cognac Faux Leather Apron 
Crate & Barrel, $39.95
A spill- and spark-resistant apron is appropriate apparel for any big grill day, but many are made from animal products. This vegan grilling accessory is made of easy-clean PVC and cotton and can simply be wiped clean if things get messy.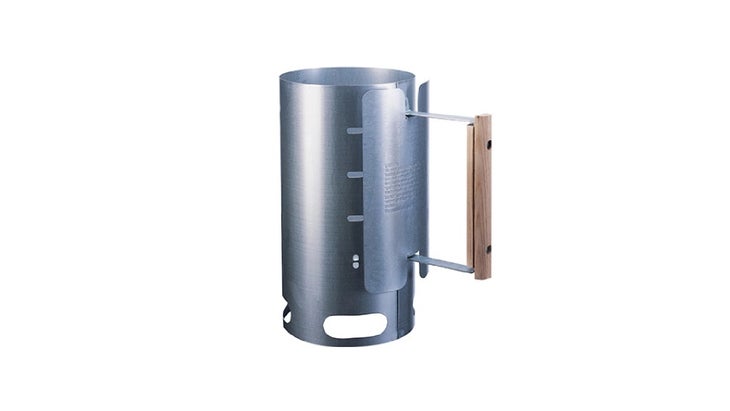 Charcoal Chimney Starter
Lodge Cast Iron, $24.90

Starter chimneys are a game-changer for charcoal grilling. Rather than dose your coals with flame-starter chemicals, let a piece of newspaper and normal match or lighter get your briquettes ready to roll. Once sparks are flying, you'll transfer the coals over to your grill.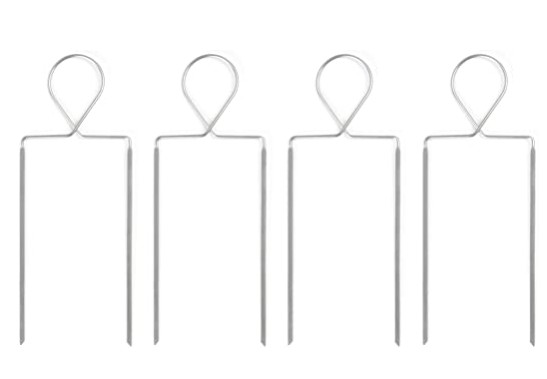 Veggie Raft Skewers
Williams Sonoma, $12.95
We do a lot of skewers on the grill, so having some reusable skewers is key. But these unusual ones, called "veggie raft skewers" might be our favorite. The double-prong shape allows you to stab through long or large things like asparagus or broccolini stalks or long strips of bell pepper, or you can use them for your typical chunk shape bites. Clever!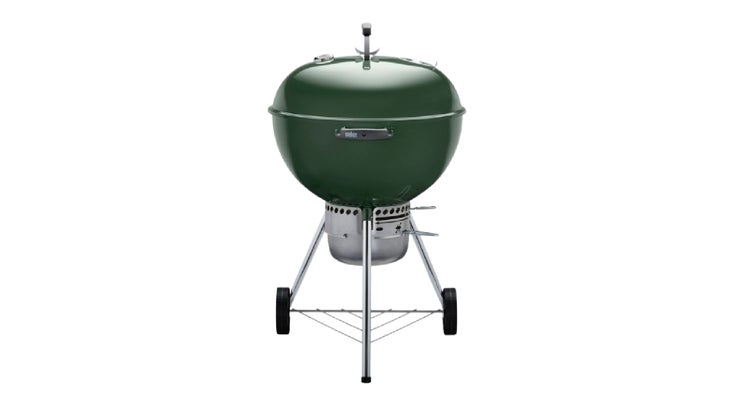 Webber Original Kettle Premium 22″ Charcoal Grill
Target, $239.99
The most essential grill equipment of all is a classic grill. This nicely-sized one is powered by charcoal, can wheel around wherever you need it, and has a basket that captures ash so it doesn't go blowing around your yard. The racing green is our favorite, but several colors are available.
---
RELATED: A Beginner's Guide to Vegetarian Grilling (Char Marks and All)
---
Get more of what you love from VT. Follow us on Instagram, Facebook, and Twitter, and sign up for our email newsletters.