Adopt a Farm Animal + Make a Huge Difference
Heading out the door? Read this article on the new Outside+ app available now on iOS devices for members! Download the app.
Animal lovers who can't personally take in a rescued animal, might consider sponsoring one with a monthly donation — which offers real help.
Meet Athena. She is a miniature black Angus who was recently rescued from slaughter in a Southern California cruelty case.
"She's the cutest little thing," says Ellie Laks, founder of The Gentle Barn, a rescue group with locations in Santa Clarita, Calif., and Knoxville, Tenn.
"A backyard butcher brought animals at auctions, slaughtered them, cut them up, and sold the meat to people in his community." The animals, explains Laks, were diseased and kept in filthy conditions. "The meat was tainted with parasites—it was a hazard to the animals and to the people he was feeding," she says.
Local authorities finally confiscated the animals, and The Gentle Barn took them in. Among them was Athena, emaciated, sick, and terrified. "It took a long time to heal their bodies, help them gain weight, and build muscle," says Laks of the rescued animals.
Animal lovers moved by stories like this—and who want to help but cannot take in an animal—might find that "adopting," or sponsoring, a rescued animal is an emotionally satisfying solution.
Learn Compassion Through Farm Adoption
"Adopting" means making a monthly donation for that animal's care to the group that does this work, paying a portion of the very high food and veterinary bills.
"The costs are tremendous with the level of care we give them," says Laks. "We take animals no one else wants. So, out of the gate, we have huge vet costs."
The Web site for The Gentle Barn and those for similar groups provide a virtual barnyard—photos and stories of the rescued animals, allowing donors to choose which they'll sponsor. The Gentle Barn, founded in 1999, cares for 175 animals—all rescued from abuse or neglect.
See alsoWhy You Should Visit a Farm Animal Sanctuary
By sponsoring a rescued animal, a person participates in its recovery, says Meredith Turner-Smith, the media-relations specialist at Farm Sanctuary, founded in 1986, with three locations in California and New York. Says Turner-Smith, "The sponsor is sent a letter detailing how their new adoptee got to Farm Sanctuary, an adoption certificate naming them as the 'Proud Parent,'
and a 4- x 6-inch color photograph of their adoptee."
Farm Sanctuary sponsorships continue for a minimum of one year, but can go on for as long as the sponsor wishes. "We have one person who sponsored Bing Goose from 1990 until Bing died in 2015," says Turner-Smith. Sponsorships range from $10 a month for a chicken to $50 for a cow.
Farm Sanctuary currently cares for 873 animals. "Over 30 years of Farm Sanctuary's existence, thousands of animals have been recognized in this way," Turner-Smith says.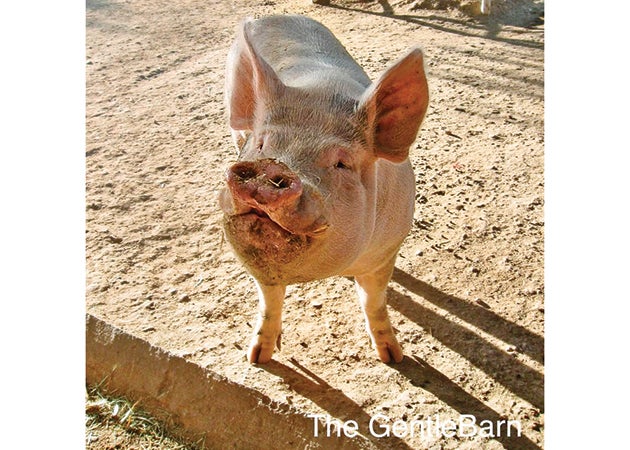 Farm Adoption for a Happy outcome
Sponsoring is a win-win-win—for the animals, their caretakers, and the sponsors.
"Adopting a farm animal allows sponsors to express their activism on this issue," Turner-Smith explains. The Gentle Barn updates sponsors every three months about their "adoptees." Sponsorships range from $5 per month for chicks to $50 for horses.
"For the lucky few [animals] who come to us pregnant or with their young, they never have to worry about being separated from their families again and are able to raise them and share them with the humans who care for them," says Turner-Smith.
"Sponsors share in that healing process and can witness firsthand how their donations completely turn around the lives of these individuals," she says.
See also Q & A with Gene Baur of Farm Sanctuary
SaveSave