Fill Your Windows with Spring
Get a jump on your garden, even if it's still snowy where you live. Plant an indoor window box right now.
Heading out the door? Read this article on the new Outside+ app available now on iOS devices for members! Download the app.
In our minds, winter is a time of rest and reflection, herbed stews and curling up with a favorite book or a stack of gardening catalogs. It's a respite from the other three busy outdoor seasons. But come March, we grow restless. Just as the sap begins to rise in the trees outdoors, something inside us also begins to stir.
It may be too soon to plant outdoors in most parts of the country, but this is a perfect time to get some indoor window boxes going. You can use these to improve indoor air, start seedlings for next season's outdoor gardening, or even produce herbs and salad greens for the kitchen. With a minimum of expense and just a little effort, you can create an oasis of refreshing color and greenery in your winter-weary home.
GROW YOUR GARNISHES
If you have a sunny south- or east facing windowsill with room for a few pots, you can grow your own early-season vegetables indoors. Some herbs, such as cilantro and dill, flourish inside because they germinate quickly and grow easily. Several greens such as lettuce, Swiss chard, scallions, kale and mustard greens are also good candidates. Although they get big outdoors, you won't be growing them to full size. If you start them in early March, they'll be ready to start harvesting by mid-April. The herbs and greens do well together as they have similar growing requirements, so mix up your boxes with any palate-pleasing variety. (See chart, next page, for more complementary, quick-growing edibles.)
Use a shallow, solid-bottom plant tray, about 2 inches deep. Fill it to 1/2 inch from the top of the tray with a peat-based mix (your local nursery can recommend one). Sow your seeds in rows 3 inches apart, and cover with 1?2 inch of growing mix. Press lightly with hands, and water evenly with warm water (a gentle sink sprayer works perfectly). After this initial watering, remember that the most common killer of houseplants is over watering. Instead of soaking the plants when the surface appears dry, stick your finger into the full depth of the window box to test for dampness. If the soil at the bottom is dry, then water thoroughly.
When your greens and herbs are ready to harvest, either snip off the outer leaves as they grow, or cut off the whole top, leaving the crown to produce another harvest. These fresh greens are perfect for a salad, a sandwich or garnishing a steaming bowl of soup.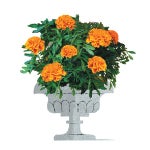 START SOME SEEDLINGS
Get a head start on your outdoor planting by starting vegetable and flower seedlings in a bright windowsill. Broccoli, cabbage, Brussels sprouts and collards all grow quickly and easily. Onions and leeks also enjoy a jump start before heading outdoors.
If you're looking for bright flowers, a number of annuals grow well when started indoors: calendula, marigolds, bachelor's buttons, asters or celosia. These can make excellent "companion plants" for your food crops—meaning they help out the greens in your garden. Some repel insects after being transplanted outdoors (lemon gem and tangerine gem marigolds are particularly good at this), and others attract beneficial pollinators. The only rule: Keep greens in one window box and flowers in another because the flowers grow quickly and will need to be transplanted sooner than your edibles.
For seedlings destined for the outdoors, use "plug trays," which have 50–100 small cells designed to make transplanting easy. Place 1–3 seeds in each "plug" at a depth equal to 3 times the diameter of the seed. Cover with a light layer of soil mix or use vermiculite (a mineral that helps soil conserve moisture). All of these supplies are inexpensive and available at any nursery.
Once seedlings have 6–8 leaves (which takes about 6–8 weeks), they're ready for planting outdoors. But wait to transplant seedlings until nighttime temperatures are consistently above 50 degrees. Your local nursery can help you figure out when that'll be for your area, then work backward to decide when to start growing seedlings.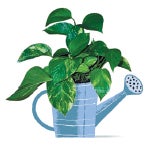 BAD-AIR EATERS
While we value plants for food and beauty, we also have an intimate relationship between our respiration and theirs. We inhale oxygen and exhale carbon dioxide; plants do the opposite. And some even help clean the air of common pollutants.
Over the past two decades, NASA studies have produced a list of plant species with high rates of oxygen/carbon dioxide exchange. English ivy, golden pothos and peace lilies are among the best air cleaners, and even a single plant will increase a room's available oxygen.
Place these plants on sills close to where you cook, read or work to reap the most benefit. Or combine a variety of them in the same window box—any of the air cleaning plants grow well together. For a fun display, mix up ones with different heights.
Some of these plants are easy to grow from cuttings, such as pothos. Just place a cutting in water, and in about 4 weeks, it will produce roots and be ready to go into a pot. Others, such as peace lilies, are much trickier; just buy small specimens, which you can often find in grocery stores as well as nurseries.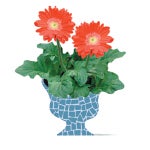 DARK DWELLERS
Luckily for those of us with mainly north-facing windows, many tropical plants have evolved to grow below the jungle canopy and survive quite happily in low-light, indoor conditions. Cast-iron plants, Chinese evergreens and mosaic plants produce bushy, 6–12-inch plants, so be sure to place them on wide sills. To really banish any feeling of darkness from your rooms, make a mixed box with brightly colored Gerbera daisies and lush English ivy.
All of these plants still require some light for about 8 hours a day, so in very dim areas, place them near a full-spectrum reading lamp (a light that mimics the sun's rays and provides warmth and brightness). In their natural state, these plants are used to clustering together in available patches of light, so they grow well together in pots; mix and match any variety that suits you.
Like air-cleaning plants, several plants that grow well in darker environments can be propagated from cuttings. Spider plants send out shoots with baby spider plants on the ends, which can be planted directly into soil. Yet others will have to be bought, such as the cheerful Gerbera daisy.