How to Harvest and Store Onions
Heading out the door? Read this article on the new Outside+ app available now on iOS devices for members! Download the app.
My Walla Walla sweet onions are ready for harvest, but that doesn't mean they are quite ready for storage. Onions require a period to "cure" before you can store them away for the winter. The curing process ensures that each onion develops a tight, dry, papery outer wrapper that locks in the onion's flavor and prevents rot.
Each leaf on an onion plant represents one layer of the bulb. As the onions grow, they push themselves out of the soil and the outermost layer of the bulb begins to turn papery. As the onions reach full maturity, the leaves begin to yellow and fall over. When about three-quarters of the leaves have yellowed, you can step in and start the curing process.
Begin by folding the onion tops over right above the top of the bulb. This encourages the leaves to stop taking up water and turn completely brown. After you've pushed the tops over, leave the onions in the ground for a week and withhold water. During this time, the outer wrapper on the bulbs should turn even more papery.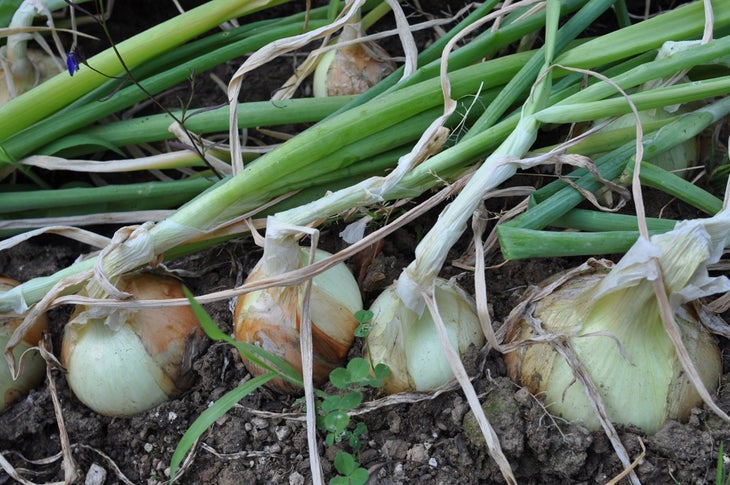 To harvest the onions, loosen the soil around the bulbs with a garden fork and then lift from the soil. Place the onions in a single layer in a crate or tray (I use wooden crates, but plastic mesh nursery trays work well, too) and set them in a warm, dry, well-ventilated spot, like a garage, to dry for another week. Then, use an old toothbrush to gently remove any excess soil that has dried on bulbs.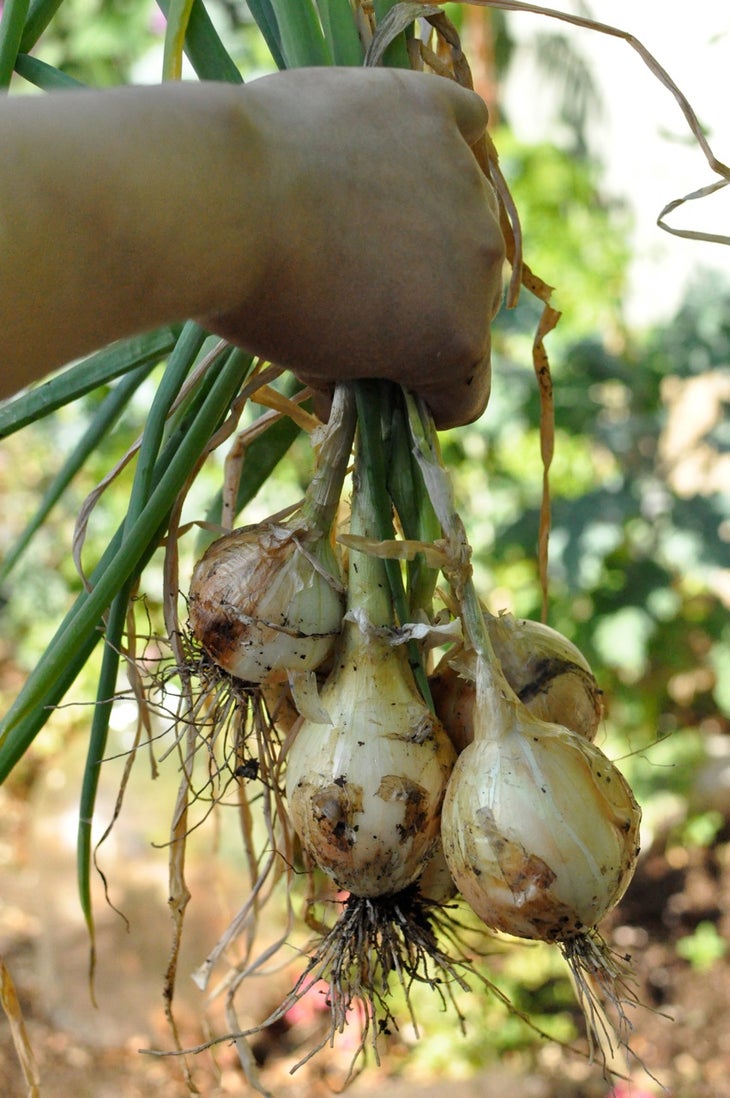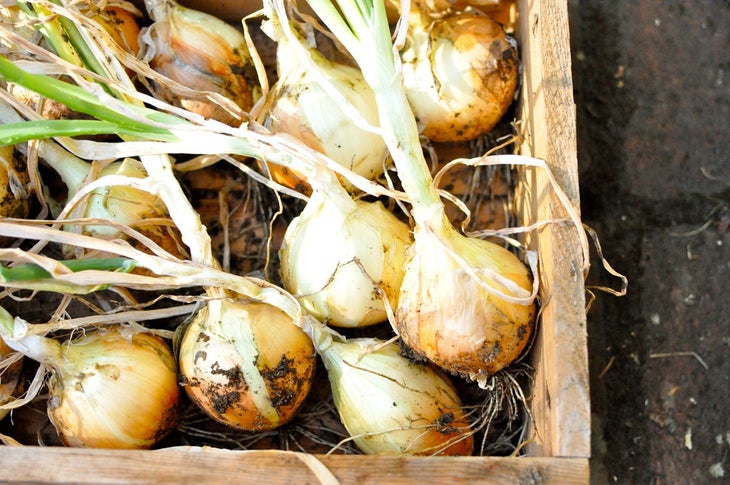 If you want to braid the onions, do so when the tops are yellowed but still pliable. If you wait too long the tops become brittle and difficult to braid. If you want to store the onions in mesh bags, wait until the tops are dry and crispy, then cut them off 1/2 inch above the bulb.
Keep them in a cool spot (50 to 60 degrees) for best results.
Sweet onions like Walla Walla and Vidalia only store well for a few months. If you want onions to store through the winter, grow a variety bred for storage, like Australian Brown.
Willi Galloway is the author ofGrow Cook Eat: A Food Lover's Guide to Vegetable Gardening, and she writes about organic vegetable gardening and seasonal cooking on her blog,DigginFood.