How to Tell Your Family You're Vegan or Vegetarian – and Maybe Even Get Them to Go Veg, Too
Jenné Claiborne of Sweet Potato Soul shares her tips for talking to friends and relations who might have questions
Photo: Catherine Falls Commercial / Getty Images
Heading out the door? Read this article on the new Outside+ app available now on iOS devices for members! Download the app.
VT Note: This story about how to tell your family you're vegan by Jenné Claiborne of Sweet Potato Soul was originally published in March, 2014.
When I became a vegan a few years ago, I was so proud of my decision to forgo all animal products that I wanted my family to follow me into this newfound enlightenment. When they weren't so quick to jump on board, I was confused and a little upset. Then, on a trip to visit my cousins, I experienced my first taste of ridicule for this lifestyle I had chosen. I even got into an argument about veganism with someone I hardly knew! Not to mention, some people in my life immediately became armchair nutritionists, doubtful that I could thrive on such an "extreme" diet.
Thankfully the benefits of my vegan lifestyle have far outweighed the annoying criticism, and over the years I've become committed to the vegan lifestyle. My health is fantastic, my moods are brighter, my energy abundant, and plant-based living has become my passion and career. In my journey I've discovered that the best way to show people that eating a well-balanced whole foods vegan diet is beneficial is to be a glowing example of health and happiness.
Build your tribe of like-minded people who understand your lifestyle, and don't judge the people who aren't yet plant-based. But how do you talk to the people in your life who think you're crazy, or those you wish would go veg too? Here are my tips.
1. Prepare to Be Unbothered
If they think you're crazy, let it go. Who cares? Occasionally people want to argue about dietary choices, but no agreement can ever be reached when they've already made up their minds and are unwilling to listen to a different point of view. I don't think arguing is worth my energy. If you are up for a discussion, however, and want to school someone on your lifestyle, stick to the facts and don't get too emotional.
2. Share Your Knowledge
If family and friends are genuinely curious about your choices, tell them why you've changed your eating habits and offer to prepare them a delicious veg dish. If they're interested, share your favorite websites and books on the topic and let them explore further on their own time. Some great documentaries are available (including online or through Netflix); I recommend watching Forks Over Knives and Vegucated. They're not painful to watch like undercover farm videos, but they convey their message powerfully.
3. Be a Glowing Example
If a loved one is concerned that you aren't getting the right amount of nutrients, kindly share with them the many ways you consume nutrients like protein, iron, calcium, omega-3s, etc. If you're consuming a variety of whole foods, you're probably doing just fine with nutrient intake, so show them what you eat and how it contributes to your health. I find that sharing foods that everyone is familiar with is a great way to bridge the gap. For example, lentils, broccoli, collard greens, kale, and spinach are all familiar foods that provide protein, calcium, iron, vitamins, and other nutrients. The best ways to share the benefits of a veg diet are by being a glowing example of health and introducing people to the delicious, healthy, and familiar foods that help you thrive.
4. Win Them Over with Tasty Treats!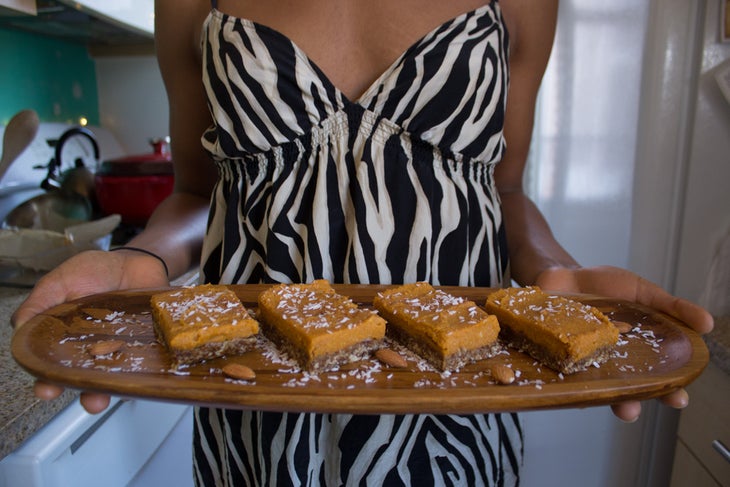 ---
RELATED: Meet Eight Black Vegan Chefs and Restaurateurs Who Inspire Us
---
Get more of what you love from VT. Follow us on Instagram, Facebook, and Twitter, and sign up for our email newsletters.