One on One with Mayim Bialik
This actress spotlights her real-life role as a mom
Heading out the door? Read this article on the new Outside+ app available now on iOS devices for members! Download the app.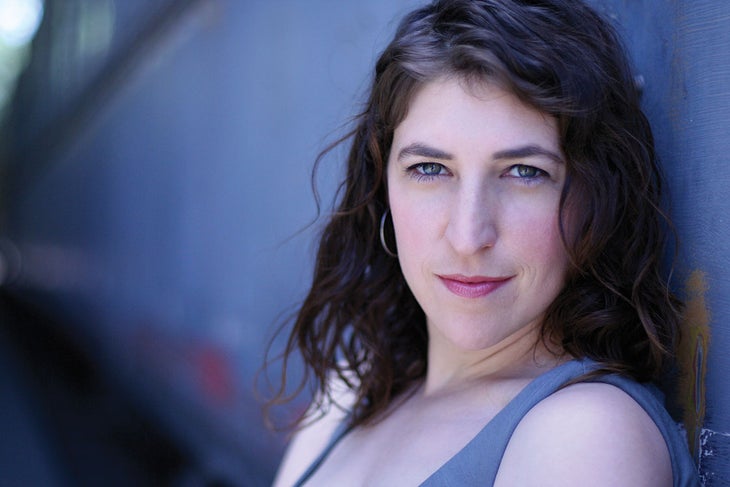 After starring in the sitcom Blossom in the 1990s, Mayim Bialik took her beyond-her-years braininess to UCLA, where she earned a PhD in neuroscience in 2007. Along the way she started a family, and is passing her veg values on to her sons, Miles, 5, and Frederick, 2; a spokesperson for the national Holistic Moms Network, Bialik is writing a book on parenting, available in spring 2012. She's also returned to acting, with a recurring role in the CBS comedy The Big Bang Theory and a film, The Chicago 8, due in theaters this fall. 
Q: What brought you back to acting?
A: After finishing my degree, I got pregnant with Frederick; acting offered a more flexible schedule than being a research professor. I'm very grateful to have scored the part on The Big Bang Theory. I hadn't really tried acting as an adult; that I was able to start getting work from auditioning is a lot of luck. 
Q: What inspired you to go veg at age 19?
A: A taste aversion stopped my eating meat, then my deep love and respect for animals started informing more and more of my decisions. I had an innate sense of wanting to be vegan, but I needed more information. The change was gradual, which let me think through every step. I was still eating dairy when my first son was born; he couldn't tolerate my breast milk, and I realized I had a dairy allergy. So, it kept evolving. I read Eating Animals by Jonathan Safran Foer, and that did it. 
Q: What's one of your biggest challenges in raising veg kids?
A: For me, it's trying to find the balance between giving age-appropriate information to children and letting them come to an awareness about food on their own. I don't want them to feel superior or deprived. 
Q: Which veg meals and snacks top the list for growing children?
A: I'm most focused on healthy fats. I create lots of cheeses out of nuts. The cashew and macadamia cheeses I make are supereasy. We'll put nut cheese on crackers and eat it with veggies. I also use nut cheese in place of ricotta; I make spanakopita [a savory pie] with it. And avocado—my favorite—is one of the best foods you can give kids. My own mom was pretty progressive for her time. She was always making us raw trail mix; we never had sugary cereal. I was raised with a lot of that, but never appreciated it until I became a parent myself. 
Q: How would you define "attachment parenting," which is the subject of your book?
A: "Attachment parenting" is an umbrella term based on the theory of raising a securely attached child, as described by [psychologist] John Bowlby. Attachment parents tend to aim for these things: breast-feeding, sleeping close to your baby, carrying your baby in a sling next to your body, and practicing gentle discipline. Obviously, parents vary, and not everyone necessarily does all these things, but they're the principles that many think of as attachment parenting. 
Q: What is Passover like for an observant vegan Ashkenazi [a member of the European branch of Jews]?
A: Traditional Jews of Ashkenazi descent avoid rice, beans, and corn in addition to the five grains we don't eat during Passover. Imagine being vegan when you can't eat oats, barley, wheat, spelt, or flax. And no rice or beans means no tofu or soy anything or rice milk. So I make my own almond milk for Passover, and we eat a lot of quinoa. We eat very healthily and very creatively. With two kids, we somehow make it through!