Weekend Project: DIY Vinegar Veggie Wash
Heading out the door? Read this article on the new Outside+ app available now on iOS devices for members! Download the app.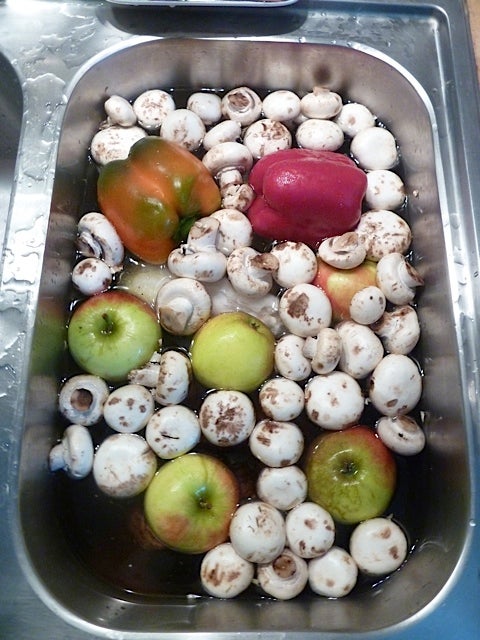 Last summer, my friend Peggy told me about a homemade veggie wash she had been using to clean and prolong the freshness of the produce from her CSA box each week. The combination was simple—1/4 cup white vinegar and 2 tablespoons salt added to a sinkful of water. The only trouble for me was that you're supposed to let the items soak for 30 minutes, then rinse them off and let them dry before putting them away. Since my usual shopping routine involves me shoving all my purchases wherever they fit in the fridge as fast as possible before moving on to the next task, I had never made the time to try the veggie wash till this weekend.
I have to say, it's pretty cool. Because the root vegetables sunk to the bottom but the others floated on top, I swished them around in the water every so often during the 30 minutes. I cannot tell for certain whether the soaking got off more grime than rinsing, but it was satisfying to see the dirt and grit that had come off and sunk to the bottom of the sink. I read up on this type of wash online, and there's some strong evidence that it gets rid of residues and kills bacteria better than just a cold water rinse. As for Peggy's claim that the wash prolongs the freshness of her produce, I can't really say—I went through this batch so fast it didn't have time to go bad.