Weekend Project: Upcycled Dressing Table
Heading out the door? Read this article on the new Outside+ app available now on iOS devices for members! Download the app.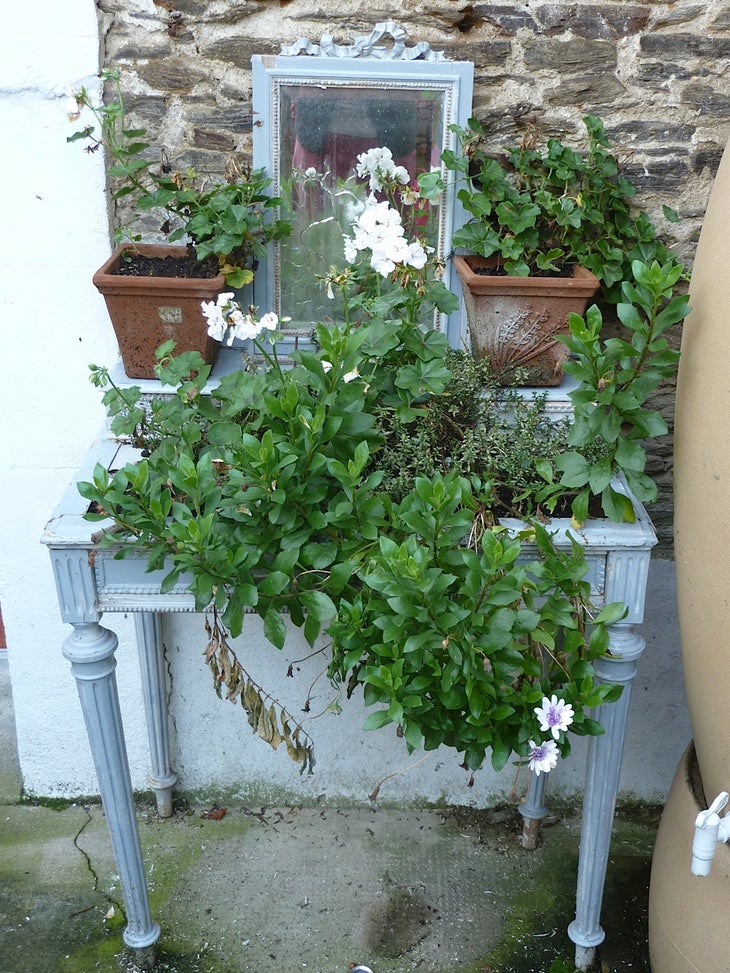 I wish I could say I was creative enough to have thought of using this old dressing table as a planter from the start, but no. It was more of a lazy accident.
Two years ago, my neighbors were getting rid of furniture they no longer wanted, and asked me if I wanted this dainty, blue antique dressing table. "Sure!" I said, and promptly cleaned it up and put it in my bedroom—where it didn't take long to realize why they had given the dresser away. The mirror, beautifully warped, wasn't much use. A couple of chunks had been taken out of the decorative wood carvings. The effect was lovely from a distance but felt more like a junk shop find up close. The legs were rickety, the drawer stuck… so, when the glued-together marble top fell apart of its own accord and my favorite vase smashed to the floor, I decided it was time for the dresser to go. I hauled it into my yard until I could find a friend with a big enough car to help me take it to a consignment shop…or the dump.
The dressing table sat outside for a couple of days until it occurred to me: If I turn it into a shabby-chic style planter, then I won't have to haul it anywhere—I can leave it right where it is. Plus, once I'd pushed it up against the wall of the house, it looked kind of cute. I filled the drawer with potting soil, filled it with flowers and greenery and to my amazement, all the plants flourished!
Now in its second season, the dressing table is showing signs of wear and tear from the elements. The legs keep getting more rickety and the wood in the drawer is really starting to warp. I know its new life as a planter won't last forever. Too bad—I've finally become attached to the thing.