This $2.5 Million Bottle of Champagne Comes with a Bundle of NFTs
"NFTs are the new diamonds," says the man behind the record-setting bottle
Photo: Courtesy Champagne Avenue Foch
Heading out the door? Read this article on the new Outside+ app available now on iOS devices for members! Download the app.
Recent economic news may have sent plenty of investors reaching for a drink to calm their nerves – but Giovanni and Piero Buono have taken that idea to a whole new level. The brothers just dropped $2.5 million dollars on a single bottle of Champagne, setting a new world record for the most expensive wine sale in history.
Of course, as The Wall Street Journal reports, this is no average bottle of bubbly. Dubbed Magnum 2.5, the one-of-a-kind magnum was produced by Champagne Avenue Foch and the Swarovski crystal bedazzled bottle features custom work by the artist known as Mig, illustrator of the Sneaky Vampire Syndicate NFT collection. But the bottle itself is just the beginning. Bundled with the purchase are five different NFTs, including a Sneaky Vampire Syndicate vampire and an ape from the Bored Ape Yacht Club.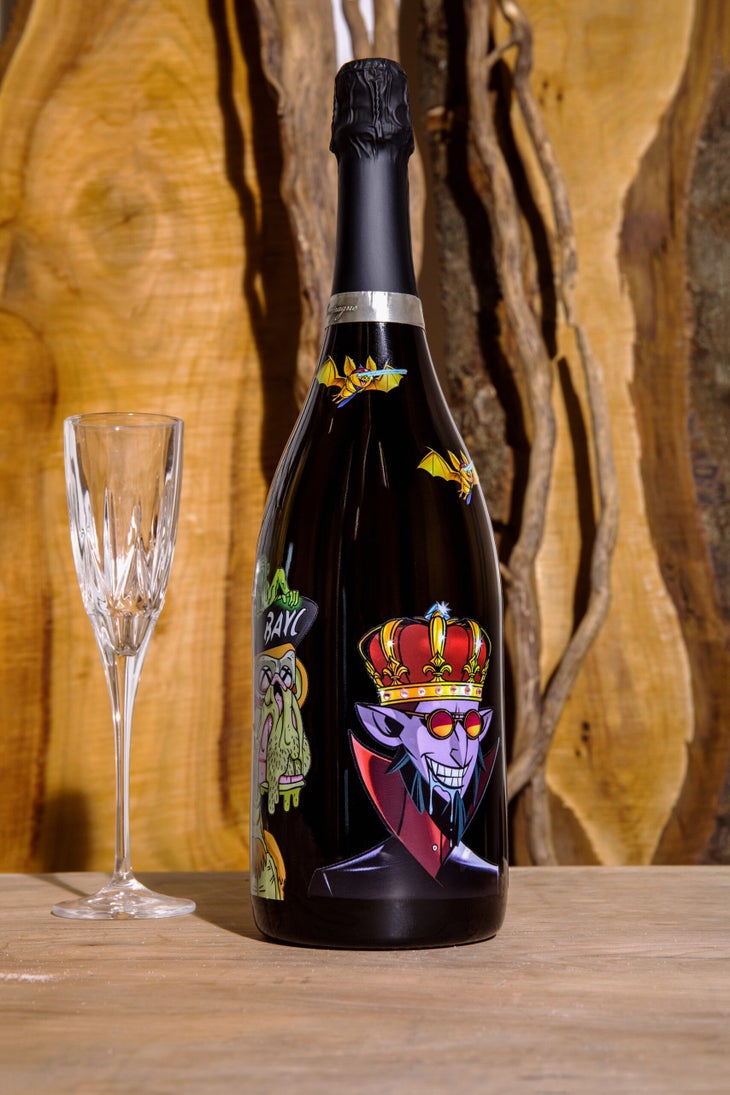 Magnum 2.5 is the vision of British entrepreneur Shammi Shinh, who has previously dabbled in the luxury Champagne world, working with the brand Goût de Diamants (translation: Taste of Diamonds). That label became a favorite of extravagance-seeking mid-aughts celebrities. In 2013, Shinh was involved in the creation of limited-edition bottles featuring precious metals and real diamonds that sold for $2 million.
"NFTs are the new diamonds," Shinh said in a press statement announcing his plan to release Magnum 2.5. "I wanted to create something timeless for the modern investor, nothing less of a masterpiece."
And, like diamonds, Shinh noted he expects Magnum 2.5 will be sold and resold after it leaves his hands. But he's built in a catch.
"As it is sold as an NFT, I expect it to be traded a few times in the marketplace before the physical bottle lands with the right individual who will HODL (Hold On For Dear Life). In order to receive the physical Champagne bottle, the buyer will need to burn the NFT. The Champagne itself is a work of art and unmatched quality."
That means the Buonos aren't likely to be toasting with their newly-purchased juice any time soon – but that's fine with them.
"I don't plan to drink it, I think it will be a good investment," Giovanni Buono told the Wall Street Journal. "There is a lot of turmoil in the investment world, things are changing geopolitically very quickly. Wealthy people will look for places to store their wealth for a while — and that could be a champagne with an NFT attached to it."
It's probably for the best that the brothers aren't actually expecting a $2.5 million-worthy glass of Champagne. Inside Magnum 2.5 is a blend of Premier Cru grapes harvested at the Allouchery estate in Chamery in 2017. Similar Premier Cru blends produced by the estate under its own brand name reportedly retail for just under $15.
---
RELATED: France's 'Truffle of the Year' Just Sold in a Record-Breaking NFT Auction
---
Get more of what you love from VT. Follow us on Instagram, Facebook, and Twitter, and sign up for our email newsletters.