Dexter Scott King, Son of Rev. Martin Luther King Jr., On Veganism as a Form of Non-Violence and Spiritual Growth
From our archive: A 1995 conversation with Dr. Martin Luther King Jr.'s son about veganism and the pursuit of social justice
Photo: Moses Robinson / Getty Images
Heading out the door? Read this article on the new Outside+ app available now on iOS devices for members! Download the app.
Note: This feature on Dexter Scott King and his vegan activism ran in the October, 1995 issue of Vegetarian Times and is published below in its original form from 27 years ago. King is now 60 years old and serves as chairman of the King Center; his sister Bernice King took over as the organization's CEO in 2012. Activist and comedian Dick Gregory passed away in 2017.
---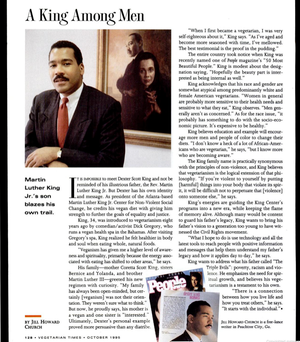 It is impossible to meet Dexter Scott King and not be reminded of his illustrious father, the Rev. Martin Luther King Jr. But Dexter has his own identity and message. As president of the Atlanta-based King Center for Nonviolent Social Change, he credits his vegan diet with giving him strength to further the goals of equality and justice.
King, 34, was introduced to vegetarianism eight years ago by comedian/actor Dick Gregory, who runs a vegan health spa in the Bahamas. After visiting Gregory's spa, King realized he felt healthier in body and soul when eating whole, natural foods.
"Veganism has given me a higher level of awareness and spirituality, primarily because the energy associated with eating has shifted to other areas," he says.
His family – mother Coretta Scott King, sisters Bernice and Yolanda, and brother Martin Luther III – greeted his new regimen with curiosity. "My family has always been very open-minded, but certainly [veganism] was not their orientation. They weren't sure what to think." But now, he proudly says, his mother is a vegan and one sister is "interested."
Ultimately, Dexter's personal example proved more persuasive than any diatribe.
"When I first became a vegetarian, I was very self-righteous about it," King says. "As I've aged and become more seasoned with time, I've mellowed. The best testimonial is the proof in the pudding."
The entire country took notice with King was recently named one of People magazine's "50 Most Beautiful People." King is modest about the designation saying, "Hopefully the beauty part is interpreted as being internal as well."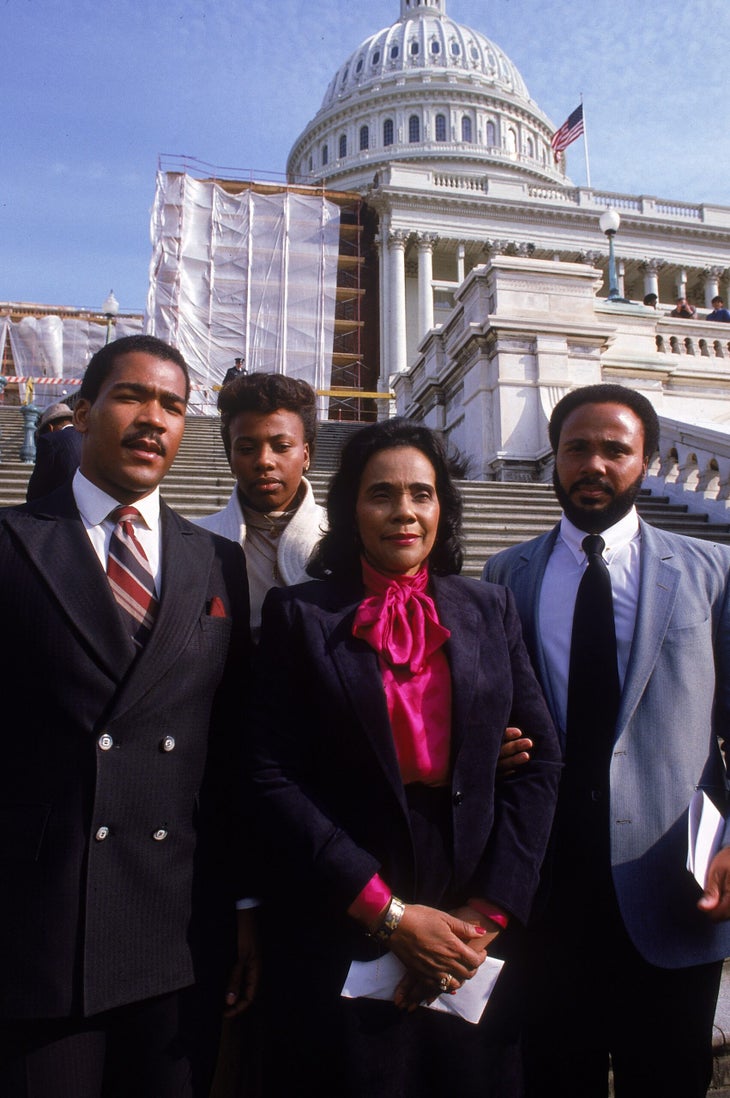 King acknowledges that his race and gender are somewhat atypical among predominantly white and female American vegetarians. "Women in general are probably more sensitive to their health needs and sensitive to what they eat," King observes. "Men generally aren't as concerned." As for the race issue, "it probably has something to do with the socio-economic picture. It's expensive to be healthy."
King believes education and example will encourage more men and people of color to change their diets. "I don't know a heck of a lot of African-Americans who are vegetarian," he says, "but I know more who are becoming aware."
The King family name is practically synonymous with the principles of non-violence, and King believes that vegetarianism is the logical extension of that philosophy. "If you're violent to yourself by putting [harmful] things into your body that violate its spirit, it will be difficult not to perpetuate that [violence] onto someone else," he says.
King's energies are guiding the King Center's programs into a new era, while keeping the flame of memory alive. Although many would be content to guard his father's legacy, King wants to bring his father's vision to a generation too young to have witnessed the Civil Rights movement.
"What I hope to do is use technology and all the latest tools to reach people with positive information and messages that help them understand my father's legacy and how it applies day to day," he says. King wants to address what his father called "The Triple Evils": poverty, racism, and violence. He emphasizes the need for spiritual growth and believes his vegetarianism is a testament to his own.
"There is a connection between how you live life and how you treat others," he says. "It starts with the individual."
---
RELATED: Haile Thomas Wants to Share the Joy – and Power – of Plant-Based Eating
---
Get more of what you love from VT. Follow us on Instagram, Facebook, and Twitter, and sign up for our email newsletters.