Colorado Scientists Discovered a Strain of Mycelium That Flourishes After Wildfires. Now They're Turning It Into Alt-Meat.
An unusual mycelium that appears after fires is the key ingredient in an innovative new alt-meat that bears a strong resemblance to animal protein
Heading out the door? Read this article on the new Outside+ app available now on iOS devices for members! Download the app.
Meati co-founders Tyler Huggins and Justin Whiteley, met as PhD students at the University of Colorado, Boulder, where Tyler was studying environmental engineering and Justin was studying materials science. When they met, Huggins recalls that he and Whiteley shared an interest in utilizing natural technology to "create a positive impact on people and the planet," but they weren't thinking specifically about food.
What Huggins was thinking about, though, was mycelium, the root structure of mushrooms that primarily grows underground in thread-like strands. While Huggins was working in Montana as a field biologist for the U.S. Forest Service, he and Whiteley "started working with mycelium as a platform to create a variety of materials," he said. But Mycelium, like fungi, isn't just one specific thing. "Mycelium is a catch-all term for a very diverse biological phenomenon," Huggins said, "we knew that we wanted to harness mycelium, but didn't know which type."
The answer came to them after wildfires that razed several areas in the Western United States. A specific strain of mycelium was found rapidly growing in the burn areas. It was bright white in color and, because it was growing after fires cleared out other plants, the lack of competition meant that there was no need for it to grow protective mechanisms such as mycotoxins which can be harmful for human consumption.
Once Huggins and Whiteley started experimenting with the mycelium fermentation process, "it was a no-brainer to use this technological development towards producing alternative meat, which we thought was a great vessel to deliver nutrition to everybody," Huggins said. From there, Meati the brand was born.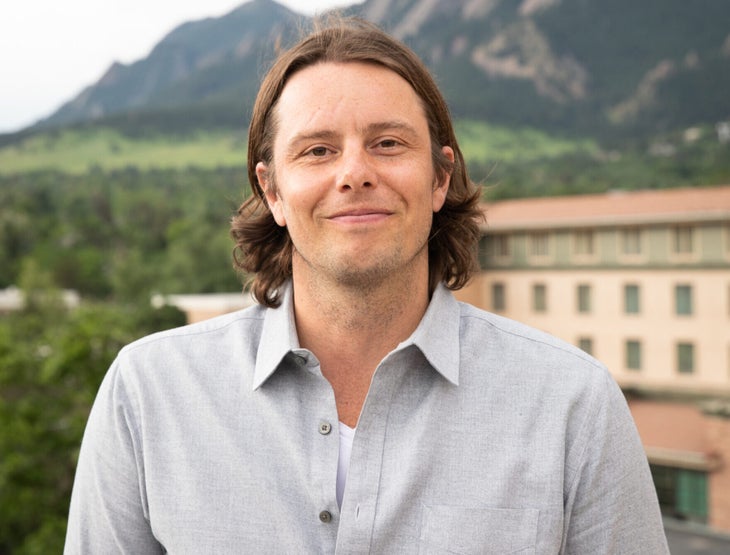 How Meati Is Created
Unlike some other alt-meat products currently on the market, mycelium by itself is a complete protein, meaning that there's no need for added protein sources. A serving of Meati delivers 23 grams of protein and one–third of the average person's daily fiber needs.
Growing, flavoring, and packaging the product all takes place in-house at Meati's ranch, where, the founders say, they keep things as close to nature as possible.
"My belief is that nature has already solved most of the problems that humans are looking to solve," Huggins said, "We don't need to create a new product, we could use what nature has already created and guide it where we want it to go."
The mycelium is grown using a submerged fermentation process, meaning that it is grown in water with nothing else added but the nutrients and sugar that aid its growth. Once the mycelium is harvested – at "peak nutritional quality," according to Huggins – the strands are texturized and marinated, then packaged.
What Makes It Different
Meati is entering the market with a range including whole-cut steak, whole-cut chicken, and Meati Cutlets. The brand's products recently made their debut on the menu at SALT Bistro, a farm-to-table restaurant in Downtown Boulder, and will likely be available to consumers nationwide later in 2022.
Some who have tried the products say Meati bears a closer resemblance to animal meat than some other alt-meat products.
"It's all in the texturization and flavoring," says Meati's Executive Vice President of Innovation and Commercialization, Behroze Mistry, who was brought on by Huggins and Whiteley in July 2019 to lead a team of twenty food scientists.
Since mycelium is grown underground as fungi "strands," the strands can be aligned properly to imitate muscle structure. Mistry says that, "mycelium is this textured protein that we can form and guide in specific ways[…] we really have the ability to produce any type of muscle structure." Once the strands are aligned, flavoring is added to the product, which Mistry described as similar to a marination process.
Mistry is excited to be on board with Meati due to its potential to provide a large amount of people with nutritious protein. "No one should have to go hungry. My goal is to be part of a system that provides food to people," Mistry said.
Compared to industrial meat, Meati products use less than 1 percent of the land and water resources. On Meati's current ranch, the company is able to produce between 50,000 to 60,000 pounds of Meati per year. It would take thousands of cows on hundreds of acres of ranchland to generate that much protein – and they only plan to grow.
---
RELATED: Journalist Larissa Zimberoff Thinks She Knows What We'll Eat in the Future
---
Get more of what you love from VT. Follow us on Instagram, Facebook, and Twitter, and sign up for our email newsletters.