Taco Bell Is Putting Beyond Meat on the Menu
An exclusive, custom-created vegan carne asada is the latest in an ongoing collaboration between the brands
Photo: Courtesy Taco Bell / Beyond Meat
Heading out the door? Read this article on the new Outside+ app available now on iOS devices for members! Download the app.
Already one of the most veggie-friendly of major fast-food chains, Taco Bell is taking another step in the plant-based direction. The iconic brand will debut its first Beyond Meat product next month, a vegan carne asada 'steak' made from wheat gluten and faba bean protein and seasoned with a custom Taco Bell blend of spices.
"We know that consumers are looking for diverse protein options that are better for the planet without compromising on taste, so we're incredibly excited to launch our brand-new, innovative Beyond Carne Asada Steak," said Dariush Ajami, Beyond Meat's Chief Innovation Officer. "Designed to specifically complement the bold, savory flavors that Taco Bell is known for, Beyond Carne Asada Steak delivers the flavorful, delicious taste and texture of marinated, grilled steak with the added benefits of plant-based meat."
Developed collaboratively by Beyond Meat and Taco Bell, the carne asada has a look and texture that seems almost uncannily like the beef-based product it emulates. The faux version looks and cooks so similarly to beef, in fact, that Taco Bell staff will be putting special green "V" stickers on the Beyond Meat products to let diners know they're getting the veggie version.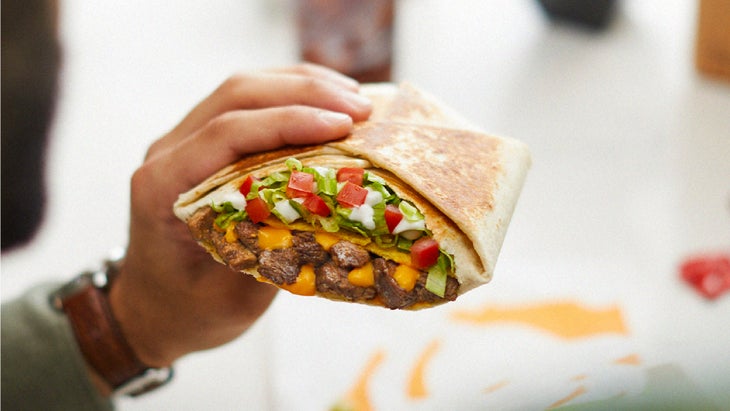 Another similarity between the veggie carne asada and the beef version: how much it costs. Both Taco Bell and Beyond Meat were committed to bringing the product to market at what they term "price parity." That's important for making the plant-based option an appealing and accessible option to the broadest possible swath of the population – including folks who don't eat plant-based all the time but are open to giving meat-free a try. Right now, alt-meat items can cost more per pound than conventional animal meat, but Beyond Meat is working on price accessibility across the board; by 2024 the company aims to have some of its grocery store products selling at a cost that's equal to or less than comparable animal-based proteins.
The Beyond steak will be listed on the menu in soft tacos and quesadillas and available to swap in for the protein in any other item they offer. By default, the Beyond Meat carne asada taco and quesadilla will be vegetarian but contain dairy; to make those or other items vegan, cheese and dairy-based sauces can be removed or swapped for avocado.
As with many veggie proteins, it'll hit menus first as a limited-run trial. If you're hoping to be among the first to try this innovation, you'll need to stop by a Taco Bell in Dayton, Ohio starting on October 13. While reps for Beyond Meat and Taco Bell politely demurred when asked if there's a plan for a national roll-out in the near future, testing small at first and then releasing wider has been the trajectory that chains like Panda Express and KFC have followed with their offerings.
Like KFC, Taco Bell is part of Yum! Brands – a group that also includes Pizza Hut and The Habit Burger Grill. In early 2021, Yum! and Beyond Meat announced a multi-year deal to work on developing and expanding plant-based options at these powerhouse chains, including co-creating custom products like the new carne asada.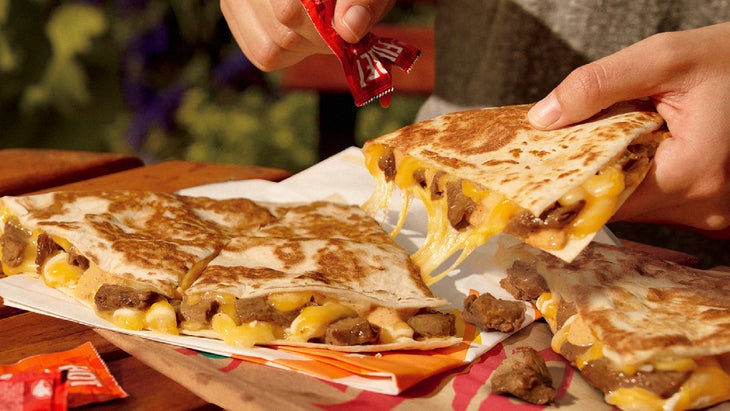 "We're excited about the long-term potential plant-based protein menu items have to attract more customers to our brands, especially younger consumers," Chris Turner, CFO of Yum! Brands said in a statement released at the time. "We expect this Beyond Meat partnership to strengthen our brands' capability to offer delicious, plant-based menu items that are driven by consumer demand for more diverse protein options and our brands' strategies in local markets."
Those vegetarian and vegan customers already make up significant portion of Taco Bell's audience. According to company statements, meat-free products accounted for 12 percent of total sales in 2021. The chain even offers a "Veggie Mode" on in-store ordering kiosks to make it easier to find veggie options and became the first quick-service restaurant to be certified by the American Vegetarian Association all the way back in 2015.
"At Taco Bell, we've long believed that anyone should be able to choose plant-based menu items without compromising the flavors they crave," said Liz Matthews, Taco Bell's Global Chief Food Innovation Officer. "This plant-based carne asada steak is just the latest move in our history of crafting some of the most unique, craveworthy offerings for all fans."
---
RELATED: The Panda Express Vegan Orange Chicken (Finally!) Goes Nationwide
---
Get more of what you love from VT. Follow us on Instagram, Facebook, and Twitter, and sign up for our email newsletters.