An Oregon Startup Is Turning Brewery Waste Into Plant-Based Milk
Take Two Barleymilk turns beer brewing trash to dairy-free treasure
Heading out the door? Read this article on the new Outside+ app available now on iOS devices for members! Download the app.
Recycled milk bottle: Perfectly normal. Recycled milk, though? Not what we were expecting. But, it turns out, it's actually far less gross than it might seem. Portland, Oregon-based Take Two Foods has developed a way to reuse would-be waste produced by beer breweries and turn it into creamy, delicious barleymilk.
Each year, breweries toss out around eight billion pounds of what's known as 'spent grain,' the leftover slurry after cooking down the barley that gives beer its signature color and flavor. Some of it goes on to become livestock feed, but a lot of that nutrient-rich grain goodness just goes in the garbage.
Take Two founders Jerek Theo Lovey and Matthew Olsofsky saw an opportunity.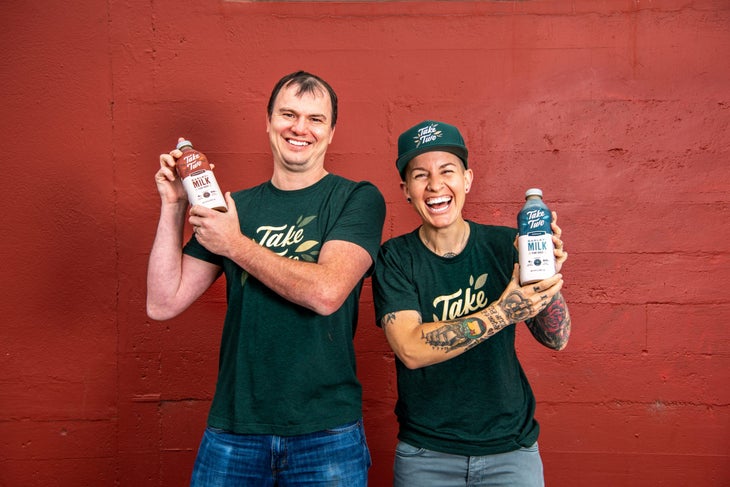 "We separate [the spent grain] and sort of create new ingredients," Olsofsky told Portland's KGW News. "It was traditionally viewed as waste, as leftovers. But that's concentrated nutrition, concentrated barley protein, concentrated barley fiber."
Each 40-ounce bottle of Take Two Barleymilk repurposes around one pound of spent grain. A statement from the company asserts that their process also saves 99 gallons of water per bottle.
"Our ambition is to upcycle 500,000 pounds of spent grain this year," Olsofsky states in a blog post.
Now available in original, unsweetened, chocolate, and vanilla versions, with a barista edition coming soon, each serving of Take Two Barleymilk contains five grams of protein, more calcium than a serving of dairy milk, and 50 percent less sugar than many competing plant milks. Company materials boast that it performs more like dairy milk in baking and cooking applications than other alternatives, and that an expanded product line including yogurt, ice cream, and even cheese is in the works.
"Our commitment is to craft the world's most remarkable plant-based foods made with the highest-quality ingredients, while championing the planet's resources," Lovey says. "Food that tastes amazing and truly nourishes, without the environmental impact."
Take Two can be purchased at supermarkets including Sprouts Farmers Markets and Whole Foods, as well as ordered directly from the company website.