This Jicama Tostada with Avocado, Guajillo, and Hibiscus Is Fruity, Tangy, and Just a Bit Spicy
I wanted this tostada to be light, fresh, and have lots of texture
Heading out the door? Read this article on the new Outside+ app available now on iOS devices for members! Download the app.
A part of being a good cook is to study and be inspired by other people's work. I always flip through my favorite chefs' books and try to come up with vegan version of the ones I like. This jicama tostada recipe was inspired by a ceviche dish I saw in Gabriela Cámara's book My Mexico City Kitchen. She uses fried chilies and hibiscus leaves to coat the meat, a technique I've only seen done a few times before. I thought I should finally try it out.
I wanted this tostada to be light, fresh, and have lots of texture. I went with jicama to substitute for the meat. For those unfamiliar with jicama, it's a root vegetable with a slightly sweet taste and an almost apple-like crispness to it. It's my go-to choice when picking from the line of options when I'm in front of a frutero cart – and was an easy choice when I was deciding on what to use here.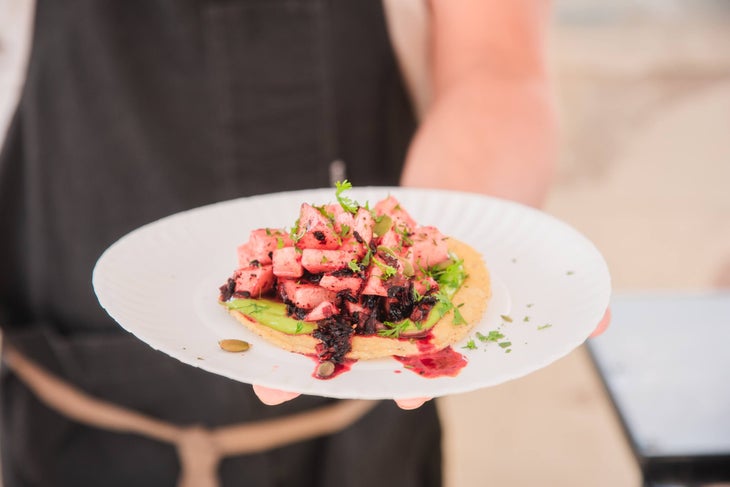 The jicama is diced and tossed in lime and olive oil with fried guajillo chilis and hibiscus leaves. Both have a combination of fruity, tart, tangy, and slightly spicy flavors. The lime and oil help extract the flavors of both ingredients as the jicama absorbs it. The process also results a deep red color that makes this tostada pop.
You can find dried guajillo chilis and hibiscus leaves at your local Mexican market. Some places only sell hibiscus in larger portions, but you can always make jamaica with the leftover leaves! You can also experiment with different dried chilies other than guajillo if you already have your favorites.
At the base of this jicama tostada is avocado salsa, and it gets topped with toasted pumpkin seeds and cilantro. I have been serving this dish on my summer pop-up menu and have been getting lots of positive feedback. It took several different variations to get it just right, but I'm really happy with the results.
---
More Related Recipes to Try Next:
Watercress, Jicama, and Orange Salad
Jicama-Mango-Tortilla Salad with Citrus Vinaigrette
Lemon Hibiscus Iced Tea with Honey

---
Jicama Tostada with Avocado, Guajillo, and Hibiscus
Ingredients
1 pound jicama
2 dried guajillo chilies
1/4 cup oil for frying
1/4 cup hibiscus leaves
2 large limes
1 tablespoon olive oil
1 avocado
1 bunch of cilantro
2 cloves garlic
1 teaspoon white vinegar
1/4 of a white onion
1/3 cup pumpkin seeds
Salt to taste
Preparation
Warm up a pan on medium high heat and toast the pumpkin seeds. Give them a toss every so often till you start to see them slightly darken in color and they start giving an aroma. Set them aside on a sheet tray or plate to let them cool.
To make the salsa, in a blender add your avocado, half of the cilantro bunch, garlic, vinegar, onion, salt to your liking and a few scants of water and blend. You want your salsa to be smooth so it easily spreads on the tostada. If you find that it's still a little stiff, keep adding a few drops of water till you get the right consistency. Be sure to add more salt as you go, to balance out the water you put in.
In the same pan used to toast the seeds, give it a little wipe to clean any left over bits. Add the frying oil to the pan and turn on to a medium heat. Once the oil is hot, place the guajillos in with a pair of tongs. They will quickly turn a brighter red in a few seconds and they are ready to pull. Be careful not to scorch the chili or it will become bitter and pick up a dark red or black color. If this happens, try again. Once fried, set aside on a paper towel. Next, do the same for the hibiscus flower. The flower can handle being in the pan for a longer period of time so don't worry. It will get crispy and turn to a darkish purple color about a minute or so into the fry. Once it's ready, pull the leaves out and set aside on the same paper towel.
Next, peel off the skin of the jicama with a peeler. Once fully bare of its white skin, dice into one inch sized pieces and into a bowl.
Once cool enough to handle, rough chop the guajillo and hibiscus leaves (kitchen sears would also work if you have them). Toss them in the bowl of jicama along with the juice of the limes, olive oil, and a dash of salt. With a slotted spoon, toss around all the ingredients in the bowl until you see the hibiscus and chile start to dye the jicama to a dark red color.
To assemble the tostadas, start by spreading some avocado salsa on with the back of the spoon. Then add jicama mixture from the bowl, making sure to not get too much of the juice on the tostada or it will soften quickly. Top it off with toasted pumpkin seeds and chopped cilantro from the second half of the cilantro bunch.