Shenarri Freeman's Vegan Lasagna
Thanksgiving recipes from our favorite plant-based chefs
Heading out the door? Read this article on the new Outside+ app available now on iOS devices for members! Download the app.
Vegetarian Times asked four of our favorite plant-based chefs, cookbook authors, and general food geniuses to share the recipes they would serve for a Thanksgiving or holiday meal – and to offer some thoughts about food, cooking, and traditions. This recipe for vegan lasagna comes from Shenarri Freeman of Cadence. 
Lasagna has been one of my contributions to Thanksgiving since I transitioned over to a plant-based diet. It's rich in flavor, creamy, and layered to perfection. It's also one of those dishes that gets better over time, unlike many leftovers. Traditionally my family hosts Thanksgiving back home in Richmond, Virginia. Usually at my mom's house or one of my aunties'.

For as long as I could remember, everyone is always assigned certain dishes based on their culinary history. My mom always does the potato salad and the deviled eggs. My aunt Tina does the collard greens, baked beans, and mac. My step-dad always is in charge of the fish, chitlins, and fried oysters, and so forth. It can be difficult introducing vegan and plant-based alternatives to family and friends but this dish has earned a seat at the table. – Shenarri Freeman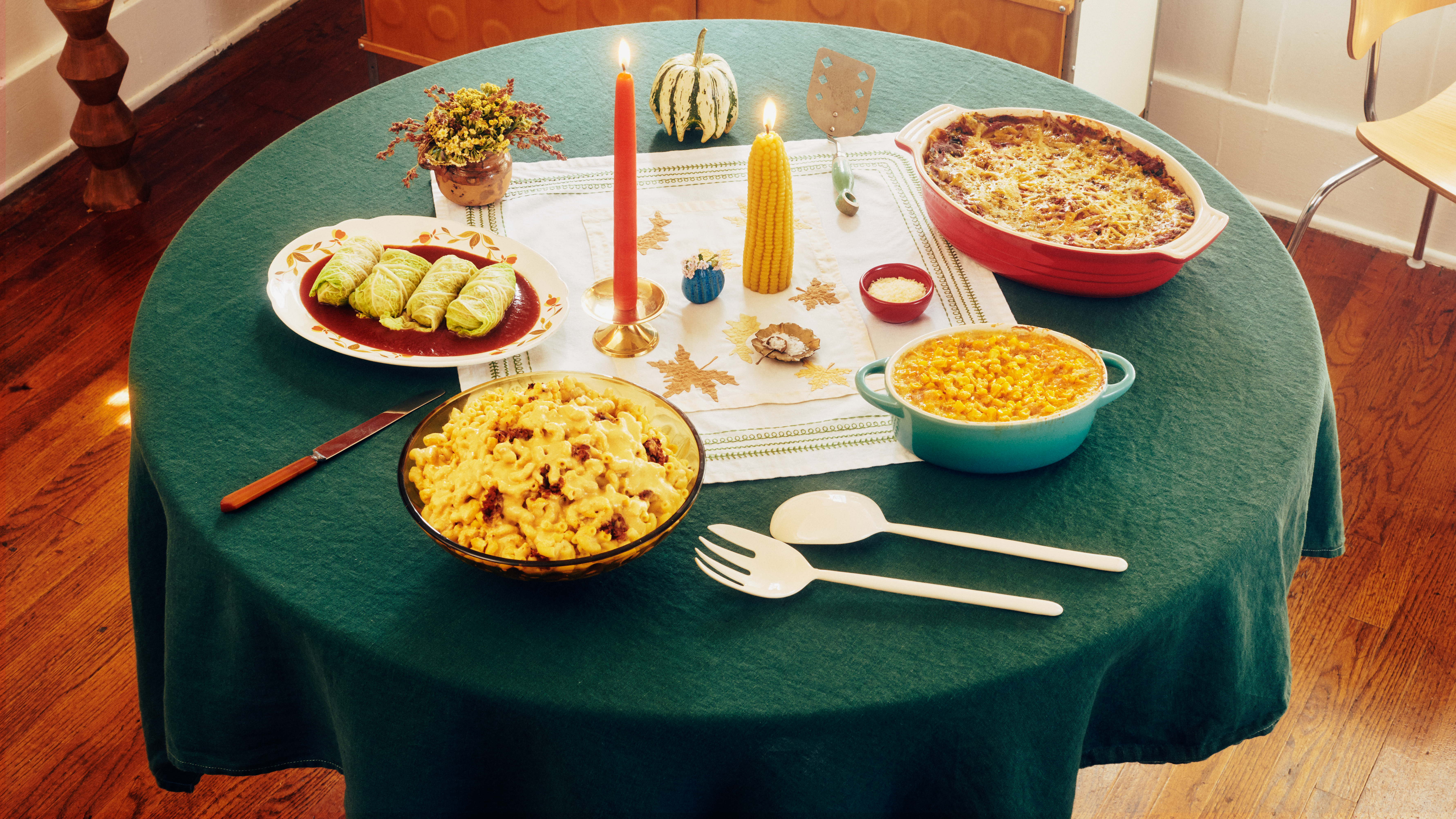 ---
 More Holiday Recipes and Ideas from Vegetarian Times
---
Get more of what you love from VT. Follow us on Instagram, Facebook, and Twitter, and sign up for our email newsletters. 
---
Shenarri Freeman's Vegan Lasagna
Ingredients
Grapeseed oil
16 ounces baby bella mushrooms, medium chop
1 yellow onion, medium dice
3 cloves garlic, minced
1 teaspoon garlic powder
1 teaspoon parsley
1/2 teaspoon onion powder
1 teaspoon salt
2 cups tomato sauce
1 Tablespoon lemon juice
10 ounces hummus
1/2 cup nutritional yeast
3 cups watercress (or spinach)
Lasagna noodles
1 package, Follow Your Heart Shredded Vegan Cheddar Cheese
1 package, Follow Your Heart Shredded Vegan Mozzarella Cheese
Preparation
Preheat oven to 400F. Boil a pot of water for noodles, add a tablespoon of oil.
Make the mushroom pasta sauce: In a medium sized pan over medium heat, heat 1 1⁄2 tbsp of oil. Add in mushrooms, onion, and garlic, and sauté. Add dry seasonings, garlic powder, parsley, onions powder, and salt. Add in tomato sauce and bring to a simmer. Set aside
In a separate bowl, mix to combine lemon juice, hummus, nutritional yeast, and watercress (or spinach) Set aside.
Once water is boiling, cook pasta noodles according to the package and drain well.
In a 9 x 13 glass casserole dish, begin to assemble the dish. Layer mushroom pasta sauce, vegan cheese, hummus mixture, noodles, and repeat. Top layer should be finished off with cheese.
Cover with aluminum foil and bake for 30 minutes covered, then 15 minutes uncovered. Serve.