Try a Shrikhand Tart for an Updated Festival Tradition
I swapped the fried puri that often accompanies shrikhand for a crumbly crust in this elegant holiday dessert
Heading out the door? Read this article on the new Outside+ app available now on iOS devices for members! Download the app.
One of the many desserts served with during festivals like Diwali – or any auspicious day – shrikhand is a made of thick yogurt flavored with sugar, cardamom, and saffron. It can also be flavored with mango puree. It's one of the most comforting desserts, and often enjoyed with a fried flatbread (puri). My idea for making shrikhand into a tart was to replace the puri with a crust made of crumbled cookies. It tastes better, is healthier, easier to make, and looks very presentable.
Traditionally, shrikhand is made using homemade yogurt that is hung for hours to drain off excess whey; using store-bought Greek yogurt, which is already thicker, will save you time.
And, let me just say, Diwali is amazing. It's a whole vibe with so much positivity and happy energy. Diwali, also known as the Festival of Lights, is loud, colorful, delicious, and fun. This beautiful festival that signifies the victory of good over evil. There is something magical about it that summons fond childhood memories.
As a kid Diwali meant wearing new Indian outfits, eating delicious food and sweets, praying with my family in a house lit up by Diya (clay lamps). The smell of incense and good food (ahh nostalgia). Not sure if it's a brown thing but when it comes to making food during Diwali we go all out. It's like celebrating Thanksgiving – for a week. Growing up my mum would cook the snacks and traditional sweets in stages. Trust me, it's a labor-intensive job.
---
More Related Recipes to Try Next:
My Mum's Samosas
Creamy Paneer Masala
Cardamom Barfi

---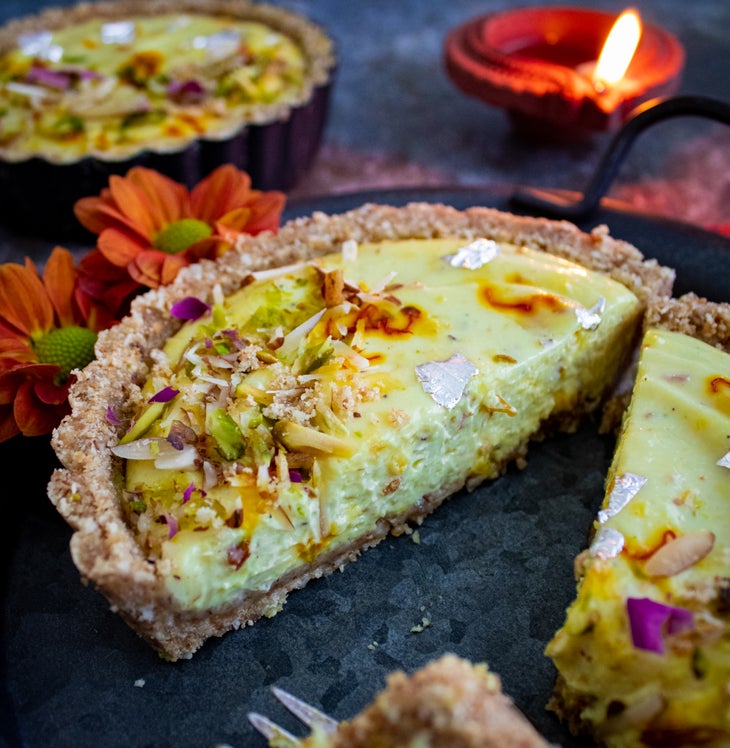 Shrikhand Tart
Ingredients
For the crust
197 grams Parle-G or digestive biscuits
1/2 cup almonds
6 tablespoons melted butter
For the shrikhand
24 ounces (680 grams) Greek yogurt
1 1/4 cup powdered sugar
1 teaspoon cardamom powder
1 teaspoon saffron
1/4 cup almonds, roughly chopped (optional)
1/4 cup pistachios, roughly chopped (optional)
1 tablespoon agar agar powder
1/2 cup milk
Preparation
Makes three 5-inch round tarts
For the crust:
In a food processor, finely crush the biscuits and set aside. In the same food processor, crush the almonds to coarse texture. Add in the melted butter and mix everything up well. If the mixture does not come together pressing, add an additional tablespoon of butter. Scoop about ¾ cup of the mixture into the tart pans and evenly press onto the base and up the sides. Chill the base until you prepare the shrikhand.
For the shrikhand:
Add all the Greek yogurt into a cheesecloth and hang for 2-3 hours to drain excess water. Transfer the drained yogurt to a large bowl, add in cardamom powder, powdered sugar, and the roughly chopped nuts. Using a whisk, mix everything until smooth. In a small saucepan, add in milk, saffron, and agar agar powder. Bring the mixture to a boil until the agar powder has dissolved. Stir the milk mixture well and add it to the yogurt mixture. Combine. The shrikhand might look a little runny, but that's totally fine. Fill the tart crusts with your shrikhand and garnish as you like. Let the shrikhand chill for 6-7 hours or overnight.