If Carmela Soprano Were Vegan, She'd Make This Ricotta Pie
A fluffy vegan ricotta cheesecake (rigot pie, if you're from New Jersey) that you won't want to refuse
Heading out the door? Read this article on the new Outside+ app available now on iOS devices for members! Download the app.
Like just about everyone, I'm watching The Sopranos these days, in my case for the first time. And while I'm definitely here for all the sickening violence and toxic masculinity and suburban malaise and weirdly antagonistic therapy and Carmela's patterned pants, I'm the most here for THE FOOD.
I'm the type who lives halfway under a rock, so until I started watching I didn't know that in New Jersey (and pockets of Italy, too) they say things like pro-shoot for prosciutto, manigott for manicotti, and of course, instead of capicola, the infamous gabagool.
When I first heard Carmela say "rigot pie" I had no idea what she was talking about and couldn't rest till I figured it out. Once I knew it was ricotta pie — a popular dessert throughout Italy, often served at Easter — I couldn't rest until I'd veganized it.
Luckily a thing called The Sopranos Family Cookbook exists, complete with a recipe for Carmela's Ricotta Pie with Pineapples, the very one she uses to… subtly urge a lawyer into writing her daughter a college recommendation.
Riffing on that recipe, I replaced the ricotta, eggs, and cream with my favorite nut and seed-based counterparts — blended cashews for cream, tahini and baking powder for eggs, and my homemade almond ricotta. The result is creamy and light, the taste clean and delicious with just a hint of nuttiness. Even my most skeptical non-vegan taste testers agreed it was a hit. I don't love pineapple so I topped with amarena cherries from a jar, but you do you! Any favourite cheesecake topping would be great here. I'm certain you too could use this rigot pie to blackmail anyone into anything, vegan or not.
Some Recipe Notes:
On the ricotta: Since there's been vegans, there's been vegan ricotta. Tofu, cashews, white beans, artichokes…you name it, we've ricotta'd it. All of these are great for certain purposes and they all have a place in my heart. But for this ricotta pie you need a fluffy ricotta made from almond milk that's been acidified, curdled, and strained just like the dairy kind. I've provided a recipe below, inspired by British vegan pizza expert Julian Guy. If you're at all inclined to make your own vegan cheese, start here! Like homemade dairy ricotta, it's a simple gateway cheese that just might get you hooked. And while it takes time, most of it is spent waiting. It might amaze you how easy it actually is. If you know you're not one to curdle, strain, and wait, Kite Hill's done it for you — their ricotta is a worthy substitution.
On timing: If you're making your own ricotta, you'll need to start at least a day before you want to make the pie. I like to start the cheese in the late morning the day before I bake — it curdles throughout the afternoon, drains in the evening, then presses overnight, ready for pie action the next day around noon. Before you get started, read through the full recipe to ensure you have a plan for draining etc. (See Step 7 especially!) Also make sure you factor in time for your cashews to soak.
On the cashew cream: This recipe makes more cashew cream than you will need for the pie. My blender didn't get the mixture as smooth when I tried to do less, so I'm offering measurements that should make blending easy. You can use the leftover cream stirred into pasta sauce or in coffee; maybe add a squeeze of lime, a pinch of salt, and swirl atop chili… possibilities abound!
---
More Related Recipes to Try Next:
Beet Linguine with Cashew Ricotta
Lemon Tofu Cheesecake
Paulo's Cannoli

---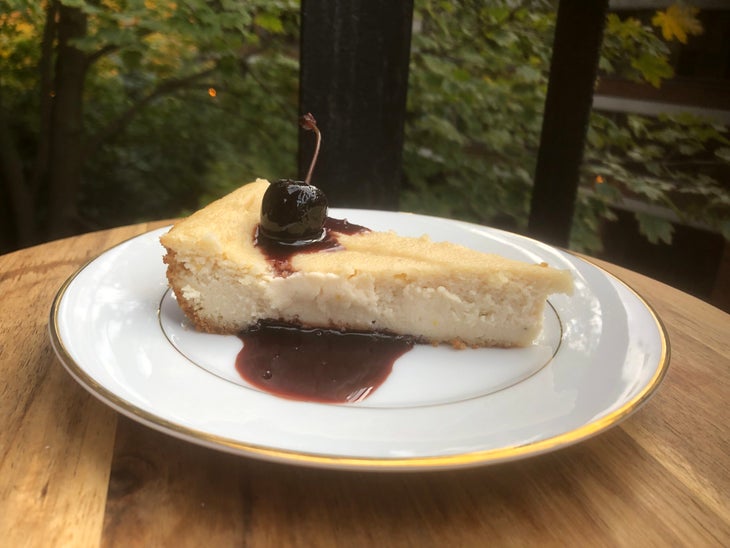 Ingredients
For almond ricotta
7 ounces (about 1 2/3 cup) almond flour (very finely ground almonds)
4 cups water
2 teaspoons sugar
2 Tablespoons apple cider vinegar
1 teaspoon salt
For ricotta pie
1 Tablespoon refined coconut oil (or vegan butter of your choice)
1/4 cup vegan graham cracker crumbs (or 1/4 cup finely ground Ritz cracker crumbs mixed with 2 teaspoons brown sugar, about 8 crackers)
1/2 cup sugar
2 Tablespoons cornstarch
1 pound homemade almond ricotta (recipe follows; one batch should yield one pound, but weigh it to be sure it's not way more; don't worry if it's an ounce or two less) or two 8-ounce containers of Kite Hill almond ricotta
2 Tablespoons tahini
1 cup + 4 Tablespoons water, divided
1 cup cashews, soaked in cold water in the fridge overnight or in boiling water for 15 minutes, then drained
1/2 teaspoon apple cider vinegar or lemon juice
1 teaspoon grated lemon zest
1 teaspoon vanilla extract
1 teaspoon baking powder
Jarred amarena cherries or other fruit of your choice, to serve
Preparation
Almond Ricotta 
Skip this recipe if using store-bought ricotta
Special Equipment:
Candy or instant read thermometer (optional, but ideal)
Nutmilk or muslin bag, high quality cheesecloth, butter muslin, or a clean tea towel
Highspeed blender such as BlendTec, Vitamix, Magic Bullet, etc.
(this can work with a regular blender too, but you may have to blend for longer and there may be a touch more texture in your cheese)
Colander
Weight such as a can of tomatoes or mason jar filled with water
Tofu press such as Tofuture (optional)
Coat hanger or other hanging device
Blend almond flour, sugar, and water in a high speed blender for 2 minutes. Let rest 5 minutes, then blend again another 2 to 3 minutes until completely smooth. You shouldn't feel grit when you rub the milk between your fingers.
Pour the almond milk into a saucepan and heat over medium heat until it's between 185 and 195 degrees fahrenheit, stirring frequently with a rubber spatula. (I use a candy thermometer clipped to the pot. If you don't have a thermometer, the milk should not be boiling, but look like it's about to, with small bubbles forming on the surface.)
When it hits the above temperature, turn the heat down to low and try to the milk in the 185-195 degree range for 20 minutes, still stirring frequently. It may bubble and thicken up a bit, that's totally fine. (I'm still learning the science, but I gather this does something to the proteins that make them curdle more readily.)
After twenty minutes, take the pot off the heat and add the apple cider vinegar. Stir it in gently with the rubber spatula and put the lid on the pot.
 Let sit at room temperature for 4-6 hours until the milk has cooled completely. The mixture should have curdled by now, and you will see bits of chunkier almond milk and more watery "whey."
Pour the curdled milk into your nutmilk bag over the sink (go slowly and let the whey drain a bit so your bag doesn't overflow.) If you don't have a nutmilk bag, you can line a colander with butter muslin, several layers of high-quality cheesecloth, or a tea towel in a pinch. Once the curds have drained for a bit, lift the corners and tie into a bag around the draining cheese.
Hang your bag over the sink to drain. My nutmilk bag has loops on the top which I hook around the top of a coat hanger. I then hang the coathanger on the edge of the cupboard above my sink. Improvise until you figure out a way that works for you.
 Let drain like this for 2-3 hours. Sprinkle the salt over the cheese in the bag and gently stir it in with a spoon. Place the cheese, still wrapped in the bag, into your tofu press if you have one, or in a colander over a large bowl. Depending how your tofu press works, tighten the clamps or put a weight on the top (a can or mason jar full of water work well). If you're using a colander, put a plate on top of the cheese in the colander and put a weight on the plate.
 Put this whole cheese-pressing operation in the fridge and let press for 12 or more hours, flipping the bag of cheese from time to time. The ricotta is ready when it's light and fluffy but also thick enough to mound on a spoon and easily hold its shape. Put it into an airtight container and it will keep for three or four days in the fridge.
---
Vegan Ricotta Pie
Preheat the oven to 350 fahrenheit.
Spread the butter over the bottom and sides of a 9 or 9.5 inch pie pan (you can also use a 9 inch springform, but the pie will be very short).
Sprinkle in the crumbs and shake the pan around to coat the bottom and sides. Set aside.
Place drained cashews and 1 cup water in a blender and blend on high until completely smooth. This could take a few minutes, depending on your blender. Measure out a half cup of cashew cream and reserve the rest for another use (see note for ideas.)
In a large bowl stir together the cornstarch and sugar.
Add the tahini and 4 Tbsp of water to the bowl and whisk with a fork until creamy and well combined.
Add the ricotta, measured cashew cream, lemon zest, and vanilla.
Beat until smooth, then add baking powder and stir once more to incorporate.
Pour into the prepared pan, scraping the filling out with a rubber spatula. Smooth the top as well as you can.
Bake for 35-45 minutes, until the pie is completely matte and dry on top. It may still have a bit of jiggle to it when you pick it up, but the surface should no longer be sticky. Place on a wire rack to cool to room temperature.
Once cool, refrigerate for at least one hour, ideally more, before serving.
To serve, slice into wedges and top with a few amarena cherries and a bit of their syrup or a fruit topping of your choice.