My Mum's Samosa Recipe Is Still My Favorite
Now you can make flaky, flavorful vegetarian samosas just how she taught me
Heading out the door? Read this article on the new Outside+ app available now on iOS devices for members! Download the app.
Samosas are so identified with Indian cuisine that it comes as a surprise for many to learn Indians didn't invent this iconic dish. In fact, samosas were introduced to India and parts of Africa by merchants from the Middle East. Growing up in Tanzania, I would see street food vendors selling this flavored-packed delicacy, known locally as sambusas, but they were most often filled with beef. As a vegetarian, I never got a chance to try them then – but I held onto that memory.
My own favorite recipe for samosas comes from my mum, who made amazing vegetarian samosas, packed with potatoes, peas, carrots, and spicy goodness. I was her little helper in the kitchen and I first learned how to make the flaky pastry and flavorful filling by her side. This version is so delicious and easy to make.
The proportion of ghee to flour is very crucial for a flaky samosa. Make sure to add the right amount. For my vegan friends, you can swap oil for the ghee, but be careful to make sure to add the right amount. I use Indian green chilies in my recipe; you can use any green chili you prefer, such as jalapeños or serranos. Dried mango powder adds a note of sourness to the recipe. If you can't find it in your local shop, it can be bought online, or you can substitute lemon or lime juice. Carom seed is also known as ajwain and is a common ingredient in Indian cooking, offering a flavor that is reminiscent of both oregano and anise.
---
More Related Recipes to Try Next:
Mixed Vegetable Masala
Chickpea Tikka Masala
Vegetables Korma
---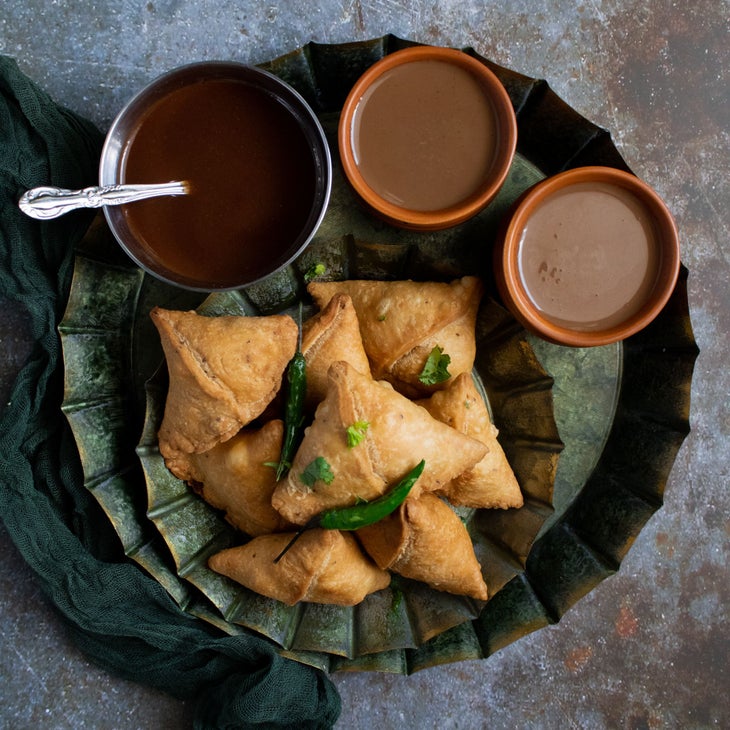 Vrunda's Mum's Vegetarian Samosa Recipe with Sweet-and-Sour Chutney
Ingredients
For dough
1 cups all-purpose flour
5 tablespoons ghee or canola oil
1 teaspoon salt
1 teaspoon carom seed (or dried thyme)
1/2 cup minus 1 tablespoon ice water
For stuffing
3-4 medium Idaho potatoes
1/2 cup frozen peas
1/2 tablespoon fennel seeds
1/2 tablespoon coriander seeds
2 tablespoons oil
1 teaspoon cumin seeds
1/2 tablespoon crushed fresh ginger
1-2 green chilies (such as jwala, jalapeño, or serrano) finely chopped
1/4 teaspoon cayenne pepper or paprika
1 teaspoon dried raw mango powder (or juice of half of a lemon)
1/2 teaspoon black pepper
Salt to taste
Handful of chopped fresh cilantro, plus more for garnish
Canola oil for frying
For sweet-and-sour chutney
1/2 cup apple butter
1/4 teaspoon cayenne pepper
1/2 teaspoon dried powdered ginger
1/2 teaspoon cumin powder
Juice of half a lemon
1-2 tablespoons water
Salt to taste
Preparation
Preparing the dough: In a bowl, add all-purpose flour, salt, carom seeds, and ghee or oil. Using your fingers, rub the ghee or oil in until it forms sand-like texture. Once mixed, add in the ice water, 2 to 3 tablespoons at a time. Knead together until it forms a firm dough. Cover and let the dough rest for 15 to 20 minutes.
Preparing the filling: Meanwhile, prepare the filling. Soak the peas in warm water until needed. Peel and cut the potatoes into one-inch sized cubes. Transfer the potatoes into a glass or microwave safe bowl adding a splash of water. Cover and bowl with a cling wrap and microwave for 5 to 6 minutes. Using a rolling pin, lightly crush the fennel seeds and coriander seeds and set them aside.
In a pan, add oil and let it heat up. Once hot, add in cumin seeds, followed by the crushed fennel and coriander seeds. Sauté for a minute. Once fragrant, add in the ginger and green chilies and sauté for 30 seconds. Add in the boiled potatoes, peas, and sauté for a minute. Add in the spices, salt, and mix everything well. Turn off the heat, and add a handful of chopped cilantro. Let the filling cool down before moving to the next step.
Preparing the parcel: Divide the dough into 8 equal parts. I usually like to weigh them out, but that's totally optional. Once divided, shape them into balls, and then let them rest for 10 minutes. After 10 minutes, roll the dough out into an oval shape. Cut the rolled dough horizontally from the center. Now you should have two semi round pastries. Apply water on the straight edge, bring the corners together and seal to for a cone. Fill 3/4 of the cone with the potato filling, apply water on the remaining edge, and seal the pastry. Repeat process to create 16 samosas.
Frying the samosas: In a frying pan, heat up the oil on medium to low heat. Test the oil using any dough scrapes; if
the dough rises up immediately then the oil is ready to use. Add in 3 to 4 samosas at a time and fry until golden brown. Serve with chai or chutney.
Make the chutney: Thoroughly mix all ingredients in a bowl. Your chutney is ready!