These Infused Salts Will Instantly Upgrade Your Pantry
Gorgeous, gorgeous girls love to salt their food
Photo: Courtesy Madre Mezcal x Yardy World Earth Salts
Heading out the door? Read this article on the new Outside+ app available now on iOS devices for members! Download the app.
Call us lazy, but we love a shortcut. Especially when it's a shortcut that turns an average dish into a sophisticated, worldly flavor sensation. And that is exactly what the just-released Madre Mezcal x Yardy World Earth Salts deliver. The trio of infused salts instantly punch up any food or drink you care to sprinkle them upon.
Taking some inspiration from the Sal de Gusano, the "worm salt" that is associated with mezcal, these entirely worm-free and vegan seasoning salts come in three distinct flavors: Black Citrus, a blend with black Hawaiian salt, black lime, and biber; Healing Herbs, a savory, aromatic combo with holy basil, turmeric, ginseng, and ashwagandha; and Chile Salt, an updated classic featuring chile de arbol and lime peel powder along with Kosher salt.
The line is the result of a collaboration between artisan mezcal brand Madre and DeVonn Francis, a chef, artist, and the founder of Yardy World, a creative studio that centers BIPOC food and culture.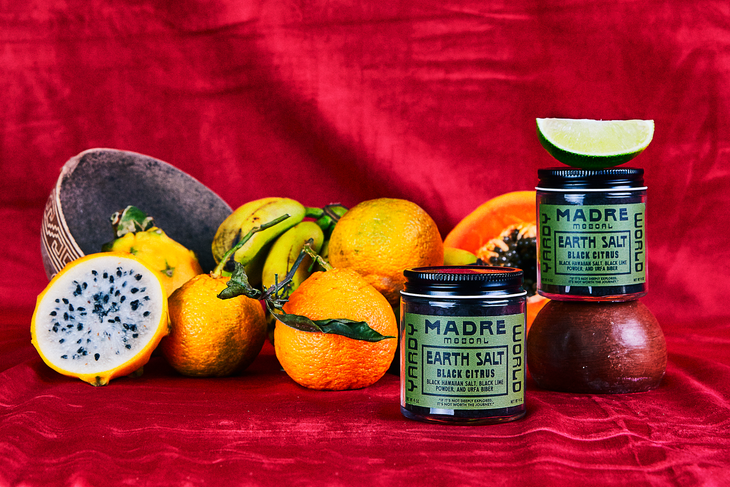 "Both Madre and Yardy approach their work with the same core goal: to show respect for the ingredients they use and pay homage to the people and places they're sourced from," a statement from the company reads. "For Madre, this means using nature's intrinsic elements (local water, natural yeast, and the earth's minerals) to make a mezcal that reflects the essence of the earth in its purest form. For DeVonn at Yardy World this means showcasing the flavors of his Jamaican heritage while encouraging others to celebrate their own identities. This partnership highlights the way in which ingredients and flavors – both the familiar and unexpected – can work together to tell a story and transform a drink or a dish."
Once you start sprinkling these flavorful salts into your foods and drinks, you'll likely find no shortage of ways to use them. Try shaking some Healing Herbs on fresh popcorn or adding a pinch of Chile Salt to grilled or roasted vegetables. Or, as might seem natural for a collab from a mezcal brand, you could add them to a cocktail. See below for the Night Swim which gets a boost from the Black Citrus salt.
---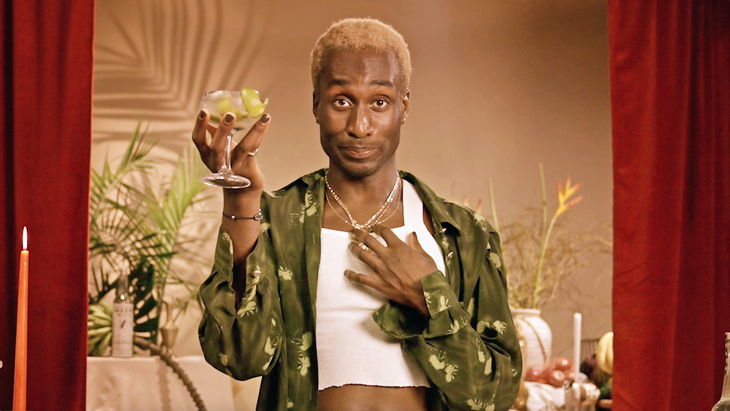 Night Swim Cocktail featuring Madre Mezcal x Yardy World Earth Salts
INGREDIENTS
1 1/2 ounce fresh lime juice
1 1/2 ounce Madre Mezcal
1 ounce Chartreuse
1 teaspoon light agave nectar
1 large egg white
Lime twist
Black Citrus Salt
INSTRUCTIONS
Swipe a lime wedge around the rim of your coupe glass and lightly press the edge of the glass into the YMxMM Black Citrus Salt. Set rimmed glass aside.
Shake lime juice, mezcal, Chartreuse, agave, and egg white in a cocktail shaker (or in a tightly-lidded 1 quart glass jar) until frothy, about one minute. Fill shaker with ice, cover, and shake again until outside of shaker is frosty (about 30 seconds).
Strain through a fine-mesh sieve into prepared coupe glass. Garnish with lime twist.
---
RELATED: A Mezcal Expert Tells Us How to Shop for Sustainable, Artisan Bottles
---
Get more of what you love from VT. Follow us on Instagram, Facebook, and Twitter.