Copy Cat in the Kitchen: Roberto Martin's Red Beans and Rice
Heading out the door? Read this article on the new Outside+ app available now on iOS devices for members! Download the app.
I brought home Vegan Cooking for Carnivores: Over 125 Recipes So Tasty You Won't Miss the Meat, by Roberto Martin, in hopes my family would find a few recipes they'd like to try.
Find recipes they did: Better Half (B1/2) chose 13 to try; Rambunctious 9-Year-Old Boy (R9B) marked 21!
I'm not up on celebrity happenings, but I learned that Martin is Ellen DeGeneres's personal chef (that explains why she wrote the book's afterword). A sidenote to Vegan Cooking for Carnivore's Red Beans and Rice recipe says it is DeGeneres and Portia de Rossi's Monday staple and the recipe from the book to make if choosing only one recipe. It was my and B1/2's first choice as well.
Putting the recipe together was easy enough, but it did require several pots (in my case washing a few things between recipe steps). The aroma of the herbs and spices drew raves from B1/2 when she came in from a walk with Picky 2-Year-Old Girl (P2G) and from R9B and his visiting pal after returning from a faux-leather football-tossing session in the backyard.
They weren't wrong, but I wasn't so sure this recipe was going to be a keeper in the Cat Cave. I thought the bean-to-broth ratio was lopsided. The recipe calls for three-quarters of the beans to be blended in the broth. The result is in an unappetizing brown soup and hardly any visible beans.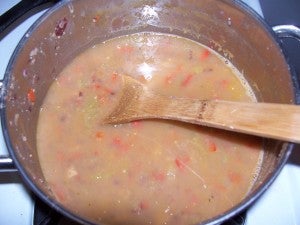 My other gripe was the addition of so much vegan sausage. We've tasted just about every brand at VT HQ, and I've yet to eat one with a texture that doesn't remind me of a mass-market hot dog.
Here's how Martin's Red Beans and Rice looked in my bowl a few spoonfuls after I remembered to get the camera: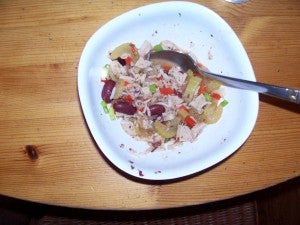 So how did it taste? Once sprinkled with a little Slap Ya Mama (the recipe suggests seasoning with salt and pepper) this dish wasn't bad, in fact, R9B and friend liked it. Both finished what was in their bowls, asked to be excused, and promptly went back to surviving Minecraft. B1/2 thought the recipe had good flavor, but like me she wanted more beans and less sausage (especially because the sausage is not gluten-free). Joint pain threat be damned, she returned to the stove for a second helping.
P2G threw a tantrum and then undressed herself before assuming her position at the table. She lollygagged while everyone else devoured their first servings, and then returned the one partially chewed spoonful she tried to her bowl.
Manners, P2G.
"I want rice!"
"There's rice in your bowl, sweetheart. It's under the beans."
"I want a tweat!"
"Eat some more beans. And rice. Or have some cucumbers. Then you can have a treat."
She mirrored the look of yours truly. We were neck and neck in the race to tantrum-land when the father of R9B's friend came by to retrieve his boy from the Minecraft ether. Saved by the doorbell.
I served friend's dad a bowl o' Martin's concoction along with some complaints about the bean, broth, and sausage ratios. Friend's dad liked the meal, and he complimented the sausage. What do I know?
I had a couple of helpings. Then brought the leftovers for lunch a few days later. Delicious. This is one of those dishes that tastes better days later (and when the vegan sausages have had time to absorb some of the broth).
The Scorecard
Three clean plates out of four (plus two extra raters who finished their servings, and a thumbs-up for good leftovers)