How to Freeze Food
Whether it's fresh produce or cooked leftovers, freezing food is one of the best ways to combat food waste and keep plenty of food on hand for an extended period of time. However, there are a few tricks and tips before freezing foods to keep in mind to ensure maximum flavor and freshness. The authors of a new book explain how anyone can freeze food successfully.
Heading out the door? Read this article on the new Outside+ app available now on iOS devices for members! Download the app.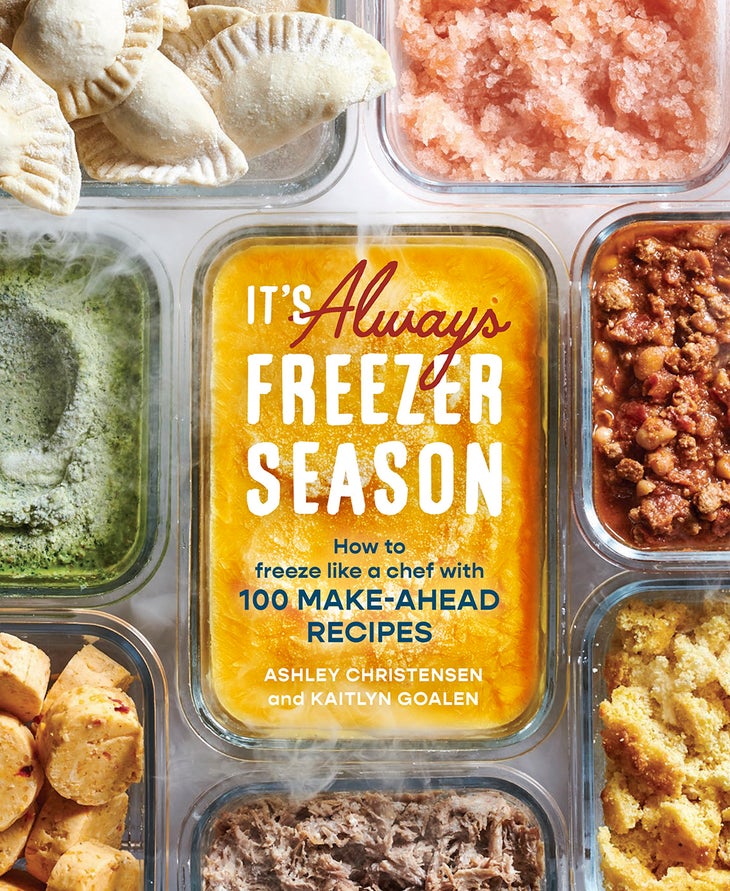 Freezing food makes sense—it saves money and time, and preserves produce at its best to enjoy later—but how to do it successfully? We sat down with Ashley Christensen and Kaitlyn Goalen, authors of the fun new book It's Always Freezer Season: How to Freeze Like a Chef with 100 Make-Ahead Recipes (Ten Speed Press, 2021), who explain how easy it is to freeze everything from tomatoes to apple pie.
VT: Your book starts with the premise that a lot of people enjoy cooking—and then suggests that we squeeze as much out of an enjoyable cooking session as possible by freezing extra food. Can you explain further?
Ashley: If you're going to go through the trouble of making a batch of braised greens, for instance—which can be labor-intensive to cut them up then steam or sauté them—why not make enough to freeze for later? When I buy greens, I like to cook as much as I can and freeze the rest to use in many different ways. We have a recipe in the book for braising and freezing greens. If you stock your freezer you've got food for many days.
That touches on a premise of your book—that the freezer can preserve food at the peak of the season. Can you talk about that?
Ashley: If you have, say, a bumper crop of summer squash, or more tomatoes than you could eat in one sitting, stretch those foods out by freezing them. At the height of fruit season, you can put blackberries in a zip-lock bag and freeze them, then throw them in a smoothie later. Roasting tomatoes then putting them in a zip-lock bag in the freezer is a way to use tomatoes at the top of their season all year round. You can use them later to make a beautiful roasted tomato relish or add them to risotto. You can freeze the juice and pulp from the tomatoes in ice cube trays to add to pasta. When you take it out in December, it will make you think of summer! You can also fire-roast peppers then freeze them for later.
What about safety concerns in terms of bacteria?
Kaitlyn: A lot of people have questions about food safety. In the book, we demystify the big piece of food safety—how to bring frozen foods down to temperature, and how to bring them up in temperature. If you put hot food directly in the freezer it will bring up the temperature for all the food in your freezer, so you don't want to do that.
Texture is the biggest thing that can change with freezing. When you freeze food, you are actually freezing the water content. If you don't cool it down in stages, it can do weird things to the food texture.
In terms of thawing, you want to put frozen food in the refrigerator for a day so you don't subject it to a dramatic shock. If you thaw food too quickly that can have adverse effects on quality. But there are foods you can put directly from the freezer into the oven, such as our Apple Pie recipe.
In your book, you explain clearly how to wrap, label, and freeze all kinds of foods. Do we need to use plastic or are there good alternatives?
Kaitlyn: It is certainly possible to utilize the book without using plastic. Glass jars freeze very well. There are quite a few reusable containers available that are not made of plastic.
For vegetarians, who eat a lot of fresh produce, how can freezing foods help meet their goal of eating well?
Ashley: A lot of recipes in the book can be frozen as complete dishes—such as Tomato-Dijon Bisque, Four-Cheese and Greens Lasagna, Green Bean Casserole, Mac and Cheese, and others.
But I love the concept of workhorse recipes—recipes that can dial into multiple dishes such as béchamel sauce for casseroles or skillet cornbread to use in a salad, pesto sauce for pasta, biscuits that you can put on top of a fruit cobbler.
Related: