How to Join a Food Swap
Trading edibles may be a time-honored school ritual, but adults looking for more variety in their menus are getting into the act too. Options include food swaps, package swaps, garden swaps, and community-supported agriculture box swaps. 
Take your pick, and start swappin'.
Heading out the door? Read this article on the new Outside+ app available now on iOS devices for members! Download the app.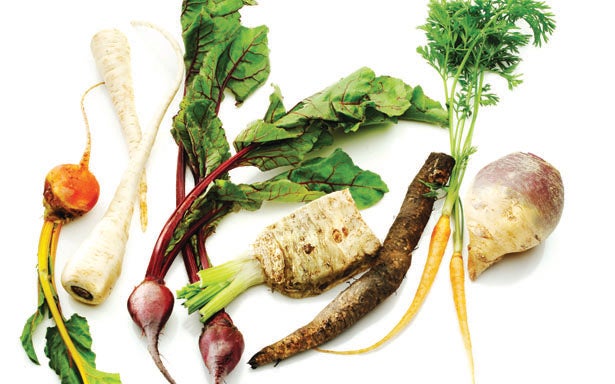 Trading edibles may be a time-honored school ritual, but adults looking for more variety in their menus are getting into the act too. Options include food swaps, package swaps, garden swaps, and community-supported agriculture box swaps. 
Take your pick, and start swappin'. Why should kids have all the fun?
Meet-and-Greet Swaps

Cook up something delicious, package it in individual serving sizes, and when you arrive at your food swap location, set the servings on a table. Don't forget to put out samples! 
Now circle the table with other swappers. See something you'd like 
to trade? On the sheet of paper next to the item, write your name and what you've brought to the table. 
When time's up, check the sheet 
next to your item to see who wants 
to barter. Let the swapping begin!
Samples, Please Among the 100 percent veg swaps you'll find nationwide, the NW Philly Vegetarian/Vegan Food Swap meets the first Monday of the month. "We all love cooking, and we're all mostly health-conscious," says Amy Doolittle, who has been with the group since its inception. The DC Vegan Baking Swap gathers the first Saturday of the month. "Every month we use recipes from a specific cookbook or blog," says Laurel Gowen, the group's organizer. "Each member bakes 
a different recipe." Favorites include 
a mango lassi cake from Cheers to Vegan Sweets—Gowen requested it for her most recent birthday.
Sign Up Visit meetup.com for food swaps in your community. Also check bulletin boards at local cooking schools, fitness studios, health-food stores, and community centers. Once you decide on a swap, Doolittle suggests you clearly identify what you're contributing and list ingredients so people with allergies can take note. And allow plenty of time for the swap, says Doolittle: "Time can sneak up on you."
Pen-Pal Swaps

A package swap is like Christmas every month. Simply sign up 
with an online organizer, who pairs you with another swapper. Next put together a package filled with your favorite vegan or vegetarian items from your area. Send it off, and wait for your 
swap partner's package to arrive.
Samples, Please "I'm a dark-chocolate lover," says Chicago resident Diana Morrow. So when she opened 
a recent package from the Power to the Veg! swap, she was happy to see 
a 99% chocolate bar from trendy TCHO. Morrow has participated 
regularly in the swap, organized by Jessica Schoech as an offshoot of her Power to the Veg! Facebook group. Schoech figured that a swap box would be a great way to introduce 
new vegans to the lifestyle. Power to the Veg! swap partners can live anywhere in the U.S.; Vegan Package Swap is an international package swap: "It would be easier to list countries 
not represented, but we're in 40 countries for sure," says organizer Glauce Ferrari. "The variety of products you can get from different countries is amazing!"
Sign Up Morrow offers this advice for putting together your 
first package: "Ask questions of 
your partner in the first e-mail exchange, for example, 'Any dietary restrictions? Any kids or pets who might like a treat? What's your favorite and least favorite cuisine?' " She also suggests mixing it up: "Anything local and difficult to 
get elsewhere is appreciated." Ferrari cautions swappers to 
watch the weight of their package—otherwise shipping costs can be expensive—and avoid sending 
fresh fruits and vegetables to 
other countries, a no-no due to customs laws. Packaged goods 
are fine, however. So is chocolate, though usually not in summer. 
"It makes a mess because it melts," Ferrari explains.
Green-Thumb Swaps

Knee-deep in zucchini? Overrun by oranges? The garden swap is an organized version of what gardeners have been doing informally for years: trading bumper crops. Similar to taking part in a meet-and-greet swap, you bring homegrown items to a central location, put them on display, and make note of what you'd like to trade. Once everyone's perused the options, the swapping begins.
Samples, Please Every Tuesday evening, from April through October, the tiny town of Albany, Calif., holds a garden swap. "We've grown from 20 to up to 40 traders each week," says swap coordinator Mary McKenna. She notes the best exchanges aren't always the fruits and vegetables: "I've learned more about gardening by listening to the tips and advice swappers give each other." Darnell Stewart, host of a weekly garden swap in Richmond, Calif., says it's introduced him to new varieties of produce. In Maryland, the Eldersburg Branch of the Carroll County Library holds a different kind of garden swap: here, large boxes are put in the lobby, and anyone with extra produce to share places it in the box. "We've had everything from habanero peppers to zucchini and tomatoes," says library associate Christine Kirker, who started the program.
Sign Up The best part about trading at a garden swap is your produce doesn't have to be perfect. "Gardeners understand smaller fruits, bruises, and misshapen items," McKenna says. San Francisco–Bay Area residents can search playndirt
.com, a Web site organized by Stewart, for swaps close by. Elsewhere, check local libraries, garden clubs, community centers, and state extension offices (educational networks created by the National Institute of Food and Agriculture) for swaps in your area.
Produce-Box Swaps

You know those CSA boxes filled with fruits and vegetables grown by a local farmer? Sometimes, the box you receive is filled with items—say, radishes—that you rarely eat, and not nearly enough bell peppers for your famous stuffed-peppers recipe. What to do? If you're lucky, your CSA may offer a swap box.
Samples, Please "Our farmer brings an extra share of vegetables, which we put into the swap box," says Jen Robertson with the 
Greenwood Heights CSA in 
Brooklyn, N.Y. "Every member 
is welcome to trade for something else. There is no guarantee that 
there will be anything in the swap box that you want to trade for, but there is the opportunity." Any leftover produce is up for grabs 
for members who work the shift, 
and what remains is given to people in need.
Sign Up To learn more about CSAs, visit the Local Harvest Web site, localharvest.org/csa. Enter your location for a list of local farms that offer CSA subscriptions. You'll need to check with the farmers about whether they offer a swap box.