How to Pack the Perfect Travel Meal
Heading out the door? Read this article on the new Outside+ app available now on iOS devices for members! Download the app.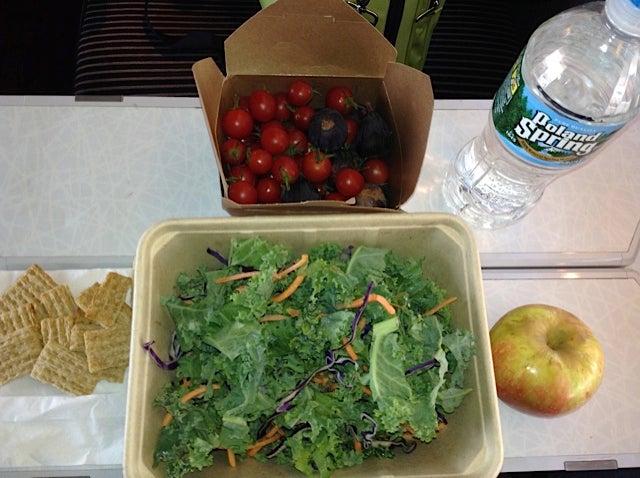 As I was driving to the airport on my way to catch a cross-country flight recently, I pulled a Starsky-and-Hutch move and screeched into a Whole Foods parking lot. I'd been wondering what I'd eat during the trip when I saw the supermarket sign; I could always find a sandwich or a slice of pizza in the food court, but fresh fruits and veggies are pretty limited once you get past airport security. Grabbing a couple of non-mealy apples would definitely put me ahead. With only 10 minutes to spare, I had no time for any gourmet browsing at the store. It was too early in the morning for the food bars to be set up, so I headed for the produce section.
One look at all that gorgeous produce, and I started to to get ambitious. The first food that caught my eye was a bag of pre-torn kale salad that came with its own dressing. Yum! So much better than some iceberg lettuce assembly from a coffee shop. Then I saw small baskets of local, organic cherry tomatoes and figs. And since it's fall, I had my choice of apple varieties.
After loading up on produce, I swung through the center of the store for some "Woven Wheat Crackers" (natural food code for Triscuits, my all-time favorite cracker). Then, as the cherry tomatoes were rolling out of their basket and I was starting to think of the rough treatment the figs would get going through security, I hit upon how I was going to make this veg feast possible. Take-out boxes! My last stop before checking out was the still-empty food bars, where I grabbed two boxes: a light one for the figs and tomatoes, plus a sturdier one for the salad. (I didn't really see myself eating it straight out of the bag.) The result: Travel-ready, healthy food for a couple of meals, all bought and boxed up in under 10 minutes. I even had enough good stuff that I could share it with my seat mates on the plane.