Breadfruit Is Loved by Chefs and Sustainability Activists in Hawaiʻi – But Rarely Seen in the Rest of the U.S.
"When it comes to the issue of improving food security in Hawaiʻi, I canʻt think of a more sustainable ingredient than ʻulu," says chef and author Sarah Burchard
Heading out the door? Read this article on the new Outside+ app available now on iOS devices for members! Download the app.
Breadfruit or ʻulu has been a staple of the Hawaiian diet since Polynesian voyagers first brought the tropical fruit to the Hawaiian islands in outrigger canoes 1,500 years ago. The large oblong-shaped fruit with prickly yellow-green skin is nutrient-dense and protein-rich, and can be cooked in both savory and sweet applications, often as a substitute for potato or taro. It's high in vitamins, minerals and fiber, and a single fruit can feed an entire family. Many Hawaiians still have ʻulu trees growing in their backyards and groups like the Breadfruit Institute and Hawaiʻi ʻUlu Cooperative are on a mission to revive starchy breadfruit.
"When it comes to the issue of improving food security in Hawaiʻi, I canʻt think of a more sustainable ingredient than ʻulu," says chef, food writer and ʻulu ambassador Sarah Burchard. "As far back as the ancient Hawaiian times this perennial ʻulu tree has been known to provide an abundance of food year after year. It is significant to Hawaiian culture, a much healthier starch compared to rice and wheat and it's super versatile in the ways it can be prepared. I wish everyone could plant an ʻulu tree and incorporate it into their diet."
Breadfruit is difficult to find in the continental United States, due to the fresh fruit's short shelf life and USDA plant quarantine restrictions. However, ambitious home cooks can purchase cut and frozen ʻulu from Hawaiʻi ʻUlu Cooperative. (If you do, try this recipe for breadfruit-purple sweet potato patties from the Andaz Maui at home.) Otherwise, you'll have to wait until your next visit to Hawaiʻi to try it out.
The Best Places to Eat Breadfruit in Hawaiʻi
natuRe waikiki Breadfruit is the star of the first course at this new island French restuarant's six-course plant-based tasting menu. It's mashed into a creamy hummus and dusted with ground Manoa Chocolate cacao hulls, then served with crispy breadfruit chips that perfectly embody ʻulu's versatility in a single bite.
Ka'ana Kitchen At Andaz Maui's signature restaurant, chef de cuisine Chance Savell serves vegan  ʻulu and purple sweet potato patties with Kula oyster mushrooms, haricot verts, and arugula – all Maui-grown vegetables. "The ʻulu cooks similar to a potato, but a lot less starchy and much lighter," Savell says. "The ʻulu that are a little more ripe have a slightly sweet flavor."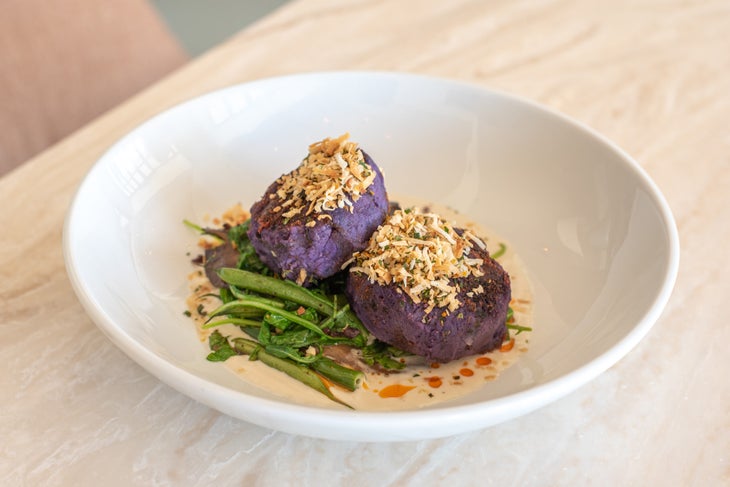 Huihui Breadfruit chunks are deep-fried in cottonseed and canola oil, then tossed in salt, pepper and parmesan seasoning to replace croutons in a couple of different salads at this new beachfront restaurant in Ka'anapali. "These are not like traditional croutons," says chef Tom Muromoto. "They're crispy on the outside with a chewier texture in the middle." Swap the parmesan for nutritional yeast to make it vegan.
Mahina & Sun's Chef Erik Leong is committed to using local, indigenous ingredients whenever possible at Mahina & Sun's, where he serves elevated home cooking, including sautéed golden brown buttered ʻulu chunks and an ʻulu tamale with cabbage slaw and roasted tomatoes. Leong recommends submerging ʻulu in water while prepping it because it will oxidize once it's peeled. "If you want to pan-roast ʻulu, make sure you either steam or pre-boil the ʻulu for a fluffier result," he says.
Pono Pies Maui-grown breadfruit is the first ingredient in delicious raw pono pies made with just a few whole food ingredients by John Cadman of Maui Breadfruit Company. These healthy gluten-free desserts contain no refined sugar, relying instead on the finest Hawaiian ingredients like local macadamia nuts, breadfruit and honey for flavors like lilikoi, coffee chocolate and Moloka'i sweet potato haupia. You can find pono pies at specialty grocers throughout the state like Down to Earth, Whole Foods, and Island Naturals, and they are even served for dessert at Hula Grill in Ka'anapali.
---
---
Get more of what you love from VT. Follow us on Instagram, Facebook, and Twitter and sign up for our email newsletters.