This 'Vegan Hunting' Guide Is Preserving the History of Seaweed Foraging Along the California Coast
In the late 1800s, Chinese immigrants began harvesting local seaweed on Pacific Ocean beaches. Today, a forager and educator is reviving those dormant traditions – and teaching students how to incorporate the edible plants into modern cooking.
Photo: Courtesy of Marley Family Seaweeds
Heading out the door? Read this article on the new Outside+ app available now on iOS devices for members! Download the app.
When Spencer Marley, founder of Marley Family Seaweeds, started seaweed foraging in the tide pools of San Luis Obispo County on California's Central Coast, the plan was to take the bounty to the local farmers' market. But soon after he started selling, curious shoppers began asking if he would show them how to do their own foraging. Quickly, his hobby-turned-side business had a new side business of its own, offering guided foraging excursions.
Now Marley – who still works in IT at California Polytechnic State University during the week – takes groups of up to six would-be foragers to the tide pools each Saturday for a 90 minute tour, during which he shares the finer points of sustainably harvesting seaweed.
"We go down to the tide pools and talk about phycology, the scientific study of algae" says Marley. "It's a little bit of a science lesson, and quite a bit of a vegan hunting experience. We're basically just looking for certain species in the tide pools."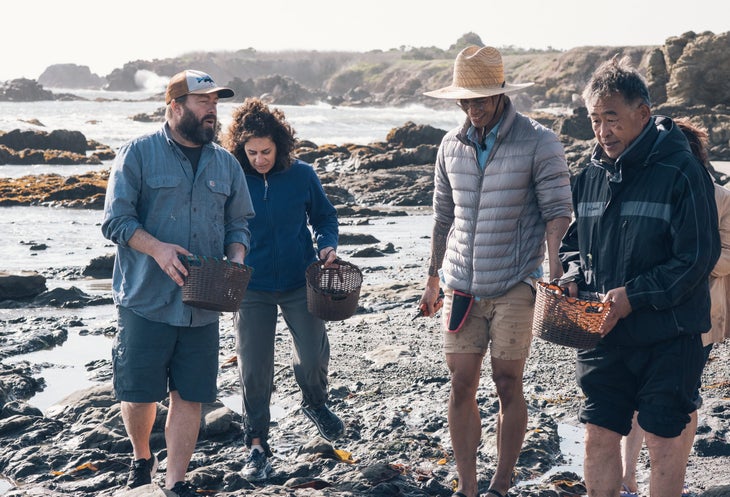 Cantonese seaweed harvesters "hunted" in the very same tide pools in the late 1800s, and Marley hopes to preserve that history.
"[Seaweed harvesting] went dormant for a long time," says Marley. "I think I'm the first person in this county to do commercial harvesting for edible seaweed in 50 years. The Chinese settlers were the ones who figured it out."
During the outing, he shows students how to identify at least five species of edible marine algae (aka seaweed) many of which can be found worldwide, teaches them how to incorporate the freshly-harvested seaweed into cooking, and how to preserve seaweed using traditional methods, like drying it out to store and use later.
At the end of each tour, the group warms up by making a bowl of ramen with their foraged seaweed, slurping up the noodles and briny broth right there on the beach.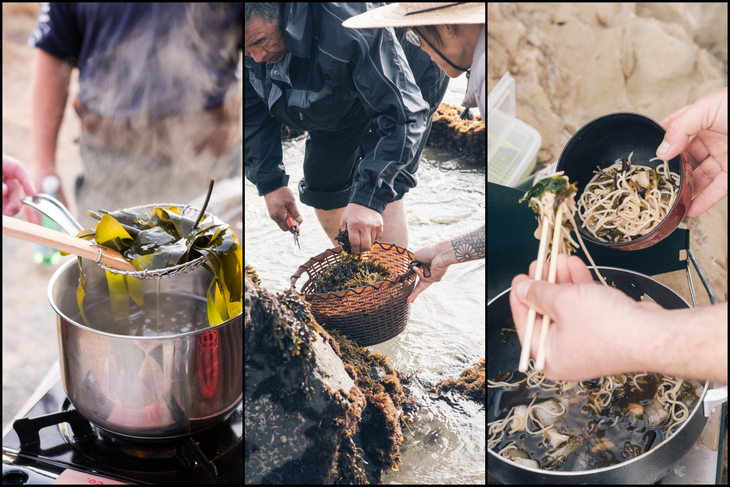 "Everyone really loves it; the broth is so unique, and the seaweed gives it a really unique flavor," says Marley. "Most ramens use kombu as a base anyway; it's a distinctive taste people are already used to.
"The 'chicken stock' of Japan is dashi, one part kombu and bonito flakes [made from skipjack tuna]," he continues. "The vegetarian version would be kombu and shiitakes, which have a lot of umami as well. It's not necessarily just vegetarians [who use this flavor combination]; there are a lot of times in Japan when they'll make dashi with mushrooms for a different flavor profile.
"When I make my dashi for the ramen, I just use straight kombu because I want people to taste the seaweed flavor," he says.
The seaweeds that Marley and his groups of foragers typically find Pacific wakame, nori, and kombu in the tide pools, as well as more unusual, lesser-known varieties like olive rockweed, grapestone, and sea lettuce.
"There is a lot of grapestone, but it has to be fried, more or less, so I don't really feature too much of it on our tours," Marley says. "The rockweeds are amazing, they're really good in pastas. They're kind of like capers, and have a briny, almondy-type taste to them.
"Sea lettuce is one of my favorites," he adds. "That's the one the Cantonese were harvesting; it can be found all over the world, and we do have a good patch of it here. It's ubiquitous enough to where if I teach people about it they'll be able to find it wherever they are, as long as they're close to the ocean."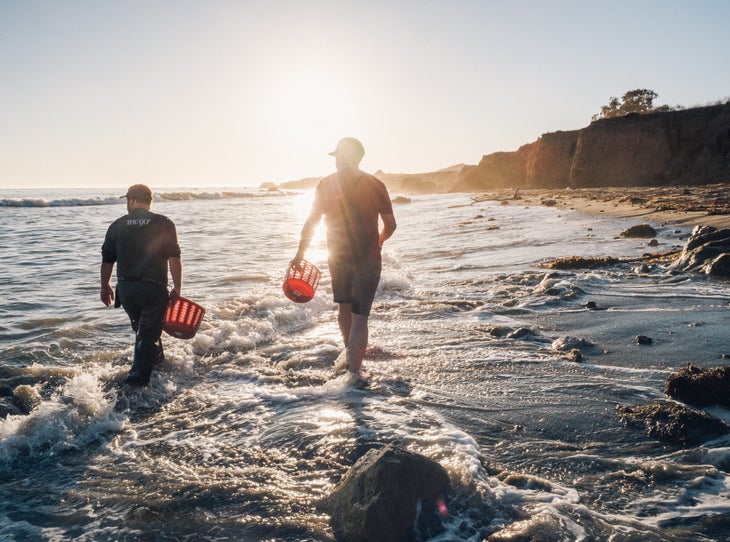 A big part of the tours is teaching participants how to engage in seaweed foraging sustainably, causing minimal impact upon the delicate marine ecosystem.
"Kelp filters a lot of carbon out of seawater, that's the mechanism as to why it's so beneficial to the environment," explains Marley. "It's also very regenerative, which could be a good thing and a bad thing. I think it's kind of a blessing and a curse to have that [regenerative] label, because people are more apt to take as much as they want, rather than [going in with] the mentality of take what you need," he continues. "Look at the area and see if it's abundant enough to take what you need."
Marley likes to talk about the hunting and gathering mentality with his groups of foragers, reminding them that it "is a really important part of who we are as people."
"Everyone thinks that back in the day native tribes survived on meat. The reality is that those were outliers; most of the protein that they survived on was foraged berries and nuts, and things like that," he says. "The women, children, and senior citizens provided the vast majority of the daily sustenance, especially in a lot of places in California. Most of what people were eating was the small, easy to gather things, and seaweed is the epitome of that."
Public tours take place each Saturday; private bookings are available. Book through Airbnb Experiences. Tours are suitable for all ages and children are welcome.
---
RELATED: Mushroom Hunting in Magical Mendocino
---
Get more of what you love from VT. Follow us on Instagram, Facebook, and Twitter. 
---