Make It a Meal
VT's 2012 Foodie Awards
Heading out the door? Read this article on the new Outside+ app available now on iOS devices for members! Download the app.
VT editors love to cook. But on busy mornings and weeknights, we rarely have time to spend in the kitchen. That's why, for this year's Foodie Awards, we decided to pick supermarket staples that could be combined to make quick, delicious meals. We nominated 83 products in 19 categories and asked readers like you to vote for the very best foods. We then enlisted Sharon Palmer, RD, author of The Plant-Powered Diet, to weigh in on the health perks of our winners. Ready to restock your pantry? Stow this list in your shopping cart, and keep it handy the next time hunger strikes.
Perfect Parfait + blueberries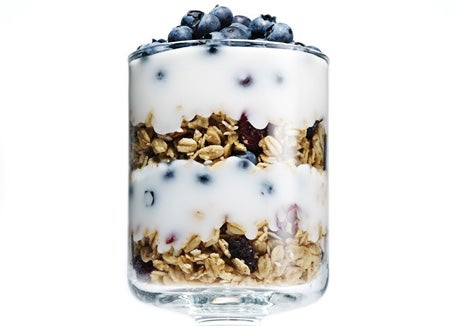 1. Granola
Readers' Choice:
Bear Naked Fruit and Nut Granola
This is the granola you'd make yourself if you had the time. The not-too-sweet mix of oats, nuts, and dried fruits tastes just as yummy out of the bag as it does stirred into yogurt or moistened with milk. Plus, each serving contains only 6 grams of sugar.
Runners-Up:
Hail Merry Orange Cranberry Grawnola
Kashi Mountain Medley Granola
Nature's Path Love Crunch Apple Crumble Organic Granola
2. Naked Yogurts
Readers' Choice:
So Delicious Plain Cultured Coconut Milk
VT staffers raved about the velvety texture and pleasing tart flavor of this dairy-free coconut yogurt, fortified with bone-building calcium and vitamin B12—an important nutrient for healthy blood and nerves.
Runners-Up:
Green Valley Organics Lactose Free Plain Yogurt
Stonyfield Oikos OrganicNonfat Greek Yogurt, Plain
Wallaby Organic Greek Plain Lowfat Yogurt
Wildwood Organic Unsweetened Plain Probiotic Soyogurt
Dressed-Up Oatmeal + bananas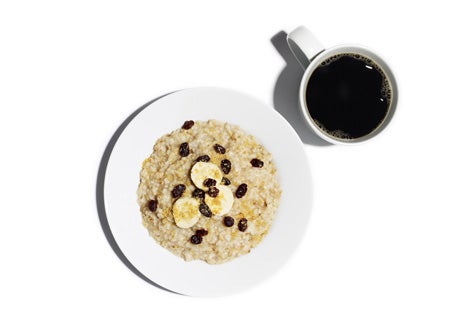 3. Breakfast Oats
Readers' Choice :
Bob's Red Mill Organic Old Fashioned Steel Cut Oats

This nicely chewy oatmeal makes the perfect start to your day, thanks to ample protein and fiber. Studies show that eating a bowl of oatmeal every morning can lower your cholesterol by up to 23 percent, notes Palmer.
Runners-Up:
Country Choice Organic Old Fashioned Oven Toasted Oats
Dr. McDougall's Right Foods Organic Instant Oatmeal, Original
Eco-Planet Organics Instant Hot Cereal, Original
McCann's Steel Cut Irish Oatmeal
4. Must-Have Milks
Readers' Choice:
Almond Breeze Unsweetened Almondmilk, Original

No added sugar needed in this fridge staple, which gets its subtle sweetness from almonds. Each serving provides a great source of calcium and vitamin E, an antioxidant that boosts immune function.
Runners-Up:
Coconut Dream Coconut Drink, Original
Organic Valley Grassmilk,100% Grass-Fed Organic Milk
Pacific Organic 7 Grain Non-Dairy Beverage, Original
Silk Organic Soymilk, Vanilla
5. Dried Fruits
Readers' Choice:
Newman's Own Organics Raisins

Get all the juicy goodness of this kids' classic, minus the sulfites often used to preserve dried fruits. Even sweeter, raisins are good for your heart: a recent study showed that including them in your diet regularly can keep blood pressure in check, says Palmer.
Runners-Up:
Eden Organic Apple Sweetened Dried Cranberries
Navitas Naturals Mulberry Berries
Ojio Organic Raw Shredded Coconut, Ribbon Cut
Peeled Snacks Organic, Cherry-Go-Round
6. Nuts & Seeds
Readers' Choice:
Hodgson Mill Travel Flax Certified Organic Golden Milled Flax Seed

We dig the convenience factor of these packets, which make it easy to take flax on the go. The seeds come ground—not whole—so you can sprinkle them right over cereal for a dose of omega-3s and fiber.
Runners-Up:
Manitoba Harvest OrganicHemp Hearts
Nutiva Organic Chia Seed
SunRidge Farms All Natural Slivered Almonds
7. Organic, Fair-Trade Coffee
Readers' Choice:
Green Mountain Coffee Fair Trade Organic Ethiopian Yirgacheffe

Ethiopian beans are to coffee what Bordeaux grapes are to wine, and this fair-trade offering lets you taste the richness of a single-source grind. Bonus: research shows that coffee can help protect against diabetes.
Runners-Up:
Cafe Altura Fair Trade OrganicCoffee, Sumatran Dark Roast
Caffe Ibis Organic French Roast
Equal Exchange Fairly TradedOrganic Mind, Body & Soul Coffee
Ultimate Veggie Burger + tomato, red onion & lettuce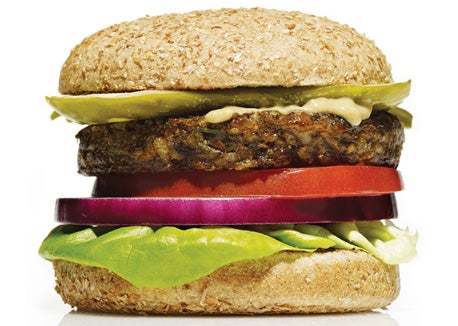 8. Veggie Patties
Readers' Choice:
Amy's Bistro Burger

This tasty brown-rice burger gets substantial texture from flecks of organic veggies such as mushrooms, celery, and carrots. A hint of hickory smoke flavor gives it fresh-from-the-grill taste—even if you're cooking on a stove top in the middle of winter.
Runners-Up:
Asherah's GourmetOriginal Vegan Burgers
Dr. Praeger'sCalifornia Veggie Burgers
Gardein The UltimateBeefless Burger
Quorn Vegan Burgers
9. Special Sauces
Readers' Choice:
Annie's NaturalsOrganic Dijon Mustard

Not as spicy as you might expect, this coarse-grained goodie adds just the right amount of tang to your sandwich or veggie burger. Plus, its central ingredient, mustard seed, is from the Brassica genus, long known for its anticancer properties, says Palmer.
Runners-Up:
Follow Your HeartChipotle Vegenaise Gourmet
Westbrae Unsweetened Un-Ketchup
Mad Dog Ultra Hot All Natural Ghost Pepper BBQ Sauce
Maya Kaimal Spicy Ketchup
10. Burger Buns
Readers' Choice:
Rudi's Organic Bakery 100% Whole Wheat Hamburger Buns

Instead of bread products made from refined white flour, opt for these hearty whole-grain superstars, sweetened lightly with brown sugar and molasses. Each bun delivers a respectable 5 grams of fiber.
Runners-Up:
Alvarado Street BakerySprouted Burger Buns
Ozery Bakery Inc.Wheat Organic OneBun
Udi's Gluten Free FoodsWhole Grain Hamburger Buns
11. Pickles
Readers' Choice:
Claussen Kosher Dill Sandwich Slices

It's all about the cool, crisp crunch of these refrigerated pickles, along with the light vinegar flavor that lets you taste the cucumber beneath the brine. No knife required: you can pile the perfectly sized slices straight onto a burger.
Runners-Up:
Bubbies Bread & Butter Chips
Rick's Picks The People's Pickle
Woodstock Organic KosherDill Pickle Planks
Supreme Burrito + lettuce, tomato & cilantro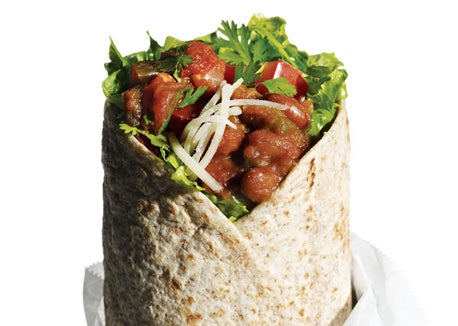 12. Veg Refried Beans
Readers' Choice:
Amy's Vegetarian Organic Refried Beans with Green Chiles

Truly the gold standard of veg refried beans, these green-chile-infused pinto beans are so flavorful, VT staffers have been spotted eating them out of the can cold.
Runners-Up:
Bearitos Low FatBlack Bean Refried Beans
Eden OrganicSpicy Refried Pinto Beans
13. Salsa
Readers' Choice:
Muir Glen Organic Medium Salsa

Specialty salsas like mango and peach taste great, but for straight-up tomato flavor with a hint of heat, grab this VT test kitchen standby. "Salsa is packed with health-protective lycopene, the compound that gives tomatoes their rich, scarlet hue," says Palmer. "At only 10 calories per serving, this is one condiment you should double up on."
Runners-Up:
Frontera Gourmet Mexican Salsa, Tomatillo
Green Mountain Gringo Salsa, Roasted Chile Pepper
Salpica Totally Natural Salsa, Rustic Tomato
Stonewall Kitchen Salsa Verde
14. Shredded Cheese
Readers' Choice:
Organic Valley Fancy Shredded Mild Cheddar Cheese

This rich, creamy Cheddar from the Organic Valley cooperative of farms comes in fine shreds that are easy to melt. Editor's tip: if you like a little more spice and don't mind shredding your own, pick up a block of Organic Valley's awesome pepper Jack cheese.
Runners-Up:
Daiya Pepperjack Style Shreds
Galaxy Nutritional FoodsVegan Mexican Style Shreds
15. Tortilla Wraps
Readers' Choice:
Rudi's Organic Bakery Multigrain Wraps

Made with whole grains such as wheat, spelt, and millet, this tortilla wrap tastes wholesome and hearty without being too dense. "The portion—a modest 150 calories per wrap—is the ideal size to fill you up without filling you out," says Palmer.
Runners-Up:
Food for Life Wheat & Gluten Free Brown Rice Tortillas
French Meadow Bakery Certified Organic Sprouted Grain Tortillas
La Tortilla FactorySmart & Delicious Low Carb, High Fiber Tortillas
Stellar Stir-Fry + bell peppers, snow peas & mushrooms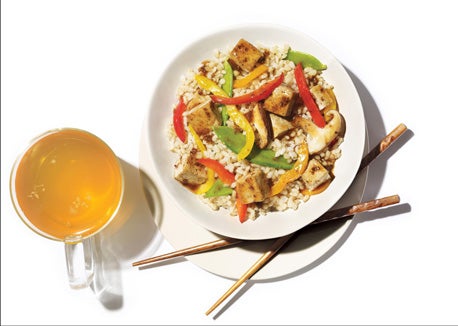 16. Tofu & Tempeh
Readers' Choice:
Nasoya Black Soybean TofuPlus, Organic Firm

The tofu snobs at VT approved of this slightly nutty-tasting tofu, which has all the protein and isoflavones of regular soybeans, with an added attraction. "It's made with black soybeans, which are high in anthocyanins—the very same antioxidants found in blueberries and linked with brain health," says Palmer.
Runners-Up:
Lightlife Organic Wild Rice Tempeh
Turtle Island Foods OrganicFive Grain Home-Style Tempeh
Wildwood Organic Super Firm SprouTofu
17. Stir-Fry Sauces
Readers' Choice:
Annie Chun's Shiitake Soy Ginger Sauce

The next best thing to homemade, this sweet-and-savory sauce adds instant umami at mealtime. Try drizzling over veggies or tofu to soak up the bold flavors of mushrooms and garlic.
Runners-Up:
Lee Kum Kee Hoisin Sauce
San-J Szechuan Sauce
Soy Vay Veri Veri Teriyaki
Weitai Vegetarian Mushroom Oyster Sauce
18. Classic Asian Teas
Readers' Choice:
Choice Organic Teas Jasmine Green

Jasmine's heady, floral aroma meets green tea's subdued flavor for a captivating brew. "A body of research points out that green tea—packed with antioxidant compounds called catechins—is one of the healthiest beverages on the planet," says Palmer. "It's been linked with heart health, weight loss, and cancer protection."
Runners-Up:
Ito En Genmaicha Tea
Mighty Leaf Organic Dragon Green Tea
Numi Organic Decaf Simply Green Tea
The Republic of Tea Milk Oolong Tea
19. Heat-and-Eat Rice
Readers' Choice:
Lundberg Family Farms Heat & Eat Organic Short Grain Brown Rice

Think brown rice takes too long to cook? Try this bowl of earthy, robust-flavored grains, which heats up in just a minute and makes a great foundation for any meal.
Runners-Up:
Annie Chun's Rice Express Sprouted Brown Sticky Rice
Minsley Organic Cooked Brown Rice
Village Harvest Red Quinoa & Brown Rice Whole Grain Medley