4 Essential Things to Know When Buying Vegetable Stock
Check out these tips for buying boxed vegetable stock.
Heading out the door? Read this article on the new Outside+ app available now on iOS devices for members! Download the app.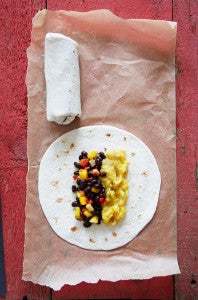 Vegetable stock is an essential flavor-building component of the best vegetarian cooking. This subtle distillation of carrot, onion, celery, and aromatics adds a depth and complexity of flavor to soups, stews, casseroles, grain and bean dishes – you name it.
Basic vegetable stock should be essentially comprised of what the French call "mirepoix" – onions, carrots, and celery. Some combination of classic aromatics is added to that: peppercorns, parsley, thyme, bay leaf and/or garlic. Other ingredients may be added to enhance vegetable stock, such as tomatoes, mushrooms, or sweet squash.
Making a good vegetable stock takes time – time we do not always have. That's where purchased vegetable stock comes in. The good news is boxed stock is widely available in stores. The bad news is it varies widely in taste and quality. Here's what you need to know:
Keep it simple.
Look for vegetable stock that has a minimum of ingredients. All it needs to have is carrot, onion, celery, and a few herbs.
Keep it pure.
Purchase organic vegetable stock. It's your guarantee that it's free of pesticides and GMOs. No one wants a distillation of that! Also, check the label to make sure there are no unnecessary, low-quality ingredients such as MSG, "natural flavorings," or dehydrated vegetables.
Know the difference between stock and broth.
Stock and broth are not interchangeable. Stock is intended to be the foundation of a dish. For this reason, it's unsalted, and its flavor is intended to be subtle. Broth is a completed, seasoned dish; its flavor is much more pronounced. Be careful: broth can easily take over the flavor of a dish. Stock is harder to find, but it's definitely preferable to broth.
Taste and adjust.
I find most boxed products too strong in flavor, even the stocks. Whether you purchase stock or broth, you need to taste it before you add it to a dish. The product should have a very light, sweet taste with a hint of herbs. I made the mistake – only once – of not tasting a vegetable broth before adding it to a soup and learned my lesson: taste the product first, and dilute it with water if necessary.
Finally, keep in mind that stock is intended to play a supporting role in whatever dish it's used in.
Elliott Prag is a Chef Instructor and the Curriculum Development Manager at Natural Gourmet Institute. Elliott holds a Bachelor's Degree from Wayne State University, and graduated from NGI's Chef's Training Program in 1995. Thereafter, he worked in numerous natural food restaurants in New York City before developing his private chef business. In 1999, he expanded his business by founding Siegfried & Prag, Caterers. In 2003, Elliott traveled to Sofia, Bulgaria for two years, where he was Executive Chef of Kibea Restaurant, the first health-supportive restaurant in the Balkans.