5 Reasons Kale is a Top Detox Food
Check out the five reasons why kale is a top detox food.
Heading out the door? Read this article on the new Outside+ app available now on iOS devices for members! Download the app.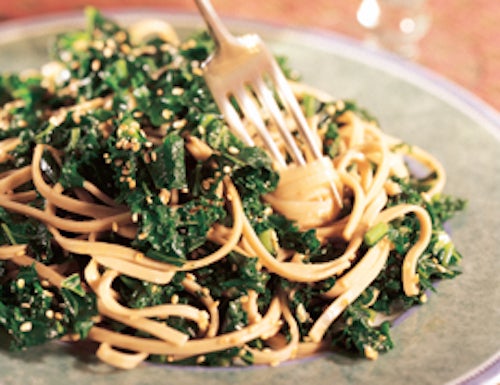 People take on "detox" eating regimens for many reasons. They may want to increase their energy, boost their immunity, eliminate toxins, improve hair and skin health or lose weight. But every short-term eating program to detox should include kale.
Kale's multiple nutritional benefits are exactly why it's an all-star ingredient in our new online course, Gentle Cleanse. National Kale Day co-founder and author of 50 Shades of Kale, Jennifer Iserloh includes kale on the 7-day detox and throughout the 3-week meal plans. Ready to cleanse with kale? Use the code KALE25 to get 25% off just for Kale Day celebrations!
Here are five reasons why kale is a detox must-have:
Elimination
Kale is a great sourcs of fiber. On the Aggregate Nutrient Density Index (ANDI), it ranks at the top with a score of 1000/1000. Current recommended fiber intake is 25-30 grams per day but on average, Americans only consume half of that. Fiber is key to digestive tract health and can help keep cholesterol levels low.
Inflammation
Diets that are heavy in animal protein, dairy, and processed foods are likely to contribute to inflammation. Kale's phytonutrients, such as kaempferol and quercetin, may help neutralize inflammation. Also, as a more alkaline vegetable, kale may help cleanse the blood.
Immunity
Kale has a lot of Vitamin C (200 percent of the daily recommendation) — one of the most important vitamins for a strong immune system. Kale is also high in Vitamin K and A, which help with vision and bone health.
Anti-Anxiety
A detox program is best when it focuses on what you put in to your body and developing a holistic lifestyle that includes meditation, deep breathing, yoga, time away from technology and other stress-reducing activities. Kale is chockful of Omega-3s like alpha-linoleic acid (ALA) which may help lower anxiety.
Antioxidants/Cancer-Fighting
Kale contains both chlorophyll and sulforaphane, possible cancer-fighting phytonutrients.
This guest blog post is written by Kristen Beddard, the American founder of The Kale Project and blog, a successful initiative to re-introduce kale to France. Through her work with local French farmers, le chou kale can now be found at some outdoor markets and supermarkets. Her memoir, Bonjour Kale: A Memoir of Paris, Love and Recipes, will be released in May 2016.
References: Book of Kale by Sharon Hanna; The Complete Leafy Greens Cookbook by Susan Sampson; 50 Shades of Kale