Heading out the door? Read this article on the new Outside+ app available now on iOS devices for members! Download the app.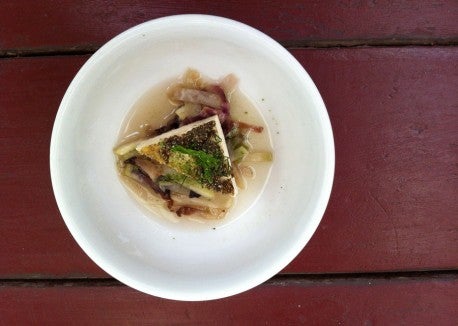 PHOTO: Tea-Crusted Tofu over Julienned Vegetables with Tea Broth. Recipe courtesy chef Eric Gower, author of Breakaway Cook
The hugely flavorful world of tea was revealed to me just a few years ago. As a kid, I remember a ubiquitous yellow box of Lipton tucked in the back of a kitchen cabinet for those occasions when relatives visited. And I discovered the subtle floral beauty of herbal teas (tisanes), while working on an herb farm after high school. But I knew nothing about the range and complexity that the Camellia sinensis, or tea plant, offered.
Almost all tea as we know it derives from this unassuming bush that is native to China, Tibet, and India, but today grows in more than 45 countries. The difference among various teas depends on when the tea leaves are picked and how they're processed. Crushed and fermented mature tea leaves make black tea, which is combined with other ingredients to create various flavors.
Earl Gray, for example, is black tea blended with oil from the bergamot orange. Green tea is made from wilted and unfermented leaves and is also often blended with other plants to achieve different tastes. Jasmine green tea, or green tea with jasmine flowers, is one popular example. It was my first exposure to genmaicha (green tea blended with roasted brown rice) that blew my concept of tea wide open. I was at a Japanese-style spa for a massage, and the waiting area offered a tea service with lovely handle-less ceramic cups to hold this amazing nutty-smelling elixir.
I had no idea that tea could taste like that: savory, almost chewy, and refreshing all at the same time, with none of the tannic bitterness found in black tea. Not long after, I discovered matcha, the finely ground powder of high-quality green tea from tender new leaves (pictured below). This blew my nascent tea-heightened awareness even further open.
I was introduced to it through the traditional Japanese tea ceremony, a mindful ritual less about the tea itself then the process involved in creating it: whisking the bright green powder with not-quite-boiled water with a bamboo whisk until blended and frothy. You sip this tea silently, enjoying the full range of experiences—the color, the aroma, the slightly grainy feel of the tea in your mouth, and finally, the subtle uplifting effect it induces.
This was not my childhood Lipton, to be sure.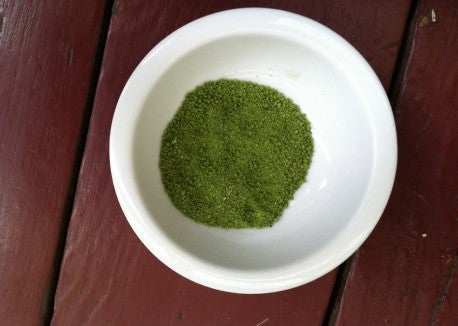 PHOTO: Matcha tea
Recently, another tea experience has given me even more reason to wax poetic about Camellia sinensis: Cooking with tea.
During a recent visit to Tassajara, a Japanese-style Buddhist monastery tucked deep in the Ventana Wilderness east of Big Sur, California, cook and author Eric Gower, otherwise known as the Breakaway Cook for his unique style of using global ingredients in new and nontraditional preparations, demonstrated how the range of complexity of tea pairs wonderfully with food.
The workshop, punctuated with zazen, or seated mindfulness meditation led by former tenzo (head of kitchen) Dale Kent, author of Tassajara Dinners and Desserts, had us experimenting with various tea preparations.
We tasted gradations of matcha, discussing its qualities and terrior almost as if talking about wine. We created flavored salts with different teas, and used them in a variety of culinary preparations to explore the range of tastes they conferred. And on a beautiful sunny afternoon, we picked herbs from the garden to make tisanes enjoyed in the shade for a lovely, relaxed tea salon.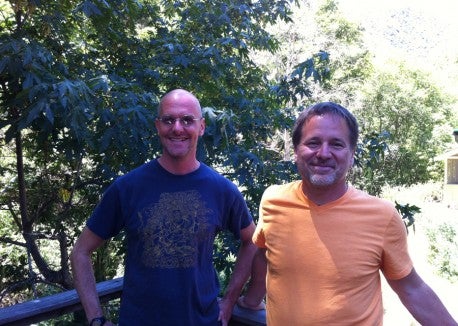 PHOTO: Breakaway Cook author Eric Gower and Tassajara Dinners and Desserts author Dale Kent.
When I came home from Tassajara, I went straight to my tea cupboard to take stock of my wares, brewed myself a cup of genmaicha served in an unused tea pot given to me a few years earlier, and made a list of the teas that I knew I needed to have on hand for the drinking and culinary adventures that lay ahead. Here, Gower has generously shared some of his favorite culinary tea preparations. Enjoy!
Matcha Salt 1 tsp. matcha powder 1 Tbs. sel gris (a gray sea salt from Brittney) Pulse matcha powder and sel gris in a coffee grinder several times. Don't over-grind; salt crystals should remain fairly coarse, not finely powdered. Store in an airtight jar, or simply in little bowls. Put somewhere very visible, so that you'll be reminded to use it up quickly!
Tea-Crusted Tofu over Julienned Vegetables with Tea Broth (pictured above)
Serves 4
1 Tbs. dry genmaicha tea
1-2 tsp. uncooked polenta
1 package soft tofu 2-3 cups assorted vegetables (such as carrot, red pepper, fennel, radicchio, and ginger), julienned Cilantro and parsley or chives, finely chopped, for garnish
3/4 cup prepared genmaicha tea Matcha Salt (see recipe, above)
Olive oil cooking spray
3 Tbs. olive oil
1. Pulse genmaicha tea and polenta in a coffee grinder until fine. Transfer to a small bowl.
2. Gently dry tofu by wrapping it in a clean tea towel or paper towels. Cut tofu in half lengthwise; then cut each half diagonally, yielding 4 triangular tofu steaks.
3. Spray tofu steaks on one side with olive oil spray. Using your hands, generously coat tofu steaks with genmaicha-and-polenta mixture, and spray again with the oil to make it stick.
4. Heat a skillet over medium-high heat and add 1 Tbs. oil. Add vegetables, and sauté.
5. Meanwhile, heat a separate skillet over medium heat and add 2 Tbs. oil. Fry tofu steaks, coated side down, until golden brown and very crispy, about 5 minutes.
6. Remove vegetables when just soft, and deglaze pan with 3/4 cup prepared genmaicha tea. Reduce slightly, scraping up all the bits stuck to the pan.
7. To serve: Divide sautéed vegetables among 4 shallow bowls, and top with tofu steaks and a drizzle of deglazed pan liquid. Garnish with chopped herbs, and finish each with a sprinkle of Matcha Salt.
Find more recipes for flavored salts and other delights at theBreakaway Cook.