Kale Day Chat Recap: 12 Kale Questions Answered
Learn everything you've wanted to know about kale, including how to store kale, how to cook kale, and what to look for when buying kale.
Heading out the door? Read this article on the new Outside+ app available now on iOS devices for members! Download the app.
Did you miss our live Facebook Chat for National Kale Day?
Don't worry; we've got you covered.
Here's a recap of 12 questions our Facebook fans asked Kale Day co-founder and author of 50 Shades of Kale, Chef Jennifer Iserloh. The "Skinny Chef" loves kale so much that it's a featured ingredient in our new online course, Gentle Cleanse. Kale is the ideal ingredient to go along with the 7-day detox plan and 21-day meal plan, to get you looking and feeling your best.
Ready to start your journey on the Gentle Cleanse course?Use code KALE25 to save 25% off just for a special National Kale Day promotion.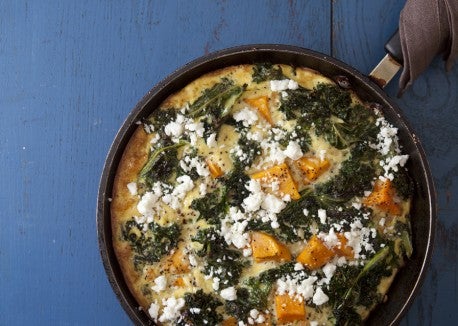 Q: What are your favorite ways to use kale in the kitchen?
A: Smoothies, sauces, salads, tacos, in soups and stews, the ways are endless!
Q: Do you think kale is really here to stay? Or is it just a fad?
A: Definitely here to STAY!! The studies are so positive, kale is cheap, it's versatile – mild tasting, thank goodness we have an affordable health food.
Q: Is there anything to look for when SHOPPING for fresh kale or other greens?
A: Definitely – make sure the greens aren't wilted in the store – that means they don't transport them correctly. Also the leaves should be firm to the touch, this includes kale, mustard greens, bok choy- you name it. They shouldn't have any yellow or brown spots, that means they're getting old and have been around the block!
Q: How do you recommend storing kale and other leafy greens?
A: In a bag with paper towel to keep greens from getting wet spots and spoiling. Excess moisture in the bag causes greens to spoil faster.
Q: Can you freeze fresh greens?
A: You can buy frozen greens, but if you try to freeze fresh one you have to blanch them and they may loose nutrients.
Q: Is it healthier to make my own green juice or buy one? Sometimes it makes my stomach hurt.
A: Make it, but better yet, make a smoothie so you get all the fiber, too!
Q: How do mustard greens compare to kale nutrition-wise?
A: Kale is king, it's higher in vitamin and mineral content compared to all the greens. However you still want to mix and match it with other greens since it superfood has a unique nutritional profile
Q: If I mix and match mustard greens with kale, is the cooking time the same?
A: No. mustard greens cook faster so cook your kale 2-3 minutes before adding other delicate greens like mustard and spinach.
Q: How are Asian mustard greens different from the "Southern" kind (as I think of them)?
A: Asian [mustard greens] usually have a little more "kick" or a hint of spice. I like to combine them with stronger flavorings like ginger, soy sauce, and hot sauce while with Southern greens like collards, I serve them with herbs, cheese, lemon or nuts
Q: Is the cooking time the same for collards and mustard greens?
A: Collards take a little longer, but I don't do them the Southern way. They cook them for 45 minutes so the Vitamin C is defintely destroyed. I thinly slice them, saute them [for] about 6 to 8 minutes.
Q: Is there a better way to prep mustard greens – like soaking? I find them bitter sometimes.
A: I don't recommend soaking, but yes, mustard greens are really strong tasting, so I mix them with other greens and fat items, like nuts and seeds (and eggs if you eat them) to mellow them!
Q: Have there been any studies in the past year on kale and its health properties? Any new research or discoveries?
A: There are a bunch of studies out there, especially when it comes to cancer prevention. Kale is the #1 food besides turmeric, but you can combine the two.