One Ingredient, Three Ways: Spelt Flour
Kayleen St. John, MS, RD, and director of nutrition at the Natural Gourmet Institute shares tips for cooking.
Heading out the door? Read this article on the new Outside+ app available now on iOS devices for members! Download the app.
We asked our friends at the Natural Gourmet Institute to weigh in on popular, healthy ingredients and cooking methods. Vegetarian Times has partnered with the renowned New York-based culinary school to create a  comprehensive new online course, Foundations of Plant-Based Nutrition. Whether you're a new vegetarian, an avid cook wanting to expand your skills, or contemplating a career in the food industry, you will find this course helpful. Sign up to receive discounts and information about this awesome course.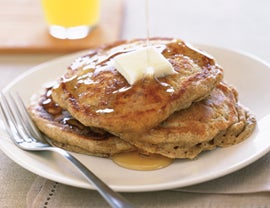 While spelt may be an ancient grain, it's finding its way into lots of modern recipes. And no wonder: it's a perfect choice for health-conscious cooks who want to add more variety to their current stable of grains, and it's a fitting alternative to whole wheat products.
Some people claim spelt is better than whole wheat, touting its nutty flavor. While taste may be a valid distinguishing quality, spelt is nutritionally on par with whole wheat —it boasts fewer calories, but it has less fiber and other nutrients than its counterpart. Another big difference? Spelt is technically not wheat. Though it does contain gluten,  spelt's gluten is more soluble than that of wheat gluten, and therefore acts differently during the cooking process.
Health Benefits of Spelt
Spelt provides lots of nutritional benefits, and boasts an impressive mineral and vitamin content. It is high in fiber, and a good source of essential vitamins and minerals such as iron, magnesium, and B vitamins. Here are a few favorite recipes utilizing spelt:
Spelt pizza dough—Spelt flour is a sub-in for flour in any pizza dough recipe. Many people swear by the texture and flavor that it provides versus other heartier flours. 
Spelt salad—Toast about 1 cup of spelt kernels in a dry skillet until browned, rinse well with cold water. Bring 6 cups of water to a boil and simmer spelt until tender, about an hour. Use this as a base for a salad serving eight to ten people. What else to include? Try a protein such as tofu or beans, veggies like bell peppers and onion, and a spicy peanut butter sauce to top it off.
Spelt waffles – Spelt flour can act as a 1:1 replacement for whole wheat flour. So try it out in waffles to create a light, airy final product with a nutty flavor. These waffles can also include spices such as cinnamon and nutmeg. Shredded apple can be a great addition too.
Kayleen St. John is the resident nutritionist at NYC's Natural Gourmet Institute. Kayleen has a Master's degree in clinical nutrition from NYU and is a registered dietitian. Her research examines the relationship between diet and inflammatory conditions. Kayleen is an avid runner and believes smart nutrition contributes to optimal athletic performance. Our new course, Foundations of Plant Based Nutrition, led by Kayleen, covers essential plant-centric professional cooking techniques, health-focused topics including allergens and inflammation, and how to separate nutrition fact and fiction in a vegan and veg diet.