What Do I Do with Quinoa?
Heading out the door? Read this article on the new Outside+ app available now on iOS devices for members! Download the app.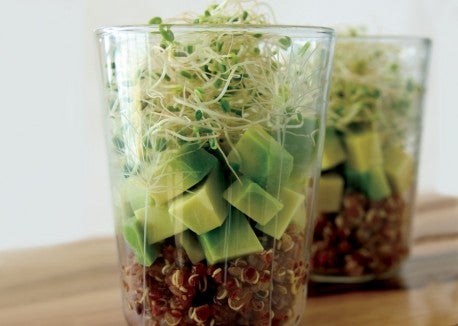 I can still remember the day I learned that quinoa is actually pronounced "KEEN-wah" and not, as I'd been calling it for an embarrassingly long time, "kwin-OH-ah." That revelatory moment was nearly as profound as when I tasted quinoa for the very first time. How could I have been so slow to catch on to this delicious, fast-cooking, nutrient-dense food—and its proper pronunciation?
In the last couple of decades, quinoa has experienced a bit of a renaissance, but it's been around for a very long time—5,000 years, give or take a few centuries. The Incas are credited with domesticating the wild weed, and it's still a major crop in the Andes, where it is grown for a worldwide export market as well as eaten by local populations.
Technically, quinoa isn't a grain, but a seed; like close cousin amaranth, the plant produces willowy flowers loaded with tiny grain-like seeds that spill out of miniscule husks when dried. It's gluten-free and easily digestible, making it a healthy alternative to barley, rye, bulgur, and other foods in the wheat family.
Quinoa's flavor (nutty and earthy) and texture (firm and mildly crunchy) lend it to many modes of edible enjoyment. I've been known to eat it straight out of the pot (I cook it in a rice cooker) with just a sprinkle of salt or a splash of soy sauce. It's also an ace stand-in for any cooked grain you might serve with vegetables, and especially in main-dish salads; simply add a cup or two of cooked and cooled quinoa to a large salad bowl, throw in some chopped veggies—onion, bell pepper, corn, black beans, or even smoked tofu—then toss with your favorite vinaigrette. The quinoa absorbs all the delicious flavors and doesn't go soggy, and it tastes even better the next day.
Besides the standard tan-colored quinoa, there's a red variety with a firmer, even nuttier texture. It's equally nutritious, but not as widely available as the regular stuff.
Try these interesting, flavorful recipes that call for both tasty varieties of quinoa:
Quinoa-Avocado Verrines (pictured, above)
Quinoa-Stuffed Peppers
Red Quinoa with Beets, Avocado, and Pistachios