Cruelty-Free Summer Beauty Products
Summertime, and the livin' should be easy. So, simplify your grooming routine, and get your (sun-damage-free) glow on 
with an assist from these healthful hacks and naturally sourced goods.
Photo: mariarom - stock.adobe.com
Heading out the door? Read this article on the new Outside+ app available now on iOS devices for members! Download the app.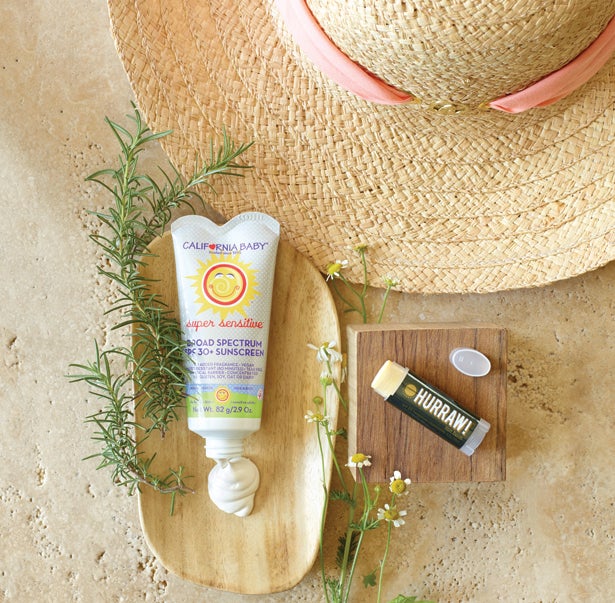 Simplify your grooming routine, and get your (sun-damage-free) glow on 
with an assist from naturally sourced, 
cruelty-free goods.
Cut the Fuss Streamlining the basics of your skin-care regimen to 
a gentle cleanser, toner, and moisturizer will keep skin balanced while also reducing summer primp time. Danny Neifert of Santa Barbara, Calif.–based Skin Harmonics suggests nurturing skin's natural protective barrier with products containing rosewater to soothe dryness and irritation, hyaluronic acid to help skin retain moisture, and natural oils to seal in hydration. "Oil-rich moisturizers should be used in two phases," Neifert says. "Pat and glide on more than you think, wait five minutes, then massage in to even it out." Other calming, hydrating ingredients to seek out include cucumber and aloe.
To prep your face for your pared-down routine and help clear clogged pores, Claudia Colombo, founder of Fábula Skincare & Wellness in New York, advises a weekly exfoliating treatment; for those with ultra-sensitive skin, she suggests a patch test before trying bi-monthly exfoliation. And she recommends using a mild exfoliant with papain and bromelain, found in papayas and pineapples.
Product picks for fresh, 
dewy skin: Nourish Organic Face Cleanser ($13.99/6 oz.; nourishorganic.com) Andalou Naturals 1000 Roses Floral Toner ($12.95/6 oz.; andalou.com) Acure Sensitive Facial Cream ($19.99/1.75 oz.; acureorganics.com) Alba Botanica Pineapple Enzyme Hawaiian Facial Scrub ($13.99/4 oz.; albabotanica.com)
Cover Up in the Sun Slathering on the sun protection is a must when it comes to your daily routine. "Sun damage is one of the biggest controllable factors that accelerates aging and skin cancer," says Alan Dattner, MD, a pioneer in the field of holistic dermatology. "While a small amount of sun exposure is important to getting natural vitamin D, people often apply too little sunscreen and forget the parts that show age more quickly, like the hands, décolletage, ears, and lips. Thick application and consistent reapplication is key."
Dattner recommends a physical sunscreen for its staying power and reduced likelihood of causing skin irritation. Physical sunscreens contain one or both of the active ingredients zinc oxide and titanium dioxide, natural minerals finely ground into powders that create a physical barrier between your skin and the sun. While the physical sunscreens of yesteryear had a reputation for leaving a sticky, ghostly-white pallor when applied, modern-day options are more pleasantly lightweight.
Be sure to look for "broad spectrum" on the packaging of any sunscreen you choose. This signals the product will protect you from both types of the sun's ultraviolet rays: UVA and UVB. The most recent evidence implicates both UVA and UVB in sunburn as well as premature aging and skin cancer. Jessica Krant, MD, of the Laser & Skin Surgery Center of New York and assistant clinical professor of dermatology at SUNY Downstate Medical Center, also cautions against "direct baking in the sun between 10 a.m. and 3 p.m.," when the sun's rays are the most potent.
Shield yourself further by donning chic protective clothing and gear, such as wide-framed sunglasses, broad-brimmed hats, and swimsuits and cover-ups that boast UPF (ultraviolet protection factor), the apparel industry's version of SPF (sun protection factor).
Product picks for foolproof 
sun defense: LiViTY Outernational Private Beach 
Hat ($39.99; 
livitystyle.com) California Baby Super Sensitive Broad Spectrum 
SPF 30+ Sunscreen ($19.99/2.9 oz.; californiababy.com) Hurraw! 
SPF 15 Sun Balm 
in Tangerine Chamomile ($4.29/0.15 oz.; hurrawbalm.com)
Create the Look To replicate summer's sun-kissed radiance and breezy allure—without risking damage from the sun and parching winds—Katie O'Sullivan 
(aka The Green Product Junkie) recommends products that conjure bronzed skin, a healthy flush, just-bitten lips, and dreamy beach waves.
A tinted, illuminizing moisturizer with SPF 30-plus will even your complexion and shield it from the elements while imparting a just-got-back-from-vacation glow. And because it's tinted skin care, you can reapply it during the day, focusing on the cheekbones for extra radiance; use it on arms, hands, and décolletage for sun protection in a pinch; and even rub it into legs to lend color and evenness.
To enhance lips and cheeks with a vibrant flush of in-the-sun color, O'Sullivan suggests a multitasking tint. Apply it to lips first, and then pat whatever's left on your fingers onto the apples of cheeks for a natural blush, or even onto eyelids, especially if it's a neutral tan or peach hue, for extra pop.
For a tousled, ocean-breeze-swept mane, a texturizing sea salt spray lends volume and texture: just spritz and scrunch at the root and down the length of your hair. A natural salt spray with moisturizers such as coconut and aloe can also be used to revive limp hair when you hit the snooze button too many times to catch a shower.
Product picks for breezy, bronzed beauty: Juice Beauty SPF 30 Tinted Mineral Moisturizer, shown in Sand ($29/2 oz.; juicebeauty.com) Aster & Bay Beet Root + Hibiscus Lip Stain ($12/0.25 oz.; asterandbay.com) The Gnarly 
Whale Cucumber Melon Hair Beach Waves ($12/8 oz.; 
thegnarlywhale.com)