How to Nail a Holiday Dinner Party Without Meat—or Alcohol
Who says you need either to enjoy a meal with your loved ones?
While society may tell us that fun holiday parties revolve around flowing liquor and sauced-up meats, it doesn't have to be that way. In fact, you can have an even more enjoyable meal with friends and family without the two. To prove just that, we tapped Sammy Moniz, who runs a popular food blog and Instagram account called Feeding the Frasers. Moniz loves everything about the process of cooking: how it draws on her creativity and offers opportunities to learn new recipes, flavor pairings, and the nuances of different techniques. We asked Moniz for her best tips on how to have a memorable, meatless, and alcohol-free holiday dinner your guests will love.
Get Colorful and Be Creative
"Color is key: we eat with our eyes. The more variety you can bring in with color, the better," says Moniz. Same goes for mixing roasted and fresh dishes—both are crucial, and variety is paramount. One of Moniz's favorite holiday dishes is to combine roasted Brussels sprouts with fresh pomegranate seeds. She loves the crispy, caramelized sprouts together with the fresh pop of color, flavor, and texture. "It's always a crowd-pleaser, and it's the easiest thing to make," she says. 
Don't forget about texture, either. If you have all mushy foods on your plate, you're going to get pretty bored. "Texture and color keep our interest. Have a fresh, bright salad with nuts and seeds and fruits, then have your roasted vegetables and sides." From there, add grains and fresh bread to complete the spread. One of her favorite fall-inspired salads combines quinoa, spinach, roasted delicata squash, butternut squash, edamame, dried blueberries, and roasted hazelnuts served warm with a Dijon, lemon, and yogurt dressing.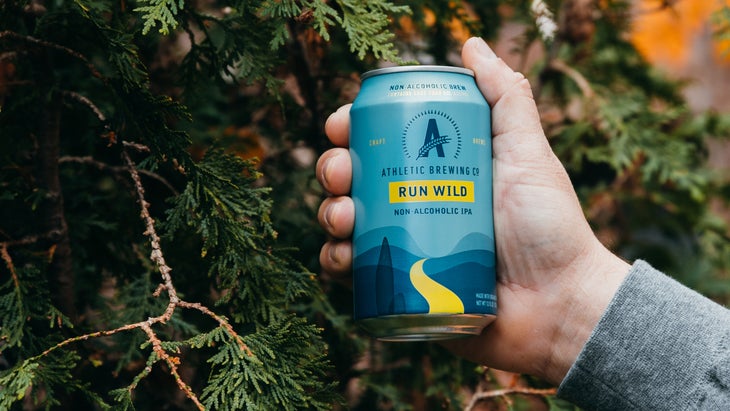 Add a Little Intention
The holidays are often a time of indulgence and excess, but they don't have to be. Moniz doesn't like the groggy, dehydrated feeling that alcohol gives her, but she loves the taste of beer, so she often reaches for a non-alcoholic brew from Athletic Brewing Company. "Athletic's beer is just delicious, and the flavor is amazing," she says. "It's a great option for people who have fitness goals, or don't want to drink." Moniz sometimes uses Athletic beer for cooking, too, adding it to her bread mixture in place of water to make a nice, fresh crispy loaf in her Dutch oven.
If you're a host or a guest at a gathering and have non-alcoholic beer, people might ask you why you're not drinking, which can be awkward. Moniz suggests focusing on the positives. "Ask that person to try it! Tell them that it tastes amazing and that you feel great afterwards," she says. Plus, if you're at a lengthy holiday dinner party where you may typically drink four or five beers, you'll be better off sipping on an Athletic brew. That way you don't have to compromise on taste or on your holiday experience with loved ones.
View this post on Instagram
Don't Forget the Seasoning
Moniz and her partner are what she calls "conscious carnivores," but she often hosts people who have different dietary needs and preferences. To her, it's just another opportunity to learn and get creative. While we often see meat as the quintessential course on holiday dinner tables, remember that meat can be replaced with an equally compelling meatless centerpiece—you just need to dress it up as such. Moniz does this with intentional and seasonally inspired flavors. If she was planning on seasoning her meat with citrus and sage, she'll give the same treatment to roasted cauliflower. When you rethink your approach to meat-free dishes, you can surprise yourself. "Bring the flavor. If you do that you'll get a great experience," she says.
Remember Why You're Gathering in the First Place
Lastly, Moniz wants folks to remember what the holidays are all about. "The holidays are meant to bring people together and share good times. Don't put pressure on yourself to host the best dinner," she says. When you're hosting, be nice to yourself. "Remember that you're bringing everyone together. It might not be perfect, but people will have fun when they're sitting around the table sharing a meal together."
---
At Athletic Brewing Company, we are pioneering a craft revolution. We believe you shouldn't have to sacrifice your ability to be at your best to enjoy great beer – so, we created our innovative lineup of refreshing, non-alcoholic craft brews.