How 'A House Party in Tuscany' Author Amber Guinness Does Easy Summer Entertaining
Amber Guinness shares three easy Tuscan side dish recipes and a serving of advice on relaxed entertaining, Italian style
Photo: Robyn Lea / Thames & Hudson
Heading out the door? Read this article on the new Outside+ app available now on iOS devices for members! Download the app.
Over the years, I have noticed that there is one trick to cooking and hosting that has helped me more than any other: preparation. As someone who is naturally quite chaotic, I have found that having a menu written out makes it possible to draw up a plan and a shopping list and thereby enjoy the process of having guests.
Equally, if I have done all my chopping and general prep on my own — con calma, while listening to music or a podcast — before my guests arrive, I find that cooking and assembling just before dinner is much less stressful and time-consuming. When I worked in an office, I took this to the extreme: If I had people coming over for dinner, I would get up an hour early before leaving for work so that everything would be prepared for the evening ahead.
However, if you don't have the luxury of time, don't worry, just go easy on yourself and choose to cook something that is straightforward and failsafe. Part of the point of cooking for friends and family is for the host to have a nice time, too, And if the host is visibly stressed, no one will enjoy themselves. If the host is relaxed, I usually find that everything will fall into place.
This is not to say that I am never stressed when hosting a lunch or dinner party. But I do everything in my power ahead of time to make sure that I am as serene as possible, thereby allowing myself to have fun.
If I feel stressed or overwhelmed, I do one of two things. I cut a dish from the menu — usually a side and sometimes the starter — as it's only dinner, there's no need to get too attached to the idea of it being perfect. Or I commandeer one or two of my guests to help. There is no need to be a martyr, and if you feel like you need an extra pair of hands, ask. I find people are always happy to help as long as they are set up in a seat, have a large drink, and are given a specific task (most of us hate taking initiative in other people's kitchens). They can then happily grate Parmesan, top crostini, or pod broad beans — plus they are able to chat with you.
About Amber: Amber Guinness was born in London and grew up in Tuscany. She studied history and Italian literature at the University of Edinburgh, working as a cook in both London and Italy in her spare time. In 2014, she co-founded The Arniano Painting School, a residential painting course and artists' retreats that are centered around creativity and food and have been featured in The New York Times, House & Garden, and various other international magazines. Amber now lives in Florence. A House Party in Tuscany is her first book.
Tuscan side dish recipes for easy entertaining
Next time you find yourself searching for a light summer side dish, try one of the easy recipes below.
Excerpted from A House Party in Tuscany, by Amber Guinness © Thames & Hudson Australia 2022 Text © Amber Guinness 2022 Reprinted by permission of Thames & Hudson Inc.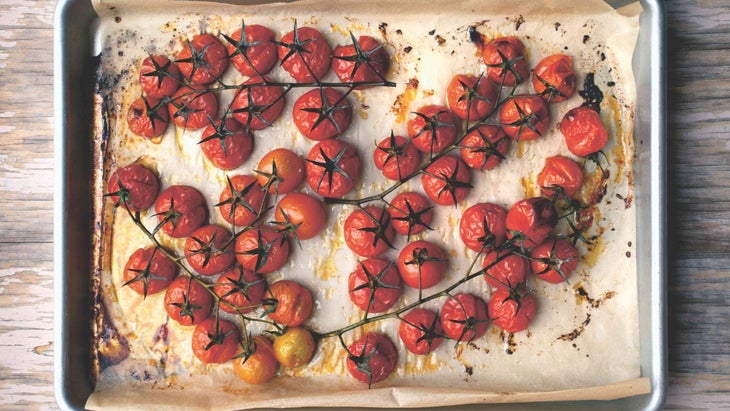 Roast Cherry Tomatoes
Serves 6
Hands-On Time: 5 minutes
Total Time: 40 minutes
Ingredients
1 1⁄2 lbs cherry tomatoes
Olive oil
Salt
Directions
Heat oven to 400°. Place tomatoes on a baking sheet lined with parchment paper. Lightly drizzle with olive oil, and sprinkle with salt.
Roast until tomatoes begin to shrivel, roughly 40 minutes.
Remove baking sheet from oven and transfer tomatoes to a serving dish.
Zucchini Carpaccio
Serves 6
Hands-On Time: 10 minutes
Total Time: 10 minutes
Ingredients
3 large zucchini
3 tbsp olive oil
Juice of 1⁄2 lemon
Salt and freshly ground black pepper
Mint leaves
Zest of 1 lemon, grated
Chile flakes
Directions
Using a vegetable peeler, peel a long strip all the way down the side of one of the zucchini to form a flat base. Place zucchini, flat-side down, on a cutting board. (It should sit there without rolling.) Holding zucchini in place with one hand, use peeler to make ribbons of zucchini; place ribbons in a serving bowl as you go. This process will get trickier toward the bottom of each zucchini—you will be left with a little that you aren't able to slice. Repeat with remaining zucchini.
In a bowl, mix together oil, lemon juice, and a pinch of salt and some grinds of black pepper. Just before serving, toss zucchini ribbons with dressing, and top with mint, lemon zest, and chile flakes.
Make-Ahead Tip: You can keep the shaved zucchini in the fridge, undressed, for a couple of hours, and toss it with the oil and lemon juice just before serving.
Charred Roast Potatoes with Lemon
Serves 6
Hands-On Time: 10 minutes
Total Time: 40 minutes
Ingredients
About 2 lbs small potatoes, skin on
2 lemons
4 cloves garlic, peeled and crushed
2 cloves garlic, unpeeled and slightly crushed
1 whole rosemary sprig
3 tbsp olive oil
3 tbsp vegetable oil
Salt
Directions
Heat oven to 475°.
Cut potatoes into thin disks 1/8- to 1/16-inch thick (the thickness of a penny).If potatoes are large, cut each in half before slicing.
Slice lemons into disks the same thickness of the potatoes.
In a large bowl, toss potatoes with crushed, peeled garlic.
Place unpeeled garlic cloves, half the lemon slices, rosemary, and olive and vegetable oils in a roasting pan. Roast for 5 minutes.
Gently toss remaining lemon with potatoes and 2 pinches of salt.
Once oil is sizzling, remove pan from oven, discard unpeeled garlic and rosemary, and add potatoes and lemon. Toss to coat potatoes in oil, and roast for 20 minutes.
Remove pan from oven and shuffle potatoes. Reduce heat to 425° and roast potatoes for another 15 minutes.
If desired, turn on the broiler and continue roasting until potatoes are golden and starting to char.
---
RELATED: 40 Bright and Juicy Summer Tomato Recipes
---
Get more of what you love from VT. Follow us on Instagram, Facebook, and Twitter, and sign up for our email newsletters.