Bring the Après-Ski Vibes Home with This Vegan Cheese Fondue
This Swiss-inspired fondue conjures all the flavors of a traditional cheese fondue — the nuttiness of the cheese and sharpness of the garlic and wine — with none of the animal products
Heading out the door? Read this article on the new Outside+ app available now on iOS devices for members! Download the app.
There is something so absolutely comforting about a gooey, warm fondue on a cold day. A steaming vegan fondue pot set beside a plate of fun dippers like pretzels, asparagus, and pickles is exactly what you want to see after a day on the slopes or even a day of watching other people on the slopes during the Winter Olympics.
This Swiss-inspired fondue conjures all the flavors of a traditional cheese fondue — the nuttiness of the cheese and sharpness of the garlic and wine — with none of the animal products. But we didn't want to just buy some store-bought vegan cheese and call it a day. Instead, nutritional yeast and sauerkraut juice deliver blasts of umami, while the soaked cashews give the fondue a silky texture. Tapioca starch brings in a nice stretchiness that simulates cheese pull perfectly.
As for what to dip into your vegan fondue, some ideas include (but are not limited to) the following: bread, cubed (I used Bavarian-style soft pretzels); broccoli, blanched; apples, sliced; asparagus, blanched; tomatoes; Yukon gold potatoes, steamed; pickles. 
---
More Related Recipes to Try Next:
The Absolute Best Vegan Nachos
Pati Jinich's Vegan Chilorio Tacos with Tofu
Vegan Pumpkin Cheesecake

---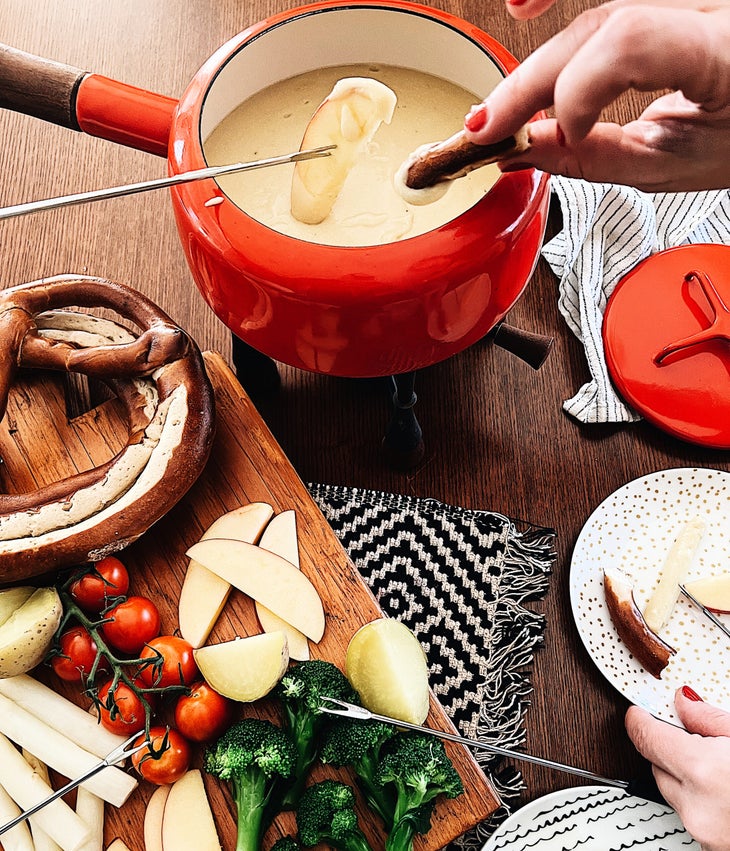 Swiss Cheese Vegan Fondue
2 tablespoons olive oil
1 bulb garlic
½ shallot, diced
½ cup white wine
1 Idaho potato, peeled and cubed
1 cup canned chickpeas
⅓ cup raw cashews, soaked overnight
2 tablespoons nutritional yeast
2 tablespoons sauerkraut juice (or 1 tablespoon apple cider vinegar and one tablespoon water)
2 tablespoons tapioca starch
½ teaspoon nutmeg
Salt, to taste
Preheat oven to 350 degrees. Slice the end of the bulb of garlic so that the cloves are just exposed. Rub bulb of garlic with 1 tablespoon of olive oil, and wrap in aluminum foil. Roast garlic for about 30 minutes, and remove. Set aside to cool.
Heat olive oil in a saucepan over medium medium heat. Sweat shallot for about 2-5 minutes, until translucent. Add white wine, and allow to reduce slightly for another five minutes. Add potatoes, chickpeas, and cashews. Add just enough water to cover, plus a pinch of salt, and simmer until the potatoes are soft.
Pour potato mixture into a high-speed blender, and add remaining ingredients. Squeeze in as much of the garlic as you'd like, about half a bulb (but you do you). Save the rest for pasta, sandwiches, and anywhere else you can think of.
Blend on high until everything is smooth. Taste and adjust seasoning as necessary. You can serve immediately, or store in the fridge for a day or two until you're ready to fondue.
If serving immediately, pour into your fondue pot, and set over a low flame to keep warm. If serving later, reheat over the stove, and then add the mixture to a fondue pot. Serve with dippers.