Super Soups
Spoon up these six time-tested remedies from around the globe to get better by the bowlful
Heading out the door? Read this article on the new Outside+ app available now on iOS devices for members! Download the app.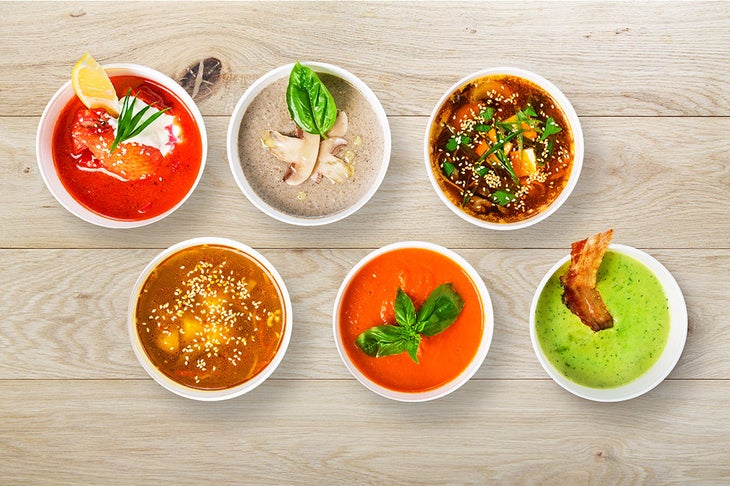 Nearly every culture turns to soup to heal, nourish, and soothe. Whether you're battling a bad cold or the stomach flu, the food that can always comfort and nourish is soup. "Soups are warm and easy to take," says Andrew Weil, MD, director of the University of Arizona's Integrative Medicine Program. "They're an excellent way to get nutrients, and they provide good associations for people." Research confirms the health-giving properties of these home remedies and their active ingredients. Try these healing soup recipes from all over the world to ward off illness or just warm up a chilly weeknight supper.
Eastern European Red Lentil Soup
This soup's lentils pack a balanced protein-to-carbohydrate ratio into an easy-to-digest form. The red onion boosts immunity and has pain-reducing anti-inflammatory properties. Antibacterial benefits are provided by garlic as well as honey, which also offers immune-boosting and antiviral qualities.
Beyond the antiviral, immune-boosting, and cholesterol-lowering properties of its shiitake mushrooms, this pho is loaded with garlic, which boasts antifungal, antibacterial, and antiviral benefits. Cinnamon also has antifungal and antibacterial attributes, while ginger is a pain-reducing anti-inflammatory that fights nausea.
One of the key seasonings in potage is thyme, which is used traditionally in Europe to relieve coughs and congestion. This soup is also rich in garlic and leeks—both of which supply a dose of immunity-enhancing benefits. Walnuts, which are used in the making of the flavorful pistou for this soup, bolster the immune system as well.
The lentils and chickpeas in this soup are good sources of protein, and cilantro and parsley stimulate circulation and digestion. Immunity gets a boost from onion and the dose of vitamin C delivered by the tomatoes and lemon. Cinnamon offers antifungal and antibacterial benefits, and ginger relieves nausea and reduces pain with its anti-inflammatory power.
Beyond its soothing, easy-to-digest egg protein, this soup's mint and oregano contain rosmarinic acid, which is believed to inhibit bronchial constrictors and ease respiratory complaints. The lemon juice provides immune-building vitamin C, while leeks and onion deliver potent cold-and-flu-fighting power along with anti-inflammatory benefits.
Native American Toasted-Pecan Soup
Pecans contain more than 19 vitamins and minerals and promote heart health because of their high amounts of fiber, vitamin E, and essential fatty acids. Spice this soup up with extra chili powder or ground dried chiles, a traditional remedy for clearing the sinuses and easing congestion and cold symptoms.