Gluten-Free Party Planner: Start with Dessert and Work Back
What do you do when you're planning a party menu and find out two of the ten guests are gluten-intolerant? Our food editor scraps all her ideas and creates a new, totally gluten-free menu! Get her tasty recipe ideas here and in our new 8-week online Gluten-Free Vegetarian Cooking Course.
Heading out the door? Read this article on the new Outside+ app available now on iOS devices for members! Download the app.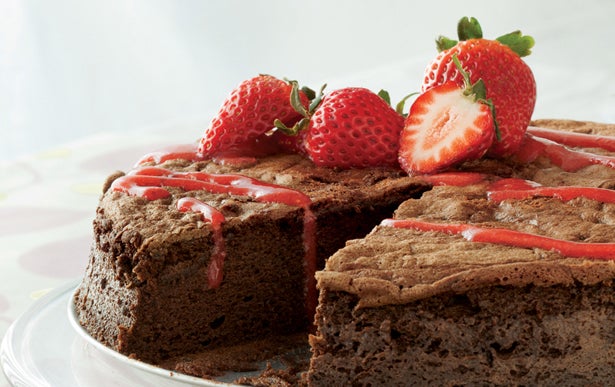 What do you give a guy friend who has everything for his birthday?
Well, if you're me, you give him a birthday dinner party.
When I first came up with this clever plan, I spent a day or so patting myself on the back (I don't have to go to the sporting goods store this year!) and planning courses (quiche and coconut layer cake!). Then came the news that took me down a notch: two of the ten guests were gluten-intolerant, so the whole meal needed to be gluten-free.
This is why I believe it is so important for anyone who likes to cook to know how to cook gluten-free: you simply never know when you'll need to do so. I scrapped all my ideas and started planning a new, totally gluten-free menu.
The thing I discovered was that it was a lot easier to come up with dessert, then work backwards to figure out the rest of the menu. Desserts remain the most difficult element for gluten-sensitive eaters. Once I'd settled on a flourless chocolate cake, everything else fell into place. The super-rich dessert meant that what came before needed to be light and healthy—and easily serve a crowd. Paella! Bright, beautiful, and naturally gluten-free. And once I'd chosen paella for the main dish, I stuck with the Spanish theme and added a gazpacho and some tapas to round out the meal.
Whether you put together your party menu backwards or forwards, the real key is having creative options to choose from. Without them, paella might have been a bunch of steamed veggies over rice.
In the 8-week online Gluten-Free Vegetarian Cooking Course I've put together for Vegetarian Times, there are over 50 tasty original recipe ideas to choose from—along with all the know-how you need to plan gluten-free meals and parties. Sign up to start learning—and cooking.