How to Be Supportive When Your Kid Goes Veg
Got a kid who just ditched meat? Don't worry! Children and adolescents can get all the vitamins and minerals they need from a well-planned veg diet.
Heading out the door? Read this article on the new Outside+ app available now on iOS devices for members! Download the app.
Got a kid who just ditched meat? Don't worry: children and adolescents can get all the vitamins and minerals they need from a well-planned veg diet, according to both the Academy of Nutrition and Dietetics and the American Academy of Pediatrics. "Today's children are very engaged in how their eating makes a difference," says Sharon Palmer, RDN, author of Plant-Powered for Life. "I suspect more and more young people will come home and tell their parents they'd like to go plant-based."
Your child's new diet doesn't have to make your life more difficult. Here's what to do when your little vegetarian (or vegan) makes the big announcement.
Listen to Reasons for Going Meatless
Invite kids to share their motivation for giving up meat. Think of it as an opportunity to get to know their values and worldview (or at least which of their peers is influencing them). Lorraine Buckmaster, of Baltimore, was all ears when her twin daughters became vegetarian in high school and vegan in college. After listening to their reasoning—and learning a lot about factory farming—Buckmaster understood why the girls felt the way they did, even if she and her husband weren't ready to join them in going full-fledged veg.
Assign Homework for a Balanced Diet
Have new vegetarians make a list of nutritious snacks and meals, draft a shopping list, or go over the vegetarian food pyramid and explain how they will eat a balanced diet. Palmer advises focusing on nutrients of concern to vegans and vegetarians, such as protein, calcium, vitamin D, and vitamin B12. "There's a great deal of nutritional misinformation on plant-based diets on the Internet," she says. "Finding a credible source, such as a registered dietitian or an organization such as Oldways Vegetarian Network, Physicians Committee for Responsible Medicine, or Vegetarian Resource Group is important."

Related: How do you get picky kids to eat veggies?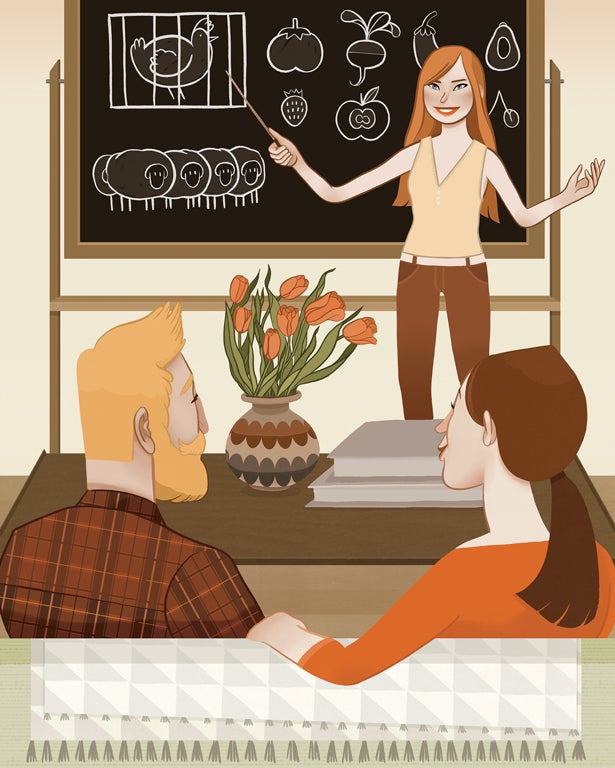 Be Patient
Chances are, you'll be hearing a lot about your child's new interest. Yes, it might be uncomfortable or even annoying to get all the gory details about animal cruelty or health statistics, but keep an open mind, and ask for articles to read another time if you need a break from the topic. "There are many bad choices that a child can make in this world, and being vegetarian is definitely not one of them," notes Susan Custer, of Midlothian, Va., whose daughter went vegetarian then vegan in her teens. "I was impressed by her willpower and determination to stick with it."
Set Ground Rules for a Healthy Diet
Make it clear that junk-food vegetarianism won't fly. No need to ban chips and cookies, but whole foods—and a variety of them—should be the focus. Picky eaters may need to loosen up a bit. If you'd like help with grocery shopping, meal prep, or lunch-packing, request that your child pitch in. Also, it's fair to ask that mealtime be free of heated food discussions. Mutual respect is key: Dad doesn't need to hear about gestation crates during breakfast, and your veg kid shouldn't be teased for skipping meat.
Related: Why Go Veg?
Cook and Eat Together
Sharing recipes and trying unfamiliar foods can be a sweet way to bond. Borrow cookbooks from the library, or post recipes to a shared Pinterest board. With a little thought and effort, meals can be tweaked to satisfy everyone. Buckmaster focused on foods they could all eat: "We'd have tacos—I'd put the fixings out, and everyone could make their own. With pasta, my husband's portion would have meat sauce, and I'd eat the veg topping with the kids. Pizza's always good. You can veganize almost anything." Be willing to stock up on fruits, vegetables, legumes, and whole grains, as well as new-to-you veg staples such as tofu and tempeh. Says Custer, "The best thing has been the world that her choice has opened up for all of us: the variety of foods, healthier restaurants, and learning to shop the outside edges of the grocery store."
Learn The Labels
You're about to become a lot more familiar with product labels. Non-veg ingredients pop up in unexpected places, whether it's lard in baked goods, meat stock in soups, or gelatin in candies. Visit vrg.org/ingredients for a comprehensive list. If you have a smartphone, download the Animal-Free app to quickly determine if an ingredient is off-limits. Buying whole foods and products with short ingredients lists will make this task easier.
Related: Veg Supplement Guide