Is Microwaving Food Bad for You?
Does nuking your frozen veggies or leftover pizza zap the nutrients out of it? We investigate—and provide must-know tips to boost nutrition and safety.
Heading out the door? Read this article on the new Outside+ app available now on iOS devices for members! Download the app.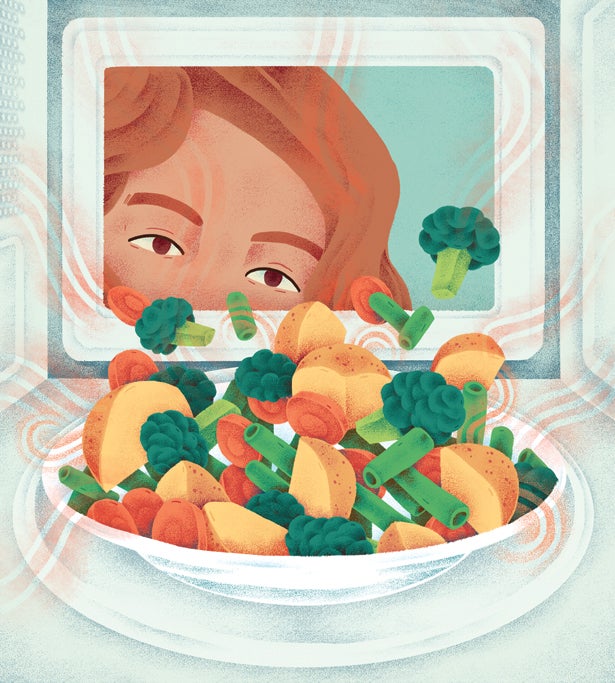 Illustration: Jeannie Phan
Nope! It's a myth. Ever since the first microwave oven, called the Radarange, debuted in the 1940s, this kitchen appliance has been mired in controversy over its impact 
on human health and nutrition. Slang such as "nuking" hasn't helped. Yet, research has shown that for the most part, the nutrients in your frozen 
veggies or leftover pizza are not zapped out.
A study published in the journal Food and Chemical Toxicology failed to find that microwaving Brassica vegetables, including broccoli and Brussels sprouts, led to significant loss of their disease-fighting glucosinolate compounds. Further, an International Journal of Food Sciences and Nutrition report determined that, save for thiamine, microwave cooking had no detrimental impact on nutrients in legumes. Also, studies show that the antioxidant firepower of beets, green beans, onions, garlic, and potatoes is largely retained after microwaving.
Want more nutrition info right at your fingertips? Check out the new Vegetarian Times Recipe Collection with more than 3,700 recipes plus lots of tips and cooking tricks!
In fact, a Journal of Food Science investigation found that microwaving may even bolster the antioxidant activity of carrots, celery, and green beans. Additionally, Italian scientists discovered that microwaving did a better job of retaining vitamin C levels in broccoli than did steaming or boiling.
Microwaves cook with little water and relatively brief heating times, all of which help reduce the loss of nutrients in what we eat. As for the fear that microwave cooking changes the structure of food in a way that produces harmful compounds such as carcinogens? No peer-reviewed science supports this. A diet laden with heavily processed foods is much more hazardous to your health than serving up nuked frozen peas.
Bottom Line: There's no need to unplug your microwave. Cooking food using this convenient appliance can join other methods for preparing meals full of nutritional goodness.
Microwave Musts If you're a regular microwave user, follow these tips to boost nutrition and safety.
Keep it dry. Water is not a cook's best friend when it comes to nutrient retention. So, microwave such foods as vegetables in as little water as possible. Many veggies, such as bell peppers, are naturally moisture-rich.
Keep it real. Many pre-packaged frozen meals meant for the microwave contain a laundry list of whatchamacallit ingredients and can be far from wholesome choices. A better idea: use your microwave to heat up more nutrient-dense foods, such as plain frozen vegetables and leftover home-cooked meals.
Keep it contained. Generally, glass, ceramic, and silicone are the safest options for microwaving. Because of the risk that potentially harmful chemicals may leach into hot food, it's best to avoid plastic containers, even those deemed microwave safe.