The Health Benefits of Green Tea
Hot or cold, this tasty brew is one of the most healthful drinks around
Heading out the door? Read this article on the new Outside+ app available now on iOS devices for members! Download the app.
"Better to be deprived of food for three days than tea for one," goes an old Chinese proverb. In the case of green tea, the ancients were onto something: a growing body of research suggests the brew boasts a multitude of health-giving potential.
The strongest evidence of green tea's health benefits is heart-related. In an 11-year study of more than 40,000 Japanese adults aged 40 to 79, researchers found that those who drank at least one cup of green tea daily were less likely to die of cardiovascular disease than those who did not. Women who reported sipping five or more cups daily had a 42 percent lower risk of death by stroke than those who consumed less than one cup daily. The heart-healthy effects are attributed to green tea's ability to lower LDL (bad) cholesterol, which it does by reducing the absorption of cholesterol in the digestive tract, explains Judith Stanton, MD, attending physician at Alta Bates Summit Medical Center in Berkeley, Calif. In addition, a study of 1,507 people found that drinking one to three cups of green tea daily reduced the risk of high blood pressure by 46 percent.
Polyphenol Powerhouse
The active ingredient credited with green tea's heart-health benefits is EGCG (epigallocatechin-3-gallate), a polyphenol that may also have a protective effect against some kinds of cancers. "The potent antioxidants in green tea interfere with growth rates of cancer cells and tumors by shutting off their 'time-keeping' enzyme," explains Shawn Talbott, PhD, research director of supplementwatch.com. The result: cancer cells die. A 2007 study published in the British Journal of Cancer found a "higher intake of green tea was associated with a reduced risk of adult leukemia." A recent report in the journal Cancer Biology & Therapy showed that EGCG in green tea extract may halt the spread of malignant breast cancer cells.
EGCG was also responsible for inhibiting the activity and production of bone-eroding molecules and substances related to joint inflammation in cells taken from patients with rheumatoid arthritis, according to a 2007 study conducted at the University of Michigan.
The Slim-Down Low-Down
Green tea has been touted by Web ads and guests on The Oprah Winfrey Show as the latest, greatest diet solution, though more research is needed to verify the claims. A 1999 study conducted at the University of Geneva and a 2005 report from Japanese scientists, both published in The American Journal of Clinical Nutrition, showed green tea extract may help reduce body fat.
It's also easier on your teeth than many other drink options. A 2008 study in General Dentistry found that while orange juice and soda promote tooth erosion, the effect of plain green and black tea on tooth enamel is similar to that of water.
Your Daily Dose
When buying green tea, look for batches that have a "clean, crisp fragrance" and leaves that are bright green even when they're bagged, recommends Cynthia Gold, tea sommelier at the Boston Park Plaza Hotel & Towers. "We've found no significant difference in the amount of active compounds in loose leaf or bagged tea," notes tea researcher Iman Hakim, MD, professor of public health at the University of Arizona.
For optimal flavor, steep green tea for two to three minutes in 175°F water, suggests Gold. Although a longer, hotter steep makes for dulled flavor and increased bitterness, a lengthier brew time allows more antioxidants to be released.
"Green tea is versatile in the kitchen and can be ground into spice rubs, infused into liquids, or added to recipes directly," says Gold. You can also use green tea as a marinade or cooking liquid. Gold uses matcha, the powdered green tea featured in the Japanese tea ceremony, to flavor savory dishes and sauces, and simmers pears in green tea with ginger, allspice, black pepper, and honey for dessert.
If you're not a fan of the grassy flavor of green tea, try a brew that's blended with a strong-flavored fruit, such as pomegranate or blueberry, or sneak brewed green tea into smoothies, sauces, and grain or rice dishes, such as the one featured here. With all the blends and the cooking choices out there, there's no reason to go without for a single day.
Supplement Savvy
Aim to sip five cups of green tea (steeped for 5 minutes) daily, suggests Judith Stanton, MD. Can't drink that much or can't have caffeine? Shawn Talbott, PhD, recommends daily supplements of green tea extract, and offers the following tips:
"500-milligram capsules with 40 to 50 percent polyphenols is equivalent to two to four cups of brewed green tea—including the 2 to 3 percent caffeine content," notes Talbott.
For potent anticancer benefits, opt for a supplement with an EGCG content of 80 to 90 percent (it will be caffeine-free due to the way it is produced).
Go Green
Try one of these delicious recipes that highlight green tea.
Super-Easy Green Tea Smoothie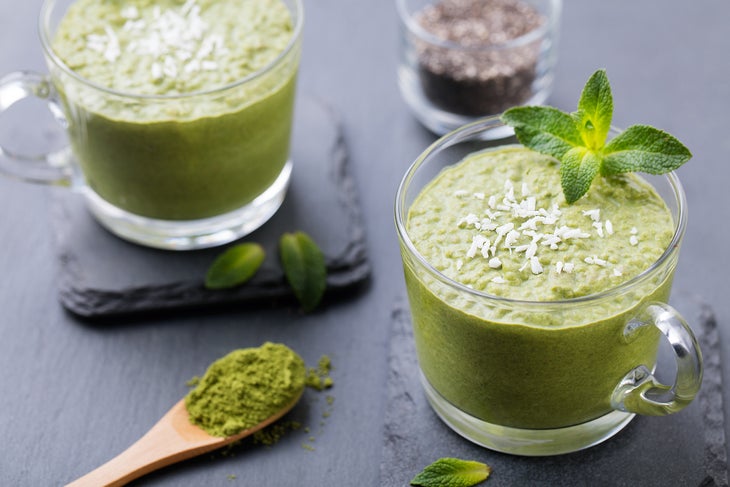 Not a tea drinker? You can still get the health benefits of this nutritious beverage in our smoothie.
Get the recipe here.
Dairy-Free Matcha Green Tea Ice Cream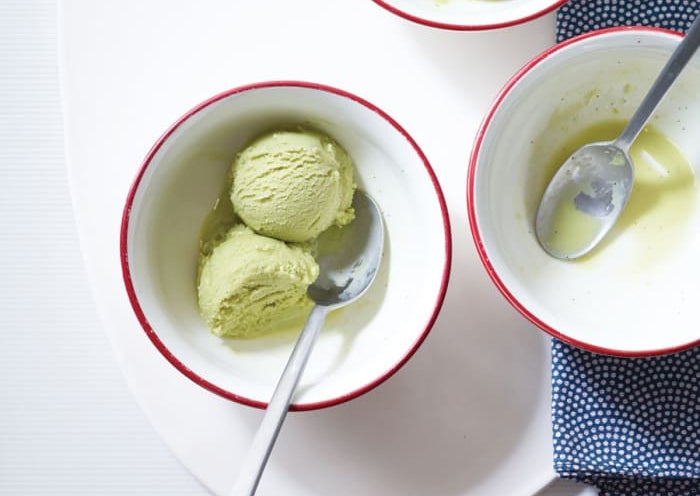 This frozen treat pairs well with fruit, almond-based desserts, and chocolate.
Get the recipe here.
Green Tea Edamame with Roasted Black Sesame Salt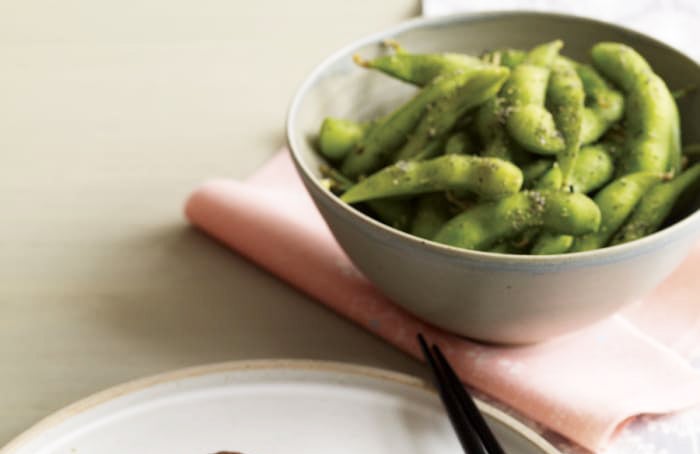 Add a personal touch to steamed edamame by cooking the pods in green tea and tossing with black sesame seeds.
Get the recipe here.