Cookbook Report: Sarah Matheny's More Peas, Thank You
Cooking homemade, plant-based meals almost every night of the week for my family is one of the most gratifying and joyful parts of my daily life—but that doesn't mean it isn't stressful sometimes. Juggling a full-time job and an energetic toddler can make meal prep tricky, which is why I love this family-friendly enchilada recipe from blogger and cookbook author Sarah Matheny's recently released More Peas, Thank You cookbook, sequel to the New York Times bestselling Peas and Thank You. These enchiladas can be made in stages, and they don't create a lot of dishes—the bane of my existence
Heading out the door? Read this article on the new Outside+ app available now on iOS devices for members! Download the app.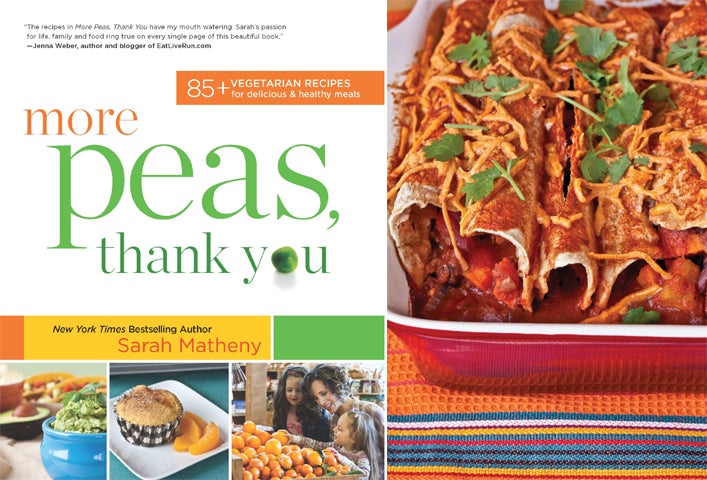 Cooking homemade, plant-based meals almost every night of the week for my family is one of the most gratifying and joyful parts of my daily life—but that doesn't mean it isn't stressful sometimes. Juggling a full-time job and an energetic toddler can make meal prep tricky, which is why I love this family-friendly enchilada recipe from blogger and cookbook author Sarah Matheny's recently released More Peas, Thank You cookbook, sequel to the New York Times bestselling Peas and Thank You. These enchiladas can be made in stages, and they don't create a lot of dishes—the bane of my existence!
I plan our meals for a few days at a time, so when I penciled these enchiladas into the lineup, I opted to prep the filling and the sauce a day ahead of time. Knowing that I'm cooking a recipe that doesn't have to be completed until the next day makes the process more enjoyable to me because I'm not rushing to get it on the table. I often save recipes like this for a Saturday or Sunday, when I have a little more time in the kitchen and can cook one meal and start another one on the same day. It's also great to do this on a Sunday because Mondays can be hectic and the last thing I want to do on a hectic weeknight is start dinner from scratch. Since I'd followed this tried and true approach to meal planning, all I had to do on Monday evening was assemble the enchiladas and pop them in the oven. I tossed together a fresh salad, and we were ready to sit down in no time.
The results were delicious. My husband was especially enthusiastic about the incredibly flavorful roasted sweet potato and black bean filling. As a mom, I felt great knowing that I was giving my kiddo a meal packed with nutrients, fiber, vitamins, and protein that would keep her satisfied until bedtime. We will definitely be enjoying this recipe for years to come.
One Pan Roasted Sweet Potato and Black Bean Enchiladas
Makes 10 enchiladas
Filling
5 sweet potatoes, peeled and diced (3 cups)
1 yellow onion, diced
1 15-ounce can fire-roasted diced tomatoes, drained
2 cups prepared salsa
2 tsp. garlic, minced
1 15-ounce can black beans, drained and rinsed
Sauce
1 15-ounce can tomato sauce
1 1/2 cups vegetable broth
1 Tbs. chili powder
1 tsp. garlic powder
1 tsp. onion powder
1 tsp. dried oregano
Salt and pepper, to taste
Enchiladas
10 corn tortillas, warmed
1/2 cup shredded nondairy cheddar cheese or organic cheddar cheese
Almost Chipotle Guacamole (see recipe below), sliced black olives, minced fresh cilantro, for garnish (optional)
1. To make Filling: Preheat oven to 450°F. Lightly grease a 13- x 9-inch casserole dish with cooking spray or oil. Place sweet potatoes in dish, and roast 10 minutes. Stir, add onions to dish, and roast 10 minutes more.

2. To make Sauce: Whisk together tomato sauce, broth, chili powder, garlic powder, onion powder, and oregano. Season with salt and pepper to taste.
3. Transfer sweet potatoes to a large bowl. Add tomatoes, salsa, garlic, and black beans, and mash until well combined.
4. To assemble enchiladas: Reduce oven temperature to 350°F. Pour 1 cup sauce into the bottom of dish, and spread evenly. One by one, fill each warm tortilla with filling, roll, and pack seam side down in dish. Top with remaining sauce and cheese, and bake 25 to 30 minutes, or until cheese is melted and sauce is bubbly. Garnish with guacamole, olives, and cilantro, if desired.
Almost Chipotle Guacamole
Serves 4
2 avocados

2 Tbs. finely chopped red onion

1 1/2 Tbs. lemon or lime juice

1/2 tsp. salt

2 Tbs. chopped cilantro

Sriracha sauce, to taste (optional)
Mash avocados in a large bowl. Add chopped onion, lemon or lime juice, salt, cilantro, and sriracha sauce, if using, and mix well.
Corinne Bowen is a freelance journalist and copywriter living in Baltimore with her husband and daughter. She blogs about her adventures in writing, veggies, marriage, and motherhood at CorinneBowen.com.