Midcentury Marvel: Q & A with 42's Jud Tylor
You might not know her name yet, but you probably recognize Canadian actor Jud Tylor from roles on Mad Men, Beautiful People, and That 70's Show.
Heading out the door? Read this article on the new Outside+ app available now on iOS devices for members! Download the app.
You might not know her name yet, but you probably recognize Canadian actor Jud Tylor from roles on Mad Men, Beautiful People, and That 70's Show. This year, she stars in the feature film 42, about famed Brooklyn Dodgers hitter Jackie Robinson, in theaters April 12th. The film resurrects midcentury America: segregation, civil rights, and the way national sports can pull a nation together—or divide it in two. Tylor, a committed vegetarian and loving dog-mom, took time out of her busy life to talk food, films, and life in Hollywood.
VT: Tell us about your foray into vegetarianism.
Jud Tylor: I remember the moment I made the conscious decision to become a vegetarian. I was young, 8 or 9 years old, and my parents brought me to a petting zoo. It was part of the Pacific National Exhibition and the barn was full of livestock—goats, cows, sheep, pigs, and chicken. I've always adored animals and interacting with them so intimately. When I asked my mom where the animals would be kept after the exhibition, she explained that they would likely return to farms and later be slaughtered for meat. I was devastated. I cried, I mourned the animals—and I stopped eating meat. My primary reason for maintaining a vegetarian lifestyle remains the same: I'm against unnecessary killing, and with the variety of food options available, it is unnecessary. The environmental issues exacerbated by the meat industry are also a concern for me.
VT: In 42, you play Laraine Day, wife of Dodgers manager Leo Durocher. Why is Laraine's story important, and why were you interested in playing her?

JT: Laraine Day was such a colorful character and a bit of a dichotomy. On one hand, she was a glamorous movie star involved in a scandalous affair with the Dodgers manager Leo Durocher. On the other, she was a devout Mormon, avid church-goer, and environmentalist. She wrote a number of books and lived her life passionately. I'd like to believe we were similar in that regard.
VT: 42 grapples with issues relating to race and civil rights in mid-20th century America. What are some causes or issues that are important to you and why?

JT: I'm an animal advocate and feel strongly about reducing the number of homeless animals in Los Angeles. I work closely with a non-profit called Love Those Paws Rescue that does some amazing work. Love those Paws Rescue is dedicated to rescuing dogs left homeless for whatever reason. They place dogs in loving, responsible, committed forever homes, following a comprehensive adoption process which includes taking considerable care in finding good matches and educating prospective adopters about the responsibilities and costs of bringing a dog into their homes and lives. They are a non-profit and depend on the financial kindness of animal lovers.
VT: What advice would you give someone who's interested in going vegetarian?
JT: I think preparation and information are helpful. The Food Revolution by John Robbins is a phenomenal book, and would likely sway anyone considering a vegetarian diet. I've bought it for a number of friends and am proud to say that I've converted a handful. Learning what to eat is also important. It's easy to get the nutrients and protein you need as a vegetarian, you just need to learn how. I'd also recommend investing in a couple vegetarian cookbooks. The Real Food Daily cookbook is one of my favorites.
ABOUT AURELIA D'ANDREA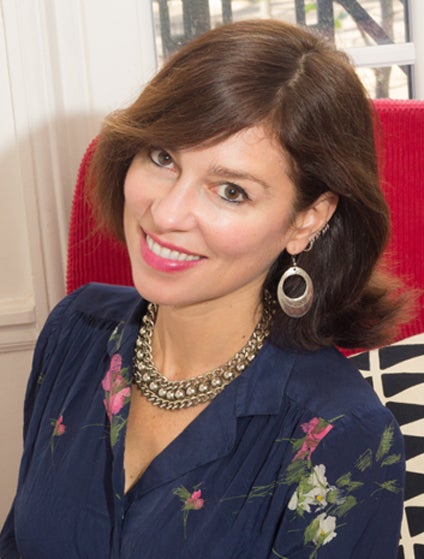 Veg fashion blogger Aurelia d'Andrea has devoted a disproportionately large portion of her life to scouring thrift stores, vintage boutiques, and flea markets in search of sartorial treasures, and has a closet full of frocks to prove her passion for the hunt. Going veg taught her to sharpen her style skills, and confirmed what she'd suspected all along: It really is possible to develop a fashionable point of view and keep your ethics intact, too. She lives in Paris where she blogs (My Vegan Parisian Aventure), writes books (Moon Living Abroad in France), and eats way too many carbs.
PHOTOGRAPHY Steve Shaw