Movie on a Mission: A Small Section of the World
Our Q&A with Lesley Chilcott, producer and director of the documentary film A Small Section of the World, about the Asociacion de Mujeres Organizadas de Biolley (ASOMOBI), a group of women coffee suppliers in Costa Rica.
Heading out the door? Read this article on the new Outside+ app available now on iOS devices for members! Download the app.
Photo: Greenlight Media & Marketing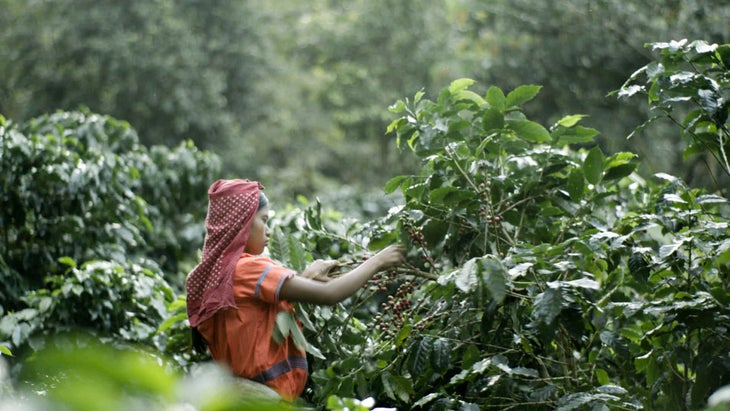 Co-producer of An Inconvenient Truth Lesley Chilcott says learning that coffee comes from a cherry growing on trees, and that of all the friends and colleagues she polled, only one of them knew this, showed her "how disconnected we've become from our food and drink, and how this disconnection has really changed us, and not for the better." The realization prompted her to produce and direct the documentary film A Small Section of the World, about the Asociacion de Mujeres Organizadas de Biolley (ASOMOBI), a group of women coffee suppliers in Costa Rica. Here, Chilcott—who's veg!—answers questions about the film.
How much is coffee a part of the culture of Costa Rica?
A huge part. Costa Rica has eight coffee regions, most of them run by small-farm holders. The government distributed free coffee plants and also gave some land to farmers in the 19th century, and it's always been a driver of development and the economy. Many prominent people today in Costa Rica worked in coffee, or picked it over their summer vacations.
How would you explain the involvement of the younger generation of women, such as Ariana and Samanta, in ASOMOBI?
Both are daughters of founding associates and grew up either at ASOMOBI or next door. Ariana went to college to study administration, and she now runs the office. She could have moved to the city, and yet she wanted to raise her son in Biolley and work at the mill.
Samanta grew up next door; she likes to say ASOMOBI was her backyard. She used to get up before school and pick coffee, not because she was asked to, but because she loved the whole process. And after playing at ASOMOBI as a kid, she got used to the smell of coffee in her hair. She just graduated from the Costa Rica Institute of Technology and only wanted to work one place, ASOMOBI.
So here you have the original founders, whose goal was to make a better life for their kids and send them to college. And in less than one generation they achieved this, and it's a real tribute to these women that the daughters have come back and work at the mill.
How are the members of ASOMOBI thinking about the future of the coffee crop in the face of global climate change?
Coffee is already a very risky business due to the threat of disease, frost, drought, too much rain, etc., all made worse by global warming. Combine this with the fact that coffee takes four years to mature once it's planted, and you have constantly changing demand and supply. So ASOMOBI is trying to buy coffee from more farmers in the area and increase their output. The coffee season is only four to five months each year, so they also have to think about complementary crops and diversifying by producing other things as well, like honey from the bees that pollinate the coffee trees. Additionally, they offer tours of the area and teach sustainability locally in the schools. But to be clear, all coffee farmers and producers are aware and concerned about the negative impacts of climate change on coffee, especially the overall reduction in available land due to higher temperatures.
A visiting agronomist from the Italian coffee company Illy—which is a producer on the film—makes the point that coffee connects people of different cultures and different countries. How can we make sure that connection isn't exploitative for the suppliers?
The point made by Luca Turello [the Illy agronomist] that coffee connects is absolutely true. And I can tell you now after hanging out with so many coffee people, they are connected for life! What the women at ASOMOBI were able to accomplish—building a coffee mill on top of a hill and creating a better life for themselves and their community—this quiet revolution is happening in other places and villages as well. Globally, 70 percent of the work in coffee is done by women, and yet only 15 percent own the land, any of the facilities, or the product. Once women get leadership and technical training, things change drastically. As the saying goes, a promotion for a woman is a promotion for the whole family. Women tend to invest 90 percent of their earnings into their family and community. The International Women's Coffee Alliance, which is featured in the film, has been making incredible progress, opening chapters all over the world. And now they are talking about creating a Women's Harvest brand, which would be incredible.
Next time you have your cup coffee, ask yourself how many hands it took to make that cup. And how many of those hands were women's? If we continue to learn more about how our coffee is made and about the people behind it, then we can help guarantee that a fair price is paid to them.