TV Talk: Fox's Cause for Paws, An All-Star Dog Spectacular
When you're feeling all warm and glowy after feasting with family and friends this Thanksgiving, consider tuning in to this show, which spotlights rescue dogs. Here's our Q&A with executive producer Michael Levitt.
Heading out the door? Read this article on the new Outside+ app available now on iOS devices for members! Download the app.
Photography: Brian Bowen Smith/FOX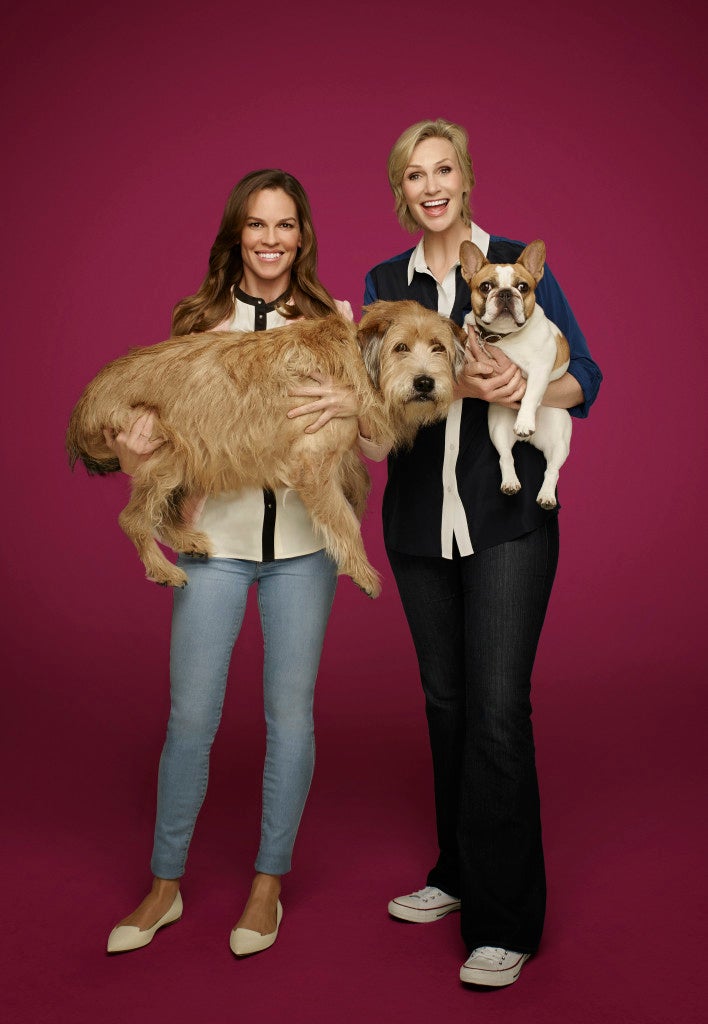 When you're feeling all warm and glowy after feasting with family and friends this Thanksgiving, consider tuning in to Fox's Cause for Paws. Hosted by Oscar-winner Hillary Swank and Glee co-star Jane Lynch, with animal-loving celebrities among its two-legged guests, the show spotlights rescue dogs. Along with viral videos and musical tributes, the program includes award presentations in such categories as Cutest Puppy and Best Celebrity/Dog Lookalike. Viewers are encouraged to adopt a dog featured on the show, sign up to foster a dog, or donate money to be distributed to animal rescue organizations. "Our hope is that we can do this every year and provide a platform on national television to create awareness of the plight of these animals," says executive producer Michael Levitt. "This is not going to be a sad special, this is meant to be a celebration of rescue dogs and the joy they bring to our lives when we adopt them." Here's more from my conversation with Levitt.
What sparked the idea for the show?
In 2011, my sister was dying of cancer, and I discussed with my life partner, Mark, that it would be a good time after my sister passed to bring a dog into our lives. I decided to start looking for dogs and came across a pit bull at a pet adoption. The dog sat in my lap and was licking my face, and the next thing you know, kids were coming up and he was licking their faces too. He was the first dog I saw and I thought I'd better continue looking, but I couldn't stop thinking about him. So I called the rescue and asked if I could make arrangements to come back a week later and see him with my partner, and put a deposit down on the dog, and they said, sure.
The following week, Mark and I intended to go to the pet adoption, and I got a call that my sister had taken a turn for the worse. Mark and I ended up having a fight because he's very close to her and it was very emotional, and I said, "Clearly this is not a good time to adopt a dog," and I left to be with my sister. Four hours later, Mark walked through the door with the dog. And four days later, my sister passed away. We all know that saying "Who rescued who?" and I learned that firsthand during a very difficult time.
A year later, Mark and I rescued another dog. These two dogs—Trooper and Nelson—inspired me. I got heavily involved in rescue and took a year off to save dogs. Since 2011, I've saved over 500 dogs from shelters in Southern California and found them wonderful homes. But as a rescuer, I'm saving one dog at a time; as a producer [of live event specials and awards shows], I knew I could do so much more. So I came up with this idea for a television special: we've seen the entertainment industry come together for hurricane and earthquake relief, well, now it's time to rally for man's best friend. I brought the idea to Hilary Swank, because I knew she's a huge animal advocate. She loved the idea. We became partners on the project, and together we developed it.
How did you come up with the awards categories?
We all know there are amazing dog-inspired viral videos on the Internet. So my team of producers and I scoured the Net looking for the most hilarious videos, and then based on themes we were seeing, we came up with the categories. They're a lot of fun.
What are the biggest misconceptions people have about adopting rescue dogs?
Many people are unaware they can find pure breeds in shelters or within rescue organizations. So in the special we're going to feature several pure-bred rescue dogs in the hopes that people will recognize they don't need to go to a breeder or a pet store. And another big misconception is that a lot of people think shelter dogs or rescue dogs are broken animals, and really, it's the people who are dumping them at shelters who are most often broken. When you open up your heart and your home to bring rescue dogs into your lives, they're grateful, and they let you know it.
What advice would give people interested in adopting?
I would want people to recognize that it's truly a lifelong commitment and that when you bring a dog into your life, it needs to be a forever home from the beginning until the end. Treat the dog as a true member of the family. Another thing I would advise people is to research the breed you're considering so you understand what you're getting into. And if you're considering a puppy, recognize that's a lot of work. Because the last thing we want is for people to adopt animals they end up returning to shelters.
How about you? Do you have a story about dog adoption?