Veganuary Has Encouraged Millions to Go Vegan for a Month. What Happens Next?
Veganuary has grown from a kitchen table challenge to a global phenomenon
Photo: Rebecca Callard / Courtesy Veganuary
Heading out the door? Read this article on the new Outside+ app available now on iOS devices for members! Download the app.
When Jane Land and Matthew Glover brainstormed the concept of a challenge to go vegan for the month of January while sitting around their kitchen table in York, England, in 2014 the couple couldn't imagine that the event, which they dubbed Veganuary, would attract more than 1,000 participants.
The very first Veganuary drew 3,300 participants… and the idea stuck.
"The theory is that if people go vegan for one month, they'll look at grocery shelves and restaurant menus a little bit differently, and realize that there are a lot of vegan options right in front of them," says Wendy Matthews, Veganuary's U.S. director.
As of January 2022, Veganuary is a registered nonprofit with branches in the U.S., U.K., Latin America, Europe, and India. Since Veganuary's inception, over 2 million participants globally have registered for the challenge through the nonprofit's official channels; it's estimated that around ten times that amount have participated without formally registering.
For those who do register, Veganuary provides participants with 31 days of emails that feature free recipes, meal plans, discount codes to vegan products, and a downloadable e-cookbook. The goal of providing participants with a daily email from Veganuary is to "feel like you have a vegan friend in your corner cheering you on," Matthews says.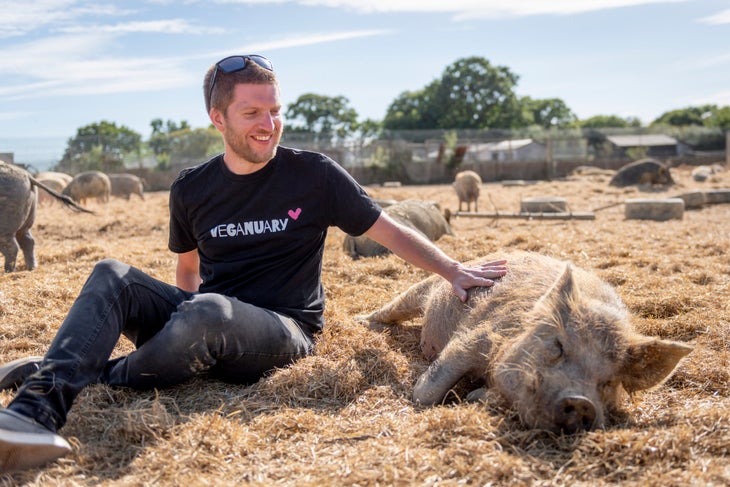 Although "January is probably the most fun time to join" according to Matthews, participants can sign up for 31 days of emails at any point during the year.
In addition to daily emails, participants gain access to a private Facebook group specifically for the year's Veganuary participants, meant to serve as a support system for those taking the challenge. Thus far in 2022, the Facebook group has over 5,000 members in the United States alone.
"Our hope is that they have such an amazing month that they keep eating plant-based all year long," Matthews notes.
And it seems to be working. A survey conducted by Veganuary showed that 85 percent of people who participated in the challenge last year pledged to at least halve their consumption of animal products permanently, with 40 percent planning to stay fully vegan throughout the year.
Why Go Vegan with Veganuary?
There are many reasons one might be drawn to Veganuary. In 2021 globally, 46 percent of all Veganuary participants joined the challenge for animal rights, 21 percent joined for climate-related reasons, and 22 percent joined for personal health. In the United States specifically a higher percentage, 44 percent, cited health as a motivation.
First-time participant Leslie LaBrecque, of Boulder, Colorado, says that she joined Veganuary for all of the above reasons, but mostly for health-related concerns. "Any of my excuses for not being vegan are going away, because there are so many products out there now," LaBrecque said.
While the staff at Veganuary support the various reasons one might take the pledge, "this year, we really focused on climate impact, especially with the recently leaked report from the IPCC saying that plant-based diets can reduce emissions by up to 50 percent compared to the average western diet," Matthews said.
Collectively, Veganuary's 2 million participants have saved the CO2 equivalent of 1.8 million flights from NYC to Washington, D.C., 3.2 million gallons of water, and 6.7 million animals spared from a lifetime of suffering.
The Future of Veganuary
According to Matthews, Veganuary is a household name throughout the U.K. "You really can't walk down the street in January without seeing signage in front of restaurants or at stores," Matthews said.
There, even big brands tout special Veganuary offers. Subway U.K. is currently offering plant-based options including the T.L.C Tikka (Tastes Like Chicken) and the Meatless Meatball Marinara.
Matthews predicts that in the next few years Veganuary will be just as big in the United States.
"Our mission is to inspire and support people to go vegan, drive corporate change, and to create a global movement championing compassionate food choices. So that's what we'll keep working towards, and next year we'll work on strengthening our existing flagship locations, as well as expanding our presence in Asia," Matthews said.
---
RELATED: Animal Agriculture Might Be Even Worse for the Environment Than Previously Thought
---
Get more of what you love from VT. Follow us on Instagram, Facebook, and Twitter, and sign up for our email newsletters.