Moroccan Seven-Vegetable Couscous
To many Americans, couscous refers to the tiny pearls of semolina we've come to know and love. But in Morocco, it is also the proper name for a time-honored stew, rich with vegetables and the flavors—saffron, cinnamon, turmeric—of North Africa. This is a terrific, relaxed party dish—easy to make,…
Heading out the door? Read this article on the new Outside+ app available now on iOS devices for members! Download the app.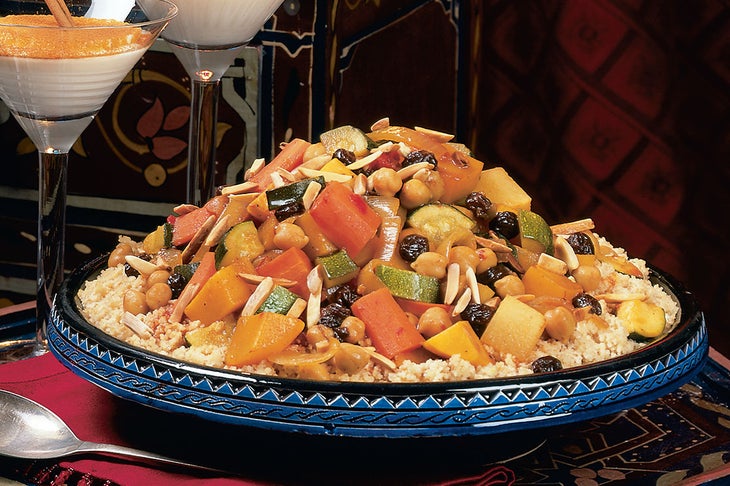 To many Americans, couscous refers to the tiny pearls of semolina we've come to know and love. But in Morocco, it is also the proper name for a time-honored stew, rich with vegetables and the flavors—saffron, cinnamon, turmeric—of North Africa. This is a terrific, relaxed party dish—easy to make, fun to eat and meant for a gathering.
Ingredients
2 Tbs. unsalted butter
2 Tbs. olive oil
2 large onions, quartered and cut in 1/2-inch slices
2 pinches saffron threads
1 pinch crushed red pepper
1/2 tsp. ground turmeric
1/2 tsp. ground cinnamon
1 tsp. ground ginger
1 tsp. coarsely ground black pepper
3 sprigs parsley and 3 sprigs cilantro, tied in a bundle with kitchen string
4 fresh or canned tomatoes, peeled, seeded and quartered
1 qt. vegetable stock
3 cups water
1 turnip, peeled and cut in 1-inch cubes
1/2 lb. carrots, peeled, halved length-wise and cut in 2-inch sticks
3/4 lb. butternut squash, peeled, seeded, and cut in 1 1/2-inch chunks
1 medium-sized zucchini, quartered lengthwise and cut in 2-inch sticks
1 cup raisins
1 14-oz. can chickpeas, rinsed and drained
2 Tbs. granulated sugar
2 cups quick-cooking couscous, uncooked
1/2 cup blanched slivered almonds, toasted
Preparation
1. Heat butter and olive oil in stockpot over medium heat. Add onions, and cook 15 minutes. Stir in saffron, crushed red pepper, turmeric, cinnamon, ginger and black pepper. Sauté 5 minutes. Add herbs, tomatoes, stock and water. Bring to a boil, reduce heat to low and cook 10 minutes.
2. Add turnip, carrots and squash. Bring to a boil, and cook 10 minutes. Add zucchini, raisins, chickpeas and sugar. Cook 10 minutes more, or until vegetables are tender. Add salt and pepper.
3. Cook couscous according to package directions. Mound couscous on large serving platter, and make a well in center. Use slotted spoon to transfer vegetables to well. Ladle stock over entire dish. Sprinkle with toasted almonds. Serve immediately.
Nutrition Information
Calories

590

Carbohydrate Content

103 g

Cholesterol Content

10 mg

Fat Content

15 g

Fiber Content

12 g

Protein Content

17 g

Saturated Fat Content

3 g

Sodium Content

460 mg

Sugar Content

30 g